Beginner Drone Photography
Drone Terminology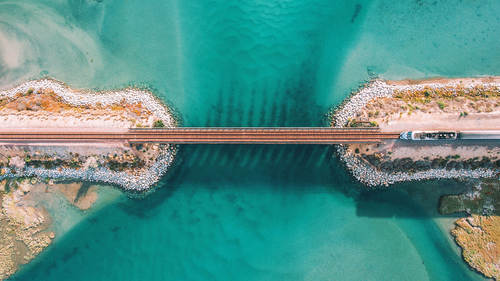 Beginner Drone Photography
Drone Terminology
Lesson Info
Drone Terminology
So, drone terminology. Let's just chat a little bit about drone terminology. The gimbal, this is probably the thing that has made the drone so magical. So, this piece right here that holds the camera is the gimbal, and when this is powered on, the gimbal will keep the camera nice and stable. So, if the drone was gonna go left and roll left, it would typically go like that if it was fixed, right? It would roll with the drone. But the gimbal instead says, "I'm gonna keep "the camera level and I'll let the drone roll," and it keeps it nice and stable. So, this is really where the magic came in. The first Phantom drone had a gimbal that would hold a GoPro, but it would not keep it steady. So, when your drone is going like this, your footage is going like that. You couldn't get any video footage. It was pointless, right? (laughs) So that gimbal is like the magic. It keeps it nice and steady. GPS, this is another big thing that makes the drone so amazing. GPS will help with the smart flying ...
features, so I'll talk a little about that later today. But when you let go of your sticks on the controller, the drone just hovers. It's just flying, it's just staying still. Why? Because it's connected to GPS satellites and that tells it where it is and it says hold the drone right there. So, if some wind came, right, let's say some wind came, the drone would counter the wind to try to hold right here. It would try to counter it. Amazing, amazing technology. Whereas, I mentioned one of my hobbies used to be flying RC helicopters. You have to constantly be on the sticks. You can't just, like, let go and just hang out. You're constantly on the sticks and I would constantly be on them, like left, right, left, like keeping it stable and it would still crash. Tons of money out the door. I'm like, this is not my hobby, right? So, amazing feature, that GPS. And motors and propellers. So, on here we have four. These pop off, so you can pop 'em off. But just to let you know, we have two that spin in one direction and two that spin in the other, and that's the magic of how this drone can stay nice and stable. So, thanks to artificial intelligence keeping those calculations going, it can stay in place. Battery, the one thing I just want to mention about this, you can read all about battery care, but I do want to point out to you is, if you're flying with your drone, you do need to take out your battery and then keep this with you as a carry-on. Don't check your batteries in your suitcase. Keep it with you in the pressurized cabin of the plane. So, I always remove my batteries, and you can tape it right here. These batteries are really sophisticated. They're smart batteries, so they actually also have a feature where after like 10 days, it starts to drain the battery, so that it's not fully charged, so that if you happen not to fly for a while, it still will be nice and conditioned when it's ready to go. So, it's a really cool feature. Next, we have the FPV. So, that's a fancy word, FPV for first-person view, and depending on how you fly, that could be with goggles, so if you want to fly with some goggles on, or probably like most of us, at least in here, we're gonna be flying with our screen. So, this just means you're seeing what the camera sees. Really cool feature. Again, the first GoPro, or the first Phantom, it was all a guessing game, like I hope I got that shot. You would never know until you got back. Which, there's kind of a cool thing about that, because it reminds me a little bit about of film. But then after a while you're like, I wanna just get my shot, right, like, come on. Okay, next up, telemetry. This is the drone's data is being sent back to you. So, this is the fancy word for the drone's letting you know how high it is, how fast it's going, where it is, all that stuff. And you can all know on your screen, because it's sending all that information back. You can send information to it, right? So, really, really cool feature. The new drones all have this feature, so super handy. The controller... Again, as I mentioned, you can put your phone in this one, or if you have the built-in one like mine you can use that. Or you could just fly without it. You don't have to see your picture, or see the picture. But if you hear me say sticks, I'm referring to these. And we have a shutter, a record, exposure, a gimbal, so we can move the camera. Makes nice smooth movements. We have another class on that, which we'll speak more about later, where I go into depth a little bit more on that.
Class Description
AFTER THIS CLASS YOU'LL BE ABLE TO:
Confidently fly a drone
Understand basic legal requirements
Execute simple to intermediate drone maneuvers
Adjust settings for aerial photography
Simultaneously adjust the drone and the camera
Use drones to capture a variety of still and video perspectives
Edit aerial photography and aerial videography
ABOUT DIRK'S CLASS:
Sure, drone photography looks just like playing a video game, but controlling an unmanned aerial vehicle while simultaneously working a camera takes essential know-how and practiced skills. Take off with confidence and capture aerial photography and videography at angles you never thought possible. In this beginner's class, learn essentials like safe drone flight, essential photography settings, and basic post-processing.
Work with award-winning aerial photographer Dirk Dallas as you learn to control your drone. Whether your drone is collecting dust or you've just opened the box, this class provides the essentials to fall in love with drone photography and videography. From legal restrictions to selecting and operating a drone and accessories, this class covers all the basics of aerial photography with a drone.
Explore a drone's controls, then learn exercises to help hone your flight skills. Flag potential legal restrictions in the United States. Learn settings and tips for capturing great aerial photography, then incorporate motion with video. Finally, work in image processing and video editing to fine-tune your captures. Whether you want to capture aerial images for real estate, environmental studies, commercial advertising, independent movie production, land-use planning or simply creative photography, start flying with confidence.
WHO THIS CLASS IS FOR:
Any user new to drone flight
Photographers looking to expand to aerial photography
Videographers eager to add a new angle with drones
Drone newbies that want to learn new moves and tricks
ABOUT YOUR INSTRUCTOR:
FAA licensed drone pilot Dirk Dallas uses drones to capture new angles in his commercial photography and filmmaking. Also a speaker and professor, Dirk is the founder of FromWhereIDrone.com and the host of the AdoramaTV series From Where I Drone With Dirk Dallas. Along with his creative work, he enjoys teaching and inspiring new drone pilots.
Reviews
Dirk really did a nice job taking new students thru exercises to gain confidence. The work in Lightroom and Photoshop was helpful, but I wish more time could have been focused on flying or tips. Dirk has presets that he offers. It would have been helpful to see the results using those presets. Looking forward to the free which Drone to buy class and the advanced class
I definitely recommend this course if you are thinking about getting into drone photography looking for the fundamentals. I now feel pretty confident I can get started and that my learning curve will be greatly shortened thanks to the technology available today and a great roadmap of getting started. If you are already started... follow up with his advanced topics... I know I will.
Super class. As a beginner I had little idea what to expect and never got started because of all the talk of people crashing drones right and left and losing a fortune. Dallas made it seem simple. So I bought a Tello beginners drone (great starter by the way), got hooked and am now flying a DJI Mavic Pro 2 and studying for a commercial license. Not sure, this is a great class to start with.