Making Tube Strip Lights
Kevin Kubota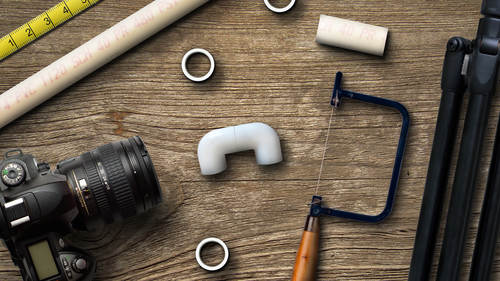 Making Tube Strip Lights
Kevin Kubota
Lesson Info
19. Making Tube Strip Lights
Lesson Info
Making Tube Strip Lights
Okay, so to light is basically what we want to make is a soft strip strip banks or something is popular or anything any kind of a light word had comes from a narrow sources really cool because it creates a it's soft but it's also control contained into just this kind of beam like that so it's possible lot of nicely sports you know, shots that have these strips along the side of the body these like nice little highlights that kind of highlight the mussels and stuff for dancers whatever they generally losing strip lighting of some sort either product strip banks that you can get remade or they're actually just flagging off lights and making us narrow window so well I was thinking about how can we do that for a speed light to make something it's easy and one of the things I brought up that tube yesterday you know, your big paper roll tubes you this is a shipping too, but you could also just take your seamless paper background to cut it, cut it down and you've got yourself a tube to work w...
ith so essentially what you want to do and I'm just going toe go quickly through the process here because it's step by steps in the guide and have one already built just save some time this one takes a few more steps but you're going to want to measure up about six inches from one side make a line and then you're basically in a draw a line across all the down to here to probably about there this is the other and this is the side your speed lights gonna go insane need a little more extra on the side and we want to draw a straight line all the way down and one of the easiest ways I found to do that is just to find something you can slide along with it I don't need to these groups sorry about the table so I just kind of line that up there where I wanted to go pull the tube steady slide I've got a straight line and I'm gonna go roughly halfway across the other side bring that back if you if you can't draw straight lines like me and caitlin and don't worry about it and then we need to cut this open so where is my connection? Oh who's good at cutting I see you you wanna cut don't you come on this side of the table here with me and I'm gonna cut the first line for you can you just hold me for your leg given what over your leg kaitlin you could get on the table over there I have this silver tweet on my table we've got a little window in here and then I'm gonna use silver foil tape and this is something of the hardware store from them ductwork section some like that and that's one of the easiest ways to do this is used oil take and this is kind of cool because you have it you peel it off so we're gonna lying this inside here with silver you pull all press let's have a partner helping you praise it plus it downs you don't stick it to yourself and mess things up here so yeah I'm not being super worried about the exact length of it I'm just gonna patch up it just needs to drop into that whole little bit there the idea being just to cover as much of the surface area inside this is just gonna help throwback as much light into the opening just one more piece in there and then ideally you'd put another piece or two on the end cap way have some bounce back from the end as well that critical pieces there then we're ready to add the speed light opening to the end so you take your speed light could be planned to use this has a pop off cap plastic cap just pops right off and on and I want to do is just basically figure out exactly where the speed that it needs to go same thing we did on our other a beauty dish here trace the opening line there and there's a couple of these already made back there we could have caitlin or somebody grabbed them for me and they were gonna cut this out as well and yet I'm cutting just slightly inside the lines that I traced so that we can have ah relatively tight fit way press fitted in there yeah, they were right behind all that's stuff against the wall right behind the flats that's a little tight from a little bit extra for here. Thank you so it's better to teo, make him a little tight and then trim it away than to make it too big and then it's not going to stick e idea being it's gonna pop right in there and then pop back into the tube see where we're going with that can you know we need to do it was to cover some diffusion on the front and we've already done that on these and when she hears a couple different sizes this one is with the big four inch tube covered with some diffusion. And then what I set up here a strap this is using the velcro sticks on so he's stuck on some velcro here so that when I put this in and I've been my flash head like this put it up against the back and I just strap that sucker in there so it stays I've also added in a little one of the spigots from the tripod speaking and screwed that into the box and which one it does make she put big washers underneath this when you screw with locknut so that it because this is just cardboard if you didn't have the washington's not of surface area, it could pull her breakthrough the cardboard but this allows me to put on a light stand also gives me a little place to hold it so already start lighting got squished and shipping a little bit basically heavier your lightning can kind of hold it by this thing or balance it by that and what you want to do is to find your balance point so I but the speed light in there find about where balances it's a different light than I used doesn't be perfect but find that spot where balances put that what you're speaking and then it's easy to hold what you're putting it on things and using like this so the best way to use this is upside down with a light so doesn't fall out if it does fall out on just put this on a standard hand hold it start to like ok, so let's just do a few shots with this before we go to break all right can someone huh? Kate linthicum let me move this stuff keep that thank you put a receiver on they're good to go, it'll be and what you want to set your zoom on this too? Because we our idea is to blast as much light straight down the tube is possible and have it reflect off the backs and through the front so actually want to zoom the head this time to his maximum in this case it's two hundred millimeters so that most of his kind of going forward and that will help you get more even elimination all the way up and down the tube if is very wide angle I probably have more of it towards this in and not so much freaking out okay so try to keep it zoomed on dh yeah would you take the end cap out or is it are you just using it to shoot through it's going this is the light right here so the end cap is covered with silver to bounce is much like back so we're trying to his illuminate basically this this whole part right here okay and then we're gonna have this on your head uh you know what let's let's try something different about what if you took your heels off and stand on the couch just hold your heels in your hand okay scheme is obsessive don't forget this thing anymore hey, good shift your weight to that sign thank you you just don't fall and in point your toe that way this left to bring it bring your heel closer and rotate your hips that way you shake it all about do the hokey pokey their ugo okay, so caitlin come on over here so we'll hold this, like, kind of on the side right here, okay, like that and channel be on that and I have a camera somewhere all right? So I haven't checked yet what my settings are I'm not gonna whereby we may play with this set up here in a little bit, but I'm going to leave it on the lens, baby and threw my plane and focus, turn your chin to the left. Wait, we're going to come a little closer, caitlin sorry, I don't even see where you were, you get to crank it up a little bit, so notice with the strip light, we're not getting a whole lot onto the background or anywhere else except right on the side of her body and that's kind of a whole point of this trip like is to just keep it isolated as much as possible on you're doing a good job with that rotate their come right about there swell, okay, like your chin up and towards the light source a little bit actually raise your eyes and look a little bit up towards away from me. So I cranked up the light about a stop give us a little more perfect exposure on the face and we want to turn her face right into that light a little more really shape her face and we're getting pretty close ok turn your hips away from a little more secure more turning your you're kind of looking over your shoulders turn your shoulders looking over your shoulders back now so your hips that way your shoulders back that face to be right at the lights it up just a bit beautiful baby baby hold your issues like in front of you like this or something we're standing yeah yes to do that kind of shift your weight to this side yeah and then just you know with that way okay that's cool about the same distance to the light as you were before remember you don't need to chin up and into the light to sell in the war okay let me sank a little bit want to go more more shouting but maybe you're right we'll see so just raise up a little yeah right there something okay okay good hand eye shape on her face on change did change all right so you want to tweak this real quick so what I would do is open up the shadows just a touch you know my highlight just a little bit and I'll take my digital fill flash all right give him a butt shot take my digital phil like a brush here and change that to but leave the settings where they are flow up just a little bit maybe close to twenty or so and I'm just going to go just slightly along the shadow side of her just enough to dab a little separation glow behind her head there and maybe down here by her dress see, he added a little dab of light there on the side of the dress a little bit up there throw just a little bit by her hair it works just like also what I would would have done which we will would have don't be a little more time is through a second light along this side so that we could have a little edge down here but I realized I can paint in and kind of illuminate that in post a swell so that kind of works too all right, any questions? We're just about a break time. I think it is exactly that time for break. Any questions in our studio audience, joe you're basically using a four inch too. So what if you had a smaller two smaller light source? I mean, the light would come out more intense. Yeah, a little narrower. Nero where? Yeah, like this one right here. This is the four inch tube and actually have one that's the three inch fish tube so you have a couple of different variety exercise your to just like the size of your your soft boxes more narrower the yeah, the larger it is the softer a little more it's going to spread um this is kind of this is actually nice to you can actually hold it right above someone just right above the eyes but the lens of the camera let's just do a quick shot like that. Um daniel here, take this say what? You could just just hold that like that favorite pointed at your face I'm sorry you're here don't get your way just eyes put it as far away from your faces you can actually know what caitlyn don't you hold it make it easier for her she's doing enough in one time instead of having to hold her own like and you can hold from right here place your arms not in the shot him that towards her and what have you bring it down right there? So chin up just a touch turn everything on that be a good, good idea and we're time chin up just a touch more who didn't even check my exposure is clean break, so that gives you similar to ah beauty dish to bring that down but a little bit softer because it goes wide on her. But having that come directly from my from over but overhead I didn't go down by just the right one note from one that's on group b yes throwing three when you need a champion more and went on to much just a little more gazing up into that light just a little bit more, just to chin as much as your eyes. Yeah, and now you raise your eyes lately anymore. Go ahead, look up right into it. All right, so I forgot what the question was. We were talking about sizes. Who, yeah, besides youtube matters for this one here makes a difference in the light, uh, bidding on. If it's, you know, you could probably find some larger ones. I've seen bigger shipper tubes. It might be fun to experiment with different sizes to see what what effect to get from those.
Class Materials
Kevin Kubota -- DIY Lighting Tools Manual.pdf
Kevin Kubota - Special Offers.pdf
Ratings and Reviews
Super good course highly recommended it will help you get started on a low budget, yet creating wonderful images. Is there a link to west got?
This was an awesome fun class! So many great ideas on how to achieve various lighting effects on a smaller budget. You will save the price of the course most likely by making one softbox (or whatever) yourself. Highly recommended!
Going into my 4th year of photography, I finally built a photo studio in my home and after purchasing some lighting gear and other accessories, I decided to buy this course for additional ideas - GREAT class! I learned a LOT and was very inspired to be more creative. I especially liked that Kevin didn't joke too much or stray away from the course very much at all. Yet, he was still very entertaining and very informative. I'm putting so much of what I got form this class into action right away! This course DEFINITELY pays for itself - right away!
Student Work