Product Overview
John Greengo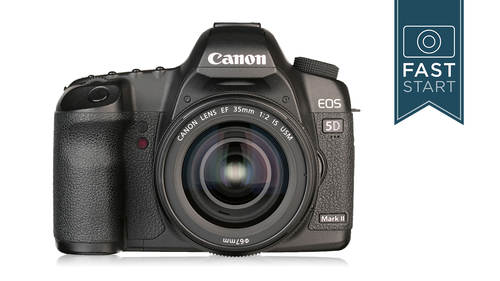 Product Overview
John Greengo
Lesson Info
2. Product Overview
Lesson Info
Product Overview
So what? What I think is really great about five demark, too, if I had to really summarize it in just a few little bullet points, you might say is first off the sensor on the camera, the twenty one megapixel full frame sensor. First off, we got a lot of pixels for core rate resolution you're able to crop in, you're able to make really good enlargements, and the full frame sensor gives us a lot of great abilities with variety of cannon lenses, and we'll be talking about lenses and how that matches up with the sensor as we go through the class. The incredible image quality in low light has really broken ground when it first came out things that you could do under low light, and I know now I khun shoot some pictures under low light conditions that I just couldn't with the previous version of the camera, the five d, because now you can shoot it s o sixteen hundred and thirty, two hundred and have really, really clean results on it. And then, of course, the big game changer for the industry...
was thie hd quality video. And so you have a camera like this being used on hollywood films, documentaries and in all sorts of places, and so that definitely has cemented its place in the history of monumental cameras. It has generally was just what I would call it a professional feature set everything from depth of field preview to mere lock up the high res screen on the back, which was still kind of new at the time when it came out on the really high quality prison system that it has in their fur for the viewfinder just general features that a professional camera professional operator would appreciate in a camera and then the finally it's it's really well built it's a very solid construction camera it's still not the top of the line from cannon, but I consider this, as do most people a professional quality camera just by the construction, the strength of it and the weather ceiling, which we'll talk about specifically in just a moment if you are maybe switching from nikon or you're stepping up from some other brand of point shoot kind of welcome to the candid family of cameras they've been around for a long time. They started off making these cute little range finders, and then they went in two single lens reflex cameras with interchangeable lenses where you're actually looking through the viewfinder in about nineteen fifty nine and then they started getting more serious in nineteen, seventy one and that's when some of the professional started adopting cannon and things took a major change in nineteen eighty seven when they change the lens mountain and they came out with a whole new series of cameras and lenses, and everyone who had cannon stuff before nineteen, eighty seven had to go repurchase all their lenses in it causes a little bit of turbulence, you might say, within the cannon community, but they they switched over to a much better system, a much larger lens mouth that enabled them to have really fast lenses and do this auto focus thing. And so if you have a five day mark, too, you can use lenses back to nineteen eighty seven, but you don't want to put anything older than that on it. While technically you can make it work with the right adaptor it's very, very inconvenient for work, so anything auto focus you can work with? In two thousand, they brought out their first digital slr, and it had three megapixels and sold for three thousand dollars. And we've come a long ways in that relatively short period of time, so the cameras have really improved quite a bit. One of the great things in being within the cannon family is, of course, the large collection of candid cameras. We have everything from entry level cameras to top of the line professional cameras, and so as you grow as a photographer, or your you have someone else in your family, you're gonna get your kid a camera, you can get them an inexpensive slr and they can use your lenses. And so you can share these back and forth and it's a very, very popular system. It is the most popular slr system out there. Of course, you have a lot of lenses. Cannon has well over fifty lenses at this time that you can choose from just about anything that you might want to do. They probably make a lens to do that. And of course they have a great flash system as well. And so we'll talk a little bit about specific clashes and what I'd recommend, uh, later in the class. Now five d mark to kind of its position and heritage within line up it is the upper in there. One d siri's is their top of the line cameras. We do have the five d mark three out now, but the five d mark too it's a little. I don't know exactly how to talk to some of the folks that cannon, how long that's going to stick around, but they probably don't even know themselves they typically will keep a camera like this around for quite a while. And at this point now it's kind of nice, that there are a couple of full frame options and this one being the more affordable one is going to be a popular one for people to get into. And I think cannon could have it around for several more years because it's a very viable good camera. The five d was a revolutionary camera because it was the first full frame camera that was let's call it somewhat affordable at three thousand dollars, and so it kind of broke new ground and, uh, five deep mark to made a lot of improvements on it and five d mark three has has made a lot of improvements, but there's more, they're smaller in size. And so I think there's a bigger difference between five d and the five demark, too than where we've gone to with five d mark three, but I have used the five, the mark three, and I do really like it. It's, quite nice, but five demark, too, is a subject for the day, so we're gonna go ahead and open up this box. We have a brand new. Can five be marked which is always find out open up a new camera so let's go ahead and kind of talk about some of the things that we get in here so we have a warranty card we're of course going to have our instruction manual and because this is all sealed were not gonna open this and we're actually here for the class so you don't need that candid cameras they're going to come with you various software so that you can download their raw image most photographers I know don't use the cannon software they prefer products often times the most popular one is going to be like an adobe light room or photoshopped for downloading images and working with images you get the good old camera strap here and not the hugest fan of these cameras traps I kind of hate the advertising until ken and pays me to advertise for them I typically like the black rapid straps or the more basic just standard black straps they're going to give you a couple cables, which I think I don't know if anyone who has had cameras and other electronic devices ends up with a drawer of these cables that they don't use anymore we'll talk about card readers for downloading your images but we do have a cable here that you can download directly from the camera to the computer and then we have another one with the yellow and ribs where we can connect our camera to a tv to do a slide show we're gonna have a little travel charger which is a great little device because it's quite small has a little simple little plugs that fold up and I really love the fact that they get these things to fold up because packing this is you always had that one little thing and they're right just smashed up against something and now it folds up so it's nice and small and so we'll talk about batteries here a little moment moments so we do have better here and somewhere stuffed inside here very well, pat all right, can we can we have an aw way uh all right. So we got a brand new five d mark to here and I need to outfit it. You might say so I just brought along a charged battery let's go ahead and install that hadn't put in a memory card and this particular one did not come with lens. They are sometimes packaged and sold with the twenty four two one o five four l lens will actually talk about that lens in a little bit, but it's a very good kit lends itself professional quality one of their l lenses and I'm gonna switch lenses here real quick so that I can shoot pictures of my students today set this aside and so uh not too much you're going to need besides what comes in the box other than obvious lots of lenses more lenses the better you might want to get your own camera strap and we'll talk about a lot of the accessories as we go through the camera. So if you do go into the instruction manual kind of one of the things on the first ten pages is this care and handling all these warning these dire dire warnings about what not to do with the camera you know don't drop it don't put it in the leg, leave it on the stove don't leave it by a giant magnet some crazy things you know, some of my favorite ones you know don't swallow the battery, you know, if we really have to be told not to swallow the battery and in essence is basically means don't be stupid with the camera and I think we all know what that means. And so one of the things that it says is actually one of the things about the construction of the camera got to mention that oh, there we go there's always stuff I get behind and ahead of my slides sometimes, so I apologize for that if I make a mistake and so we talked about not being stupid with camera it is a well built camera it has a magnesium alloy body to it so it is built of a very strong metal housing. So it's gonna handle a lot of stuff. I hate to admit it, but I did drop my five d mark to once, and it was it was like the worst imaginable type drop because I didn't just didn't drop it from my shoulder. I had actually had it on a tripod and I did it. Quite have it mounted on it, right? And I was raising the tripod above my head too lower one of the legs and the camera was up around seven feet and it fell down onto a mix of dirt and rocks and the camera survive just fine there's a small little scrape on it, but it it handled it quite fine, so it is quite strong. So one of the things is that the, uh they mentioned is the camera is not waterproof, and so you can't go scuba diving with the camera, obviously, and being out in wet weather is not the best it does have, whether ceiling to it. And so just to kind of show you how I actually deal with rain. I recorded myself shooting in the rain and so it got a little video clip for you here I was down in oregon. Uh shooting along the coastline is you can hear it's raining pretty hard but there's a shot I really want to get so I got to go outside and get it really quick okay, here we go way number one all right. Still little closer teo little back top shot here right about there okay back to the car with you know it's the type of thing if it is raining you're going to go out there you're gonna get your shots you're going to get it done quickly and get out of the rain I would not shoot a football game for two hours out in the rain in this camera unless you had a rain cover over it and so a friend with an umbrella is good but they do make special rain covers that you could get for it as well it is pretty well weather sealed you know, somebody I accidentally knocked over a bottle of water on the camera it would probably survive just fine in this image here you can see actually the weather ceiling where they put weather ceiling on the camera as well as thie strengthened magnesium seals on the body for strengthening it, keeping it in very solid construction and so there is a lot of things that they've done it's just that it can't handle much pressure so you don't want to take a hose and spray it off a cz I have seen on some youtube videos so the other thing when it comes to the karen handling of the camera is you want to be careful about using non cannon accessories because kanan says they avoid the warranty if you use non cannon accessories and there's face it there's a lot of things that you can hook up to the camera that it's non cannon you can put on aftermarket lenses flashes you have a bunch of these reports over on the side that we're going to talk about where you can hook up all sorts of devices memory cards and batteries and so forth I have not seen any situation where an accessory broke a camera it's just rare very very rare now there are some situations where cannons cameras this camera particular can communicate with a cannon lands and it knows for instance how much vignette ing a particular lens has and it can correct for that in some situations and so it needs to be able to know how to communicate with the lens and so if you get an off brand lends it won't be able to do that little feature but in general it's not usually a big deal for most people the main item out there would be batteries that you could buy because the cannon batteries are little pricey they're they're kind of expensive and you can get knock off cheap chinese made batteries for half the price or a third the price and they're not as good as cannons. Sometimes they don't have the little electronic chip that transmits information to the camera. And so you might have a little less features, a little less power. They tend to be a pretty good value. But I've stuck with the cannon ones just because they're a little bit better. And they're not that much more money.
Ratings and Reviews
Having used an XTi I was familiar with the basic Canon layout, but when I bought my 5D MKii used from my wedding photographer who updated to the MKiii, I knew there would be a ton of features I'd never really understood. This video series is fantastic. I've learned so much about my camera, many tips on best practices when planning shots and I've seen an increase in the quality of all my photos as a whole vs. just taking a ton of pics to try and capture one or two that turn out nice. I'm excited to try out so many new things I learned from watching these videos. I'd recommend these videos be the required guide to anyone who owns a 5D MKii.
Amazing class, I walk away feeling like I've made this machine my own. Like getting a new car and adjusting all the seating and mirrors and radio stations to your comfort, then giving it a name because its officially yours. My camera now feels more comfortable to use and I can't wait to use it again with these new found tweaks. Thanks John, always a great class!
Excellent instruction. The instructor is very knowledgeable and a very effective communicator. Great photo examples and "SLIDES for that". Creative Live and John should both be commended for providing in depth and pertinent information. The Canon 5D MkII is a great camera however without a body of knowledge to fully utilize it you might as well have a low end point and shoot. I would recommend this class to anyone who has a 5D MkII, no matter your skill level. Great job!
Student Work