EF vs EF-S Lenses
John Greengo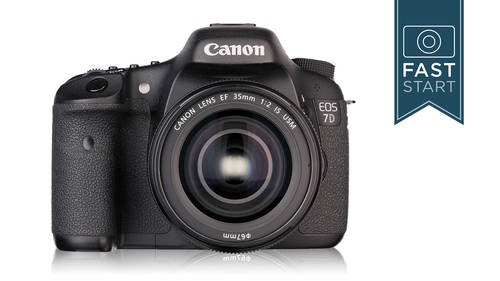 EF vs EF-S Lenses
John Greengo
Lesson Info
6. EF vs EF-S Lenses
Lesson Info
EF vs EF-S Lenses
two different types of canon lenses that you can put on your camera E f and F s. So let's talk about these. The E F lenses are easy to figure out because they say e f on them and the E f lenses will say e f s, and they will have that white square on it. So you can clearly see what type of lens you have. Now, if you have a Tamar on Takina or Sigma, they're gonna have different indications this is exclusively with the cannon ones. So what is the big difference between the E f and the E. F S lenses? Because you can use both of them on looking 70. If you own a 70 l say, that's really clearly you can use any of the canon lenses any cannon auto focus lens you can use on this camera. But here's what's happening with the E F lenses is that as light comes through the lens for the full frame sensor, which this camera doesn't have, But on the full frame sensor cameras, it produces a very large image circle, so it covers the entire surface area of that particular sensor. Now the E. F s lands produ...
ces a smaller image circle for these smaller image area that it needs to go towards. Now, If you were to take your e f s kit lens that you got with your 70 and mounted onto your new full frame camera, what would happen? Well, this is what would happen is that you would get heavy vignette e. And this is not something that most people would really like to have. And so you can't take the GFS lenses and mount them on Canon five D mark to mark three in the one Siris of cameras. And so you will have to upgrade. Your care is if you upgrade, but you can use all lenses on your camera. So let's say you find a nice E f lens you want, like a 28 to 72.8 24 toe 1052.8. What happens there? It produces a very large image circle, and you're gonna be using the middle portion of it, which is perfectly fine. It's the sharp area of the lands, and you're gonna have nice even coverage from corner to corner.
Ratings and Reviews
Excellent class. Lots of great info demonstrated in a very easy to follow presentation. John is superb at slides, and little details. Thanks for a great day of learning. I love my 7D even more :)
If you already shoot with a Canon that is not a 7D, a lot of it you may already know, but it will help you get to know your way around the 7D's features, such as its autofocus system which, with exception of the more recent 1D MK4/X and 5D MK3, is one of the most advanced in the Canon DSLR range - this means it can take a little while and practice to get used to. The course is probably best suited towards the beginner and possibly intermediate users - and maybe someone coming from another camera brand such as Nikon and Pentax, etc. More advanced users will find it basic, although there is some good information on how to set the camera up, and setting the more advanced custom functions. Conversely, this is not a workshop on basic photography, so a little basic photographic knowledge will help you understand the topics being discussed (but that's not to say that a beginner won't get anything out of it). At the time of writing this review, cL have bundled this course with another of John's courses, "Fundamentals of Digital Photography". So I would recommend you take advantage of this special price if you are starting out.
Very useful. Picked up some good tips even though I've had my 7D for around 12months. I feel a lot more confident in using the camera and love the back button focusing set up for when I'm composing images using a tripod. Love John Greengo's relaxed, unassuming style and his openness in sharing his knowledge and experience. GT New Zealand
Student Work