Canon EOS M3 Fast Start
Live Demo: Playback Displays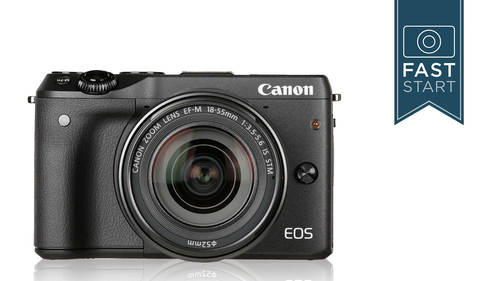 Canon EOS M3 Fast Start
Live Demo: Playback Displays
Lesson Info
Live Demo: Playback Displays
then we have our play buttons so we can play back all the images that we have taken on our camera. So that kind of kicks our camera into a whole different mode, and we're gonna be using a number of different features that are going to be a little bit different. Same the same buttons, but used for different features. And so we can scroll or go left and right to go previous and next photos. We can also jump 10 photos forward or back with the top dial on our camera. We can get rid of our images with the garbage can button down at the bottom. So let's go ahead and do a little demo of playing back some images that we've already taken. So make sure my camera is turned on, hit the playback and okay, so here we got a photo from somewhere else in creative life. And so if I want to go forward and back, I can simply go forward and back. I can turn the dial back and forth. We got a little bit of a graphic display going on, but I can jump 10 by just turning the top dial on the camera. Actually, wha...
t? We're this when I have currently program for dates, not doing what I thought it was going to be doing. And so let's get back to okay, here's one of the hallways and creative life and so I can hit the magnify in button and I can zoom in and I can pan around this image to see what else is in the image. I can also zoom back out, and if I keep zooming back out, I'll get a grid display of six images and then wouldn't we up to about 12 here and I don't know how many we would be up to here, but we could go back even smaller and smaller. And then we confined different images, and then we can use, obviously are touch screen to go in as well, and so we can scroll back and forth on our images. We can zoom in. Let's see. Come on, there we go. We can zoom in, pinch to zoom in and move around, and so you can use a variety of controls to zoom in and zoom out and go from image to image. So very easy to navigate through the camera in that matter. All right, we did zoom in. Oh, and you can adjust how your camera magnifies in. And so by hitting the magnify button. Currently it's set to an eight times magnify. You can change that 2 to 4 times or 10 times magnify, depending on how close you like to magnify in to your subjects. And then we did the zoom out as well to our thumbnails, and so you can go in and you can adjust a number of these controls if you go into the playback menu on the camera and we'll be doing that in the second half of this camera. One of that options is the displays. How much information you see, which let me go ahead and do a little demo on that as well. And so if we choose an image to look at, if we hit the info button on the back of the camera and we just kind of cycle through, just keep hitting it, you'll see that we have different displays as to which information we can get. Ah, full image with no clutter, which is what I like most of the time. But every once in a while. I like to know what shutter, speed and aperture and I s O that I used to take that photo could look at the basic hissed a gram, a brightness hissed a gram here, as well as information laid out in a slightly different manner. I can also look at the RGB the red, green and blue hissed a gram from or information and then hit it again to cycle around toothy pure image with no information. And so hitting the info button never hurts anything. You can always just cycle through information by hitting that button.
Class Description
Dense technical manuals make for a terrible first date. Get the most out of your new Canon EOS M3 with this complete step-by-step walkthrough of the camera's features. Join expert photographer John Greengo for a fast-track introduction, and unlock your camera's full potential.

In this fast start, you'll learn:


How to use the autofocus system

How to use and customize the menus

How to use the M3's video capabilities
This fast start includes a complete breakdown of your camera's exposure, focus, metering, video and more. John will also explain how to customize the M3's settings to work for your style of photography.
Reviews
I am a complete beginner with photography, I've only used my phone until now. I bought my camera about 3 weeks ago and I've really struggled, as, for example, the manual says turn the dial to select, not which dial, or how to get to the correct place, setting or menu, so that the dial will then work. I'm only up to the 5th lesson and I feel that I understand my camera so much more. I wish I had bought this on the first day. I'm not connected to this company, author or anything else, I was just frustrated, and feeling like giving up as I couldn't get an unblurred photo on my new camera. Thank you so much for this wonderful, easy to understand and follow guide.
I wasn't too impressed by the M3 until I found this course. It changed my whole outlook. John gives a great delivery and fully explains in plain English.