Canon EOS R Fast Start
Menu Functions: My Menu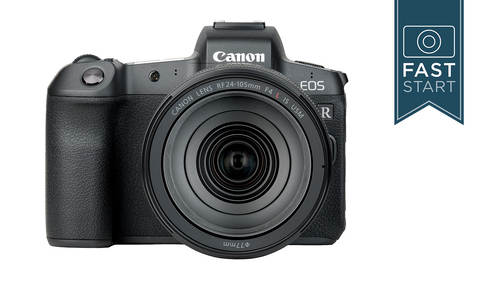 Canon EOS R Fast Start
Menu Functions: My Menu
Lesson Info
Menu Functions: My Menu
Alright, it's time for everybody's favorite menu. My menu. This is where you get to customize the menu into the way that you want it to work. I think for anyone who truly has their cameras set up properly, they will pretty much never need to dive in to the regular menu because they've got everything figured out that there normally doing and they're gonna have shortcut buttons that's gonna be in the quick menu. And if not there, you can have it in the my menu. So let's go ahead and set up my menu and we're gonna do it for a couple of different things. So first thing we're gonna do is hit the menu button. We're gonna come over to my menu and we're gonna add a tab so you can have multiple different tabs. And so first we're going to say OK on this, we're gonna add a tab, and now we're gonna configure this tab and we're going to select items to start with. All right, so let's choose things that we might want to dio. Let's see, we got image quality. This is ah, good one tohave. Let's see. I'...
m gonna go down through this image review. Let's let's do exposure bracketing in here. Let's find one more looking for something particular A lot of different options in here. Let's do HDR mode. And let's call it good here. Okay, so we're gonna hit menu to go back, and we're going Teoh sort these items. Let's see, Let's take the HDR mode, select it and move it up a notch and you can reorganize to your heart's content. We're gonna call that good. Hit the menu button, go back. We could delete selected items. We could delete all the items we could delete the entire tab. And now we can rename this tab. So what I'm gonna do in here is I'm going to use the touch screen on the back of the camera, and we're gonna add in a name. So these are my landscape settings, and I have a tab now set for landscape. All right, we're gonna have menu to come back out of this and so you'll see appear. It says landscape. Now you can go ahead and add in another tab and we'll go ahead and add this in, and we'll configure this select items. I'm not gonna be particular. I'm just gonna choose a bunch of things, Obama, which is one more. And then we'll menu to back out of this and we're going to rename this tab. We'll delete all this, and we'll just call this strike. Okay, so there we go. So at the menu to back out of this And now we have two tabs. We have a landscape tab and we have a general tab, and then we have kind of the Operation tab where we can add more tabs, and I forget how many tabs I think we could do about five tabs. Now, the nice thing is, is that if we're in the menu system, when we go out, we're shooting and we hit the menu. It comes well, in this case, it doesn't go back to my menu because I guess I haven't programmed it yet. All right, so let's do that menu display normal display from my menu tab. There we go. So now if I'm in the menu and I'm someplace random in the menu and I hit the menu button again, it jumps back to my menu. Now there's even option in there where you can eliminate the entire rest of the menu. So if you wanted to give your camera that had very limited set of controls for somebody else, you could eliminate all the auto focus in the playback on the set up men, you so people can only see what is in my menu and so you can have a page for each type of photography that you do. And so I've sent my cameras up having a landscape tab and an action tab in a portrait tab and then a video, one that has all the video stuff on it and then just a general tab with things like maybe formatting and some display options. And so you can find all those little pieces in the menu system that you haven't really found a place for a button on the camera, not quite that important someplace you still want to get to relatively easily and quickly. And so the menu the my menu is something that I encourage everybody to hook up and get programmed with the way that they want with what they dio
Class Description
AFTER THIS CLASS YOU'LL BE ABLE TO:
Understand how to navigate the menus, modes and settings
Know how to use Compact Raw files for faster post-processing
Utilize Canon camera features that cross over to several Canon EOS models
Use the 4k film options for incredible video performance with amazing opportunities for color grading when in post-production
ABOUT JOHN'S CLASS:
The Canon® EOS R is a workhorse Canon camera, hauling features from the RF lens mount to the 0.3MP full-frame CMOS sensor and 4K video recording. But the EOS R camera's impressive list of features are simply wasted if you don't know how to find and put them to use. Skip the floundering through menus and join photographer John Greengo in exploring the mirrorless camera's many features, from customizing the camera to understanding dual-pixel autofocus.
The EOS R leads off a whole new full-frame mirrorless system for Canon; its smaller size brings a host of new controls to the world of EOS cameras. The latest updates prioritize image quality with a high resolution sensor and equally impressive OLED electronic viewfinder. Fast autofocus in video, with numerous video centric features, as well as a variety of ports make video a priority on this camera.
This class is designed for photographers using the Canon EOS R, from those just pulling it out of the box to photographers that just haven't found all the camera's features yet. The class can also serve as an in-depth look if you're not yet sure if the EOS R is the best Canon camera for you. Learn your new Canon inside out as John Greengo shares the essentials in less time than it takes to analyze the menu -- and have more fun doing it too.
WHO THIS CLASS IS FOR:
New and potential Canon EOS R owners
Outdoor photographers
Portrait photographers
ABOUT YOUR INSTRUCTOR:
An award-winning photographer specializing in outdoor and travel photography for over three decades, John Greengo has developed an unrivaled understanding of the industry, tools, techniques, and art of photography. As an educator, he's led more than 50 classes covering the in-depth features of several different DSLR camera models and mirrorless options, including Fast Starts for Canon, Nikon, Sony, Fujifilm, and Panasonic. Greengo's experience is extensive, having used the 5D series since its first model release. Beyond the basics, he's also led photographers through the ins and outs of advanced options like the EOS 80D and EOS 7D Mark II to entry-level Canon Rebel cameras like the Rebel T6i and T6. John's unique blend of illustrations, animations and photographs make learning photography easy and fun.
Reviews
John Greengo is a very good teacher. I think it's the best investment you can make to get to know your camera well - especially something new like the EOS R. I love his feedback on what new features are worth trying and others that are simply not there yet. Awesome course!
This is the best course I have ever seen on how to use a camera, it guides you through the functions, settings, hidden configurations in a crystal clear way using very well designed visuals aids. I'm glad I was able to find this class, it's really a great quality course, thanks a lot John Greengo and CreativeLive Team!
John Greengo is wonderful at making His classes easy to follow and understand. We have purchased the Canon R and found that the only books with directions are in German and Japanese with the US version out in August. We are very grateful that John has produced this class. Love the CanonR but with Johns' class; the camera is easier to understand. Thanks! Hope to see more on the CanonR!