Creating and Leading Incredible Teams
How to Become Intellectually Humble
Shane Snow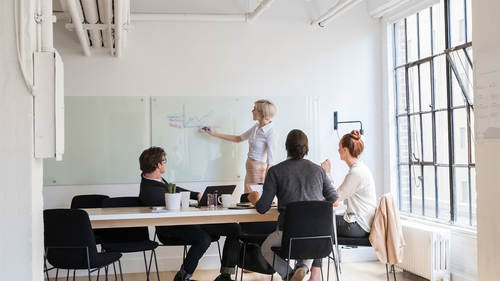 Creating and Leading Incredible Teams
Shane Snow
Get access to this class +2000 more taught by the world's top experts
24/7 access via desktop, mobile, or TV

New classes added every month

Download lessons for offline viewing

Exclusive content for subscribers
Lesson Info
15. How to Become Intellectually Humble
Lesson Info
How to Become Intellectually Humble
How do we become more intellectually humble? How do we become open to new experiences? How do we become open-minded? Well, the problem with open-mindedness is all these philosophers and psychologists and people, we've said open-mindedness is good. Most of the time we agree on that. Maybe being too open-minded is bad, you know when your brain is to fall out. That's what Carl Sagan said I think. But certainly closed-mindedness is not good. We use that as an insult. But the problem that we've had is there's been no way to measure intellectual humility. So we can measure openness to experience. There's a psychology test called the Big Five, which is Myers-Briggs is the common personality test that people take. It's been for years and years and years debunked by psychologist as not very accurate and not very good. The one that they prefer is called the Big Five. Openness to experience is one of factors in the Big Five. The other things are like neuroticism and things like that, conscientiou...
sness. And intellectual humility is the other part of the equation, we've had no way to measure it until last year. So last year some professors from Pepperdine University put together an assessment that they published that was academically approved by the community that measures, gives an accurate measure, of intellectual humility. And it breaks down into four things. First is respect for other viewpoints. And this is sort of obvious, if you can't respect another viewpoint, it's gonna be really hard to change your mind when you need to. Second is not being overconfident intellectually. So if you are too confident in how smart you are about something, it's gonna be very hard for you to change your mind. Third is separating your ego from your intellect, so attaching your own identity to your smarts or to your smarts on a certain topic. And then the fourth is the willingness to revise your viewpoints. So hooray we can measure this now. You just took an assessment where I put together the Pepperdine University study with the Big Five's openness to experience so that we can have it now, a five factor view of open-mindedness. Now it turns out that most people when you ask them if they're open-minded will say yes. In fact 95% of people say they are more open-minded than average. If you think about that, that can't be true. Some of us are less open-minded than average. Part of the reason for this is because open-mindedness is not just one thing. It's these five things that I've just described. And most humans are pretty good at some of them, and most of us have areas where we're weaker. And that there's probably a lot of reasons why that comes about. And from studying this assessment, we now know some things that can actually help us to improve these. So the class took this quiz as did a whole bunch of people on the internet, and the average score for each of these hovers between high 80s and low 90s. For openness to new experiences, this class scored average. Okay, most people score around the same average. For the lack of intellectual overconfidence, this class and the CreativeLive crowd scored lower than average. Turns out that we think that we're pretty smart. (audience laughing) For respect for other viewpoints, CreativeLive class and community, off the charts, lots of respect for other viewpoints on average. Not everyone got these scores, but if we average up this crowd compared to the thousands that have taken this quiz before. So respect for other viewpoints. It makes sense in a creative community that you would have that. That just sorta makes sense. Openness to revising viewpoints also very high. Separating ego from intellect, very low. Turns out that this actually kinda maps to my own scores. Separating ego from intellect is my worst score. Turns out that I as a curious person, as an explorer, I like learning and trying new things, I respect other people's ways of doing things, I can change my mind, but it really hurts when I'm proven wrong. I attach my identity to my intellect, and I am pretty intellectually confident, which means when I am proven wrong about something, even though I know kind of in the higher order sort of logic part of my brain that I should change and I will, I go home and I feel shitty. And that actually can prevent me from being the kind of open-minded teammate that can allow me to be part of a groundbreaking team. So how do we improve these things? How do we open our minds? Well the next couple of lessons are gonna be about just that.
Class Description
You've put together a team composed of the best and brightest of your company. They cover the gamut of skills and capabilities. They've proven themselves to be self-starters who get things done. Then why in the world are they failing miserably?
A great team is more than the sum of its parts, so even if you've stocked yours with superstars, that doesn't mean it's going to be successful. The unfortunate truth is that most teams don't achieve the synergy needed to make things happen, and even the ones that work tend to slow down as time goes by.
World-renowned speaker, author and entrepreneur Shane Snow will show you how to defy the odds and put together the perfect combination of people to make real progress. This course does a deep dive into the counter-intuitive art and science of breakthrough collaboration—from partnerships to giant enterprises. Shane will tear down the huge, common myths about teamwork, culture and leadership, and uncover a framework that will help you uplevel your team building and leadership skills for the rest of your life.
In this class, you'll learn how to:
Use the two-step "casting" method to assemble your dream team.
Harness the full potential of your team and its members.
Become a strong, open-minded leader and rally your team to great things.
Design and maintain an incredible team culture.
Understand the concepts of cognitive diversity and the mathematics of synergy.
Figure out what powers really matter for your team.
Brainstorm productively with team members.
Open your team members' hearts and minds.