Creating and Leading Incredible Teams
The Ultimate Guide to Brainstorming
Shane Snow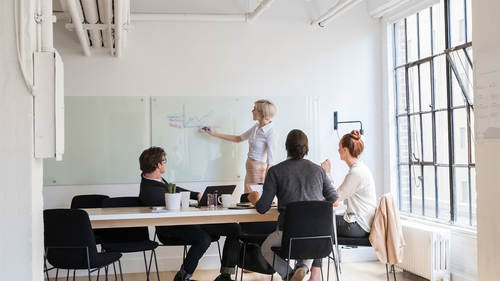 Creating and Leading Incredible Teams
Shane Snow
Get access to this class +2000 more taught by the world's top experts
24/7 access via desktop, mobile, or TV

New classes added every month

Download lessons for offline viewing

Exclusive content for subscribers
Lesson Info
13. The Ultimate Guide to Brainstorming
Lesson Info
The Ultimate Guide to Brainstorming
In our last session we talked about brainstorming, knowing the theory of the zone and of getting people in the zone and pulling people off of the cliff. We can now talk about how brainstorming usually sucks, but we can make it a little better. So the best strategy for brainstorming is trying to get your group of different brains inside this zone of possibility. So I'm gonna rank some of the brainstorming methods. The worst way is the group round table, where you say "every idea is a good idea, we're all here to get along and you know, and celebrate each others ideas." That's the worst way to do it, you're not stoking cognitive friction. A less worse way is individual brainstorming and adding your list up, so having those same people go to your desk or your bedroom or whatever, come up with your list and then we're gonna add them together. That's less bad, but there's still, you're not stoking cognitive friction there. So a less worse way is to do the brainstorm on your own then put eve...
ryone together in the group and then add some people who are outsiders, who are different than the group, who aren't part of your community. So that's a less worse way. An even less worse way is to do all that, brainstorm on your own, combine them in a group and then add an extreme input. One of my favorite studies where they did this, they did a series of brainstorming exercises where they brought in a character who was like nuts. And they had them kinda start speaking up at the very beginning of the brainstorming session. The guy in the one that I wrote about said his name was Patrick, he was a private detective, but he was not very good at his job because he was too busy spending all of his money on brandy and being drunk and he had a really unruly dog, that it was always urinating on his rug so he spent the rest of his money buying new rugs all the time. This is not someone that you want on your brainstorming group, this guy sounds nuts. When they have Patrick show up to the brainstorming exercise people feel a little bit more free to express ideas that would normally be a little bit out of bounds. So in the discussion in the round table after you've brainstormed your own ideas knowing that Patrick's around, your place in the group is safe. They also did this with extreme inputs where they would, the leader would start off and this is to kind of your point earlier. The leader would start off with a terrible idea that would never work but just to kind of set the boundaries of where we can go this. The one that I learned about was a mobile app, where they, "we wanna make a mobile app and some sort of thing to remind people to be financially responsible. So what are your ideas?" And they started out this session by saying "such as we can make a wearable device that every time you forget to, you know do the reminder on your mobile app, has a little razor blade on the inside and it cuts you on the wrist, and like if you do it bad enough then it's gonna really cut you and maybe you'll bleed out." And when they start this brainstorming exercise with that idea, people came up with better ideas. So throw that out there before you have people, so this is the better way. That diverse group round table, where everyone brainstorms before, you give them these kinds of inputs. The even better way is that, but where you then have a debate afterwords, where you're trying to poke holes in the ideas, where you're actually stoking the discussion, the friction out of that can often emerge ideas that no one had thought about on their own. Even better way, a prepared debate, where you have the debaters switch sides, so you warn people they're gonna debate these things so come up with your best ideas and then half way through the debate, you assign people to switch sides. Even better than that is where the moderator actually is very actively trying to keep things in the zone. So they're identifying things when they get off track, when people are making things personal, when they're throwing in red herrings or they're trying to defend themselves rather than the ideas and when people are nodding their heads and getting along too much, the moderators job is to actually push them back off the cliff. Best way, said this before, why not have a series of one on one conversations with everyone and debate yourself with them, where you could actually express things that are outside of what the group might be comfortable with. And then you can bring the group together to have the round table on all of that. If you think about, how we live in this world where anything you say that's risky on twitter could potentially ruin your life, right? Because people will get the pitchforks out if you could say the things that are risky in one on one conversations with someone who trust is not gonna destroy you, then we can actually push debates and ideas forward, developing them to the point where we're confident about them and then bringing them to the wider group. I think that's that's the best way to do it. My favorite result from a brainstorm session, is, kinda has to do with this. So my friends and I are really into costumes and costume parties and every couple months we throw a costume party, where my buddy Brannon, makes a poster and you know, we invite people over. And they're always themed, so when we're coming up with the themes for the costume parties, we all wear costumes. And then we go sit around my kitchen table and brainstorm costume party idea. So first of all, wearing the costumes like helps put us this sort of silly area, where we can sort of express things that you know, maybe are weird. But we also have his guy Brian, who is the best to have in these brainstorming sessions 'cause he will stay stuff that is just so far out of field that we often make use of that. So Brian is like, I just don't even know how to describe him, like so deadpan with these ideas and things that he'll say. My favorite outcome of late that I remember is, we're brainstorming an idea for a holiday party and we're like, oh well we could do, you know, a Santa themed party, we could do this themed party, whatever. And Brian is like "what about aliens?" (chuckles) And we're like Brian, what? That's a terrible idea, "like yeah, what about aliens?" you know, we dress as aliens or favorite aliens." and we're like no, it's a Christmas party. We're not gonna dress up like aliens and then someone was like, "yeah, but what if we did Christmas in space?" and it turns out that even though that's kinda silly, Christmas in space was a really dope party. This is the poster that Brannon made, this is Brannon in an astronaut costume and a Santa hat, this is everyone's favorite party of the year, we had a 100 people show up. And this is a silly kind of example, but the idea that, you know, not just having the brainstorm ideation session be this thing about getting along and saying yes, great idea Brian, but actually leveraging the cognitive diversity to make something better, so.
Class Description
You've put together a team composed of the best and brightest of your company. They cover the gamut of skills and capabilities. They've proven themselves to be self-starters who get things done. Then why in the world are they failing miserably?
A great team is more than the sum of its parts, so even if you've stocked yours with superstars, that doesn't mean it's going to be successful. The unfortunate truth is that most teams don't achieve the synergy needed to make things happen, and even the ones that work tend to slow down as time goes by.
World-renowned speaker, author and entrepreneur Shane Snow will show you how to defy the odds and put together the perfect combination of people to make real progress. This course does a deep dive into the counter-intuitive art and science of breakthrough collaboration—from partnerships to giant enterprises. Shane will tear down the huge, common myths about teamwork, culture and leadership, and uncover a framework that will help you uplevel your team building and leadership skills for the rest of your life.
In this class, you'll learn how to:
Use the two-step "casting" method to assemble your dream team.
Harness the full potential of your team and its members.
Become a strong, open-minded leader and rally your team to great things.
Design and maintain an incredible team culture.
Understand the concepts of cognitive diversity and the mathematics of synergy.
Figure out what powers really matter for your team.
Brainstorm productively with team members.
Open your team members' hearts and minds.