Creating Cinemagraphs with Photoshop and After Effects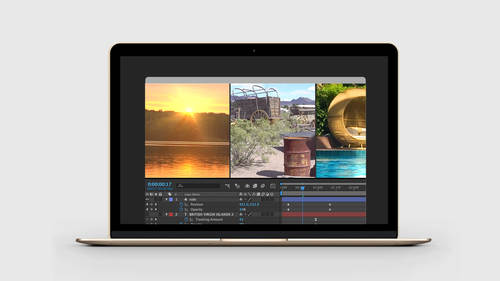 Creating Cinemagraphs with Photoshop and After Effects
Class Description
Now that cinemagraphs are back in the mainstream, the challenge is to create more interesting, and intricate movements while maintaining the allure of a living photograph. In this session we'll take a look at advanced masking techniques, multi-instance and time-remapped instances of source video, creating inter-changeable elements for customization, as well as seamlessly looping simulated textures and particles.
What you'll learn:
Work with video from your phone or camera
Multi-instances of source video
Learn masking techniques in After Effects and Photoshop
Customizable campaigns with linked elements
Seamlessly looping textures and particles
File formats and technologies used for cinemagraph delivery
Software Used: Adobe After Effects CC 2017 (14.2)

Reviews
Fascinating course for anyone who wants to know how to make a cinemagraph. I thought Chris went a little fast for me but I could replay those parts over and over until I got it. This is not a general knowledge course but more of a niche course for obtaining specific know-how on making a cinemagraph. Overall very good!
He explains so well! Some of it goes a bit fast but I definitely learned a lot. The After Effects part is what I really wanted to know but the PS part was good too. He's easy going and knows how to explain
Super succinct and effective class. Music on the break. The latest break music (past month or so) is killing me when listening in my earbuds.