Delicious Food Doesn't Have to be Complicated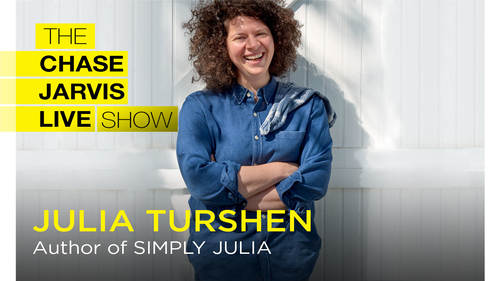 Delicious Food Doesn't Have to be Complicated
Class Description
There's a common misconception that artists have a monopoly on creativity...But the very act of making waves - no matter the career - is a creative one. The Chase Jarvis Live Show is an exploration of creativity, self-discovery, entrepreneurship, hard-earned lessons, and so much more. Chase sits down with the world's top creators, entrepreneurs, and thought leaders and unpacks actionable, valuable insights to help you live your dreams in career, hobby, and life.
ABOUT THIS EPISODE:
Julia Turshen is the bestselling cookbook author of Small Victories (named a Best Cookbook by the New York Times and NPR), Feed the Resistance (Eater's Book of the Year, 2017), and Now & Again (named the Best Cookbook of 2018 by Amazon). Her latest, Simply Julia, will be out in March 2021. She hosts the IACP-nominated podcast 'Keep Calm and Cook On' and has written for The New York Times, The Washington Post, The Wall Street Journal, Vogue, Bon Appétit, Food & Wine, and Saveur. She is the founder of Equity At The Table (EATT), an inclusive digital directory of women/non-binary individuals in food. Julia lives in the Hudson Valley with her wife and pets.
Explore More Free Classes
THE
CREATOR

PASS
Enjoy the free classes? Get 2000+ more Classes and watch it anytime, anywhere.
Get The Pass