Developing a Social Media Strategy for Photographers
Colby Brown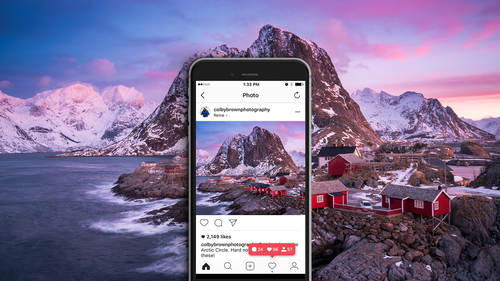 Developing a Social Media Strategy for Photographers
Colby Brown
Class Description
There are no shortages of online networks for photographers to share their images, but which platforms are best for you and how do you utilize them to grow your photography? Sony Artisan Colby Brown will walk you through the foundations of social media and why it's so important for your brand as a photographer. He'll show you how to define what you want out of your online experience and how to maximize your time on each of the major networks. 
What each of the major social networks are and what they're best utilized for
Tips for growing an audience or followers
What networks to use to achieve your goals as a photographer 
Tricks to breaking down the different network algorithms to maximize your engagement
Develop a social media strategy to build your brand as a photographer
No matter your genre of photography, be it travel, wedding, or pet photography, social media has the power to grow your audience, business, and skills. Learn tips and tricks on where and how to invest your time using these free online marketing tools.
Ratings and Reviews
This course is designed to help you develop a Social Media strategy if you are Photographer. I am a professional photographer with over 37 years of experience and although I know how to use Facebook and Instagram I didn't really understand how to use them to achieve business and personal goals. I started watching this course about 2 months ago and have just finished it due to work commitments. However I have put into practice his advice as I learnt new understanding and my following has grown rapidly. Also my work load and quality of assignment has increased dramatically too. It takes some brain rewiring to understand how social media has taken the place of many traditional media streams but Colby does an excellent job of painting a picture that helps hugely. The best thing about Colby's strategy is that it is real life, honest and something I feel I can personally and ethically live with happily. I happily endorse this course and recommend it.
I was very lucky to be in the audience for this class. Colby is an incredible instructor - he has the rare combination of being successful, knowledgeable and talented, but at the same time down to earth, approachable and genuinely willing to help others succeed. The content presented is actionable - I have so many ideas of things that I can do right now that can help my online presence! I can't wait to get started!
I learned a few things I never knew...especially the whole inside scoop on LinkedIn....who knew??? Easy to listen to....a lot of deflection to later answers to questions...which would have made a director allow for less...why ask if you cant answer just then....and he says every question is a "great question" but it clearly isn't in a few cases....so credibility goes down...I understand positive enforcement for the millennials...but every question is not great. otherwise easy to follow and straightforward....
Student Work