Everyday Adobe Photoshop: From Workflow to Smartflow
Dave Cross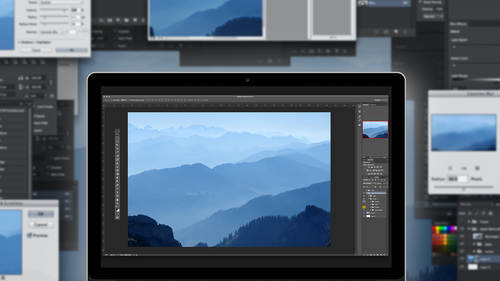 Everyday Adobe Photoshop: From Workflow to Smartflow
Dave Cross
Class Description
Ready to spend less time editing your photos and more time taking them? Join Adobe® expert Dave cross for a course that will transform your image editing workflow into an efficient smart flow system.
During this course, you'll discover how a non-destructive editing process can help you to be more accurate, creative, and efficient. You'll learn why presets are an essential part of a smart flow and learn how to efficiently create and leverage them. You'll work with the full range of Adobe® Photoshop® features, including adjustment layers, smart objects and filters, templates, camera raw smart objects, and much more. You'll also learn about reusing effects, looks, and templates to make your work more consistent.
By the end of this course, you'll have proven techniques and strategies for saving time, working smarter, and reaching new creative heights.
Software Used: Adobe Photoshop CC 14

Ratings and Reviews
I enjoyed this class by Dave Cross. I like his method of teaching and found him very easy to follow and I learned lots of good tips on smart objects and working non destructively. I have just made the move from PS Elements to Photoshop CC 2014 so have lots to learn so I look forward to more from Dave in the future. Thanks Dave, I thoroughly enjoyed this class.
DAVE CROSS IS AN EXCELLENT INSTRUCTOR. HE EXPLAINS TECHNIQUES SO THAT I CLEARLY UNDERSTAND WHAT HE IS DOING. I LOVE HIS TIPS, AND I LEARN SOMETHING EV!!ERY TIME I HEAR DAVE. I DID BUY THIS PROGRAM, I WANTED TO BE ABLE TO REVIEW IT AND GET IT ALL. I HAVE HEARD DAVE TEACH BEFORE AT NECCC CONFERENCE AND WAS SO HAPPY TO WATCH AND PURCHASE THIS COURSE. I CONSIDER MYSELF PROFICIENT IN PHOTOSHOP YET I CONTINUE TO LEARN NEW THINGS WATCHING DAVES PROGRAM! HUGE THANKS DAVE!!!
Dave Cross is a wonderful instructor! He has a fantastic teaching style and has great mastery of his subjects!
Student Work