Facebook Chatbots: Generate Leads and Sales Effectively
Isaac Rudansky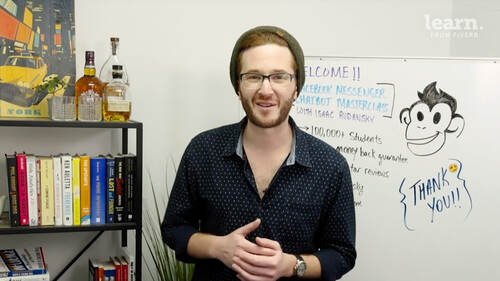 Facebook Chatbots: Generate Leads and Sales Effectively
Isaac Rudansky
Class Description
AFTER THIS CLASS YOU'LL BE ABLE TO:
Build and optimize high-converting, complex chatbots using Mobile Monkey.
Build customer support chatbots to maintain ongoing customer relationships.
Use chatbots to generate leads and increase sales for webinars and event registrations, to promote your educational resources and to elevate your lead-generation businesses.
Understand the advantages of Facebook Messenger marketing.
Use psychological concepts likability, commitment and reciprocity to make your bots more effective.
Use formulas for incentivizing customers including Lifetime Value and Customer Acquisition Cost.
Build a Mobile Monkey drip campaign and know the fundamentals of Facebook bot compliance.
Understand the workings of Facebook Messenger ads including best practices and how to create an effective campaign.
ABOUT ISAAC'S CLASS:
The top 1% of digital advertisers know that Facebook chatbot marketing is exploding. Among advertising concepts that are new and trending, the use of Facebook Chatbots is an aspect of digital advertising that is steadily on the rise - and for good reason. This incredibly effective method of advertising is easy to build, requires little maintenance and allows you to test different marketing messages for less money than any other channel.
In this class, you will learn how to build high-converting Facebook chatbots with the renowned Mobile Monkey software and set up a successful chatbot drip campaign. Packed with practical examples that you can apply to your business, the class also covers psychological principles of persuasion, the ins and outs of Facebook Messenger marketing and how to become a Mobile Monkey pro-user by learning how to build profitable chatbots through the powerful software.
WHAT YOU WILL LEARN:
How chatbot marketing is different from other marketing channels
Who can benefit from using chatbots with Mobile Monkey on Facebook Messenger
Practical strategy examples for e-commerce bots
Structure incentive offers for your customers to promote your products and services through referrals
Psychological principles of persuasion in effective bot design
The fundamentals of Mobile Monkey bot builder including how to understand your audience
How to use the RSS blaster in Mobile Monkey
How to use lead magnets to build your contact list and set up SMS notifications from Facebook Messenger leads
WHO THIS CLASS IS FOR:
Agencies who want to increase their offering
In-house marketers who deal with strategy and expansion
Small business owners and startups who want to generate more leads
E-commerce brands looking to increase online sales
Lead-generation affiliate marketers
Anyone wanting to start a career in Facebook marketing
SEO specialists wanting to diversify their skillset
Web programmers, designers, front end and full stack developers
Freelancers and businesses already working with Facebook Ads
Digital nomads looking for work that they can do from anywhere in the world
Marketing managers and reps looking to elevate their existing skills
Content Marketers
All levels of experience
SOFTWARE USED:
Mobile Monkey
ABOUT YOUR INSTRUCTOR:
Globally-recognized Google Ads and PPC expert with millions in revenue generated across 450+ businesses internationally. As one of the foremost paid ad experts in the world, Isaac Rudansky has helped over 900k students and has overseen millions of dollars in campaign spend.
Class Materials
Facebook Chat Bot Marketing Mastery
Ratings and Reviews
Student Work