FAST CLASS: Fast and Effective UX Design: Learn the Process
Jose Caballer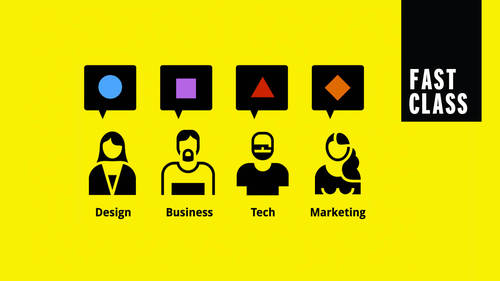 FAST CLASS: Fast and Effective UX Design: Learn the Process
Jose Caballer
Class Description
FAST CLASS:
Try a Fast Class – now available to all CreativeLive subscribers! Fast Classes are shortened "highlight" versions of our most popular classes that let you consume 10+ hours in as little as 60 minutes. We've edited the most popular moments, actionable techniques, and profound insights into bite-sized chunks– so you can easily find and focus on what matters most to you. (And of course, you can always go back to the full class for a deep dive into your favorite parts.)
Full-length class: Fast and Effective UX Design: Learn the Process with Jose Caballer
SUBSCRIBE TO CREATIVELIVE and cue up this class and other FAST CLASS classes anytime.
AFTER THIS CLASS YOU'LL BE ABLE TO:
Create and interpret user profiles
Accurately assess business goals and requirements
Sketch wireframes for a website and mobile app
Facilitate an efficient UX design session with tools that work
ABOUT JOSE'S CLASS:
Navigating the UX design of a digital project can take weeks and even months - in Fast and Effective UX Design: Learn the Process, design veteran Jose Caballer boils it down into just one action-packed session with a real client.
The designer's role on a team is changing in the start-up age, and navigating competing interests and priorities on a team can be challenging; Jose demonstrates how to facilitate the UX design process with confidence, efficiency, and finesse. In this rare opportunity, watch him lead a live session with a client, moving from goal setting to user profiles to wireframe design with ease. Jose breaks the classroom's "fourth wall", pausing to note facilitation techniques in real time, sharing tips and ready-to-use templates.
The UX design process is about facilitating, listening, and translating. In Fast and Effective UX Design: Learn the Process, Jose Caballer shows you how the pros do it, and equips you with what you need to do it yourself.
WHO THIS CLASS IS FOR:
This class is designed for creative professionals new and veteran to the UX design process: start-up entrepreneurs, UX designers, designers transitioning to UX, project managers, and more.
ABOUT YOUR INSTRUCTOR:
Jose is the co-founder of The Skool, an education company that teaches designers, agencies and corporations the design of business in the 21st Century. He studied graphic design at Art Center College of Design and was trained in digital "on the streets" of the .COM boom in the 90's. In 2001 he founded The Groop, the digital agency he led for 11 years, working with diverse clients such as Al Gore, Jamie Oliver, Thomas Keller, Alice Waters and corporate clients like Disney, Nike and Myspace.
Today he combines his 19 years of digital experience and his passion for teaching at The Skool. He has trained thousands of professionals through workshops and webinars worldwide.
Ratings and Reviews
Great example of how to work with the client in order to avoid infinite corrections during the design process.
Student Work