Food Photography Lighting
Andrew Scrivani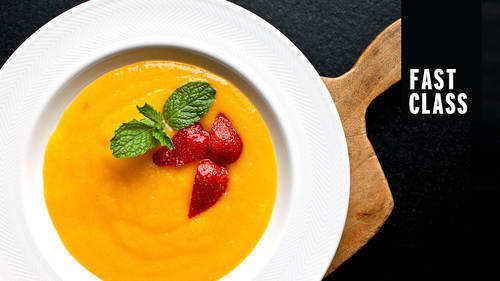 Food Photography Lighting
Andrew Scrivani
Lesson Info
2. Food Photography Lighting
Lesson Info
Food Photography Lighting
I mean, I think we talked a little bit about the overall kind of image and the motivations and the kind of things that we do. But looking at light in general is what photography is all about. That's my setup in my studio three ft by two ft and I make the world happen there. And I think that's that's that's the whole idea is to kind of bring all of the things that you can make, it could be Moroccan, it could be, it could be Morocco, it could be Bolivia, it could be Thailand it could be anywhere you want it to be Because you can create your set. You see, we built this set here in this giant space. But when you're a food photographer, that set gets condensed down to three ft by two ft, at least it does in my studio. It doesn't have to be bigger than that. And a lot of times it's smaller than that. A lot of times it's the size of a cutting board. So what you put the elements that you put into the, into that small space are the things that are gonna affect the way you do it. This is also ab...
out light and you could see the rest of the room here, that's the ambient light in the rest of the room. But because I have Southwestern exposure and you need to understand the differences in where your home or your studio is oriented or the space that you're in is oriented. You have to understand the way the sun comes over and the way that the light is different. you know, with the magic hour is you know, the magic hour, the end of the day, that summer light that's coming straight across town. That you know, understanding that because that's the one that everybody's most familiar with. But you also understand that the high sun is different than the side sun and the morning sun is different in the afternoon sun and how you can play with those different lighting. And that's where natural life photography is. What that's all about, penetrating liquids with light gives you that kind of opportunity to to really highlight things like this, like bubbles, like something really, really detailed and using black backgrounds in that setting. So this is actually a recreation of my daylight setting. This is what this was an experiment that I did to try to do what I do with daylight with with hot light. So this was a really odd kind of thing. I switched it around and I have the light source coming from the opposite side of my room, bouncing back, blackening out the background just like I do with daylight. And I was happy with the result. But what the what the message here is that you need to experiment with light, you need to find a style that you really like and then try to recreate it in as many different ways as you can backlighting as you know, if you're shooting food is an essential skill to kind of master because it's it's not always as easy as it looks. Um the light source coming from behind your subject and then filling in the front part of it to give it just enough light to give it detail. Um camera settings go out the window. And being that digital is something that we're all familiar with. Now having the ability to to do this I think is is do it and do it well and do it quickly is a product of digital photography because we can experiment on the fly. We don't have to take Polaroids, we don't have to develop film. We can see what it's gonna look like immediately and make adjustments. Um That that that backlit kind of feel is something that I've is a go to. For me it's something I really enjoy doing. And I like the fact that it gives dimension. If you flip around to the other side of the table, it's flat, absolutely flat and you have nothing, you have no dimension, you have no shimmer, you have no shine. And it makes an enormous difference. And you should take pictures like that just to teach yourself the method, Go to one side of the table, find that stalk that light and find it. Then walk around to the other side of the table and take the same shot and notice the difference. It's like the difference between when you take your flash off your camera in a restaurant and then put it back on, its so dramatically different that it's flat image and then there's something that has dimension for food photography. I'm a 90 10 guy for the most part, 90 Uh natural and then 10% artificial. Um I it took me a very long time to master a technique with strobe lights and a setup that would mimic the way I shoot in daylight and I can fall to it when I need to. Um But the reality is that there is no substitute for natural light on a food shoot unless of course you have, you know, really expensive studio lighting, like movie lighting and that's, you know, you're talking tens of thousands of dollars in lighting that will run up your electric bill and heat up your entire house or if your studio for that matter. And most food photographers prefer daylight and then have a setup probably similar to one I I use with strobes, which is a lot more complicated and probably something we'll talk about at a later date, but 90 10 the light penetrating through the segments is what makes this I mean, it's it's fairly dark in the front, but again, light and shadow, it's the balance that you want to find. It's the thing that makes photography interesting and just so happens to be of food is light and shadow and the balance that you're gonna find between those things. And again, this is like a kind of a three quarter backlit. I'm kind of, the light source is like here, and then this is angled that way. And then I'm kind of over here, so it's sort of like a three, if you think of it in terms of a clock, it's sort of like three quarter and again, it's like I'm moving, I'm gradually and I'm taking shots from every angle to find the right light that I like. And then the balance of the light and the shadow here and that one little glint and the light coming right through the cut, that's that's where we were, that's the goal. This is sort of that signature style that I work on when it comes to still life? I mean, this is the thing that, that has been a motivational kind of inspiration for me. And I would sit there and look at those kind of dutch masterworks of, of bowls and painterly. Yeah, and that's been described to me before that idea that my work becomes painterly and it is, it's accurate and that that's what it has inspired me. You know the way light is playing off the glass here? The cut glass, the way it's hitting the spoon, the way it's just gently kind of touching the top of that pudding. Do I even care what's in that bowl? I don't because the idea is it could be anything which goes to the question that came from the internet earlier is you have to like everything you shoot, I don't even have to like the way everything I shoot looks because this was hard when I took it out of the oven or wherever it came from. I looked down, what am I gonna do with this? You know and that and that that's an emotion that happens a lot when you're working with food and you're on deadline and you're under pressure to actually make something look good that can't or you think can't. And that's where all of the other skills that we're gonna talk about over the next few days are going to help you. It's going to help you understand that, not just because it comes out of the oven and and it looks like you know God knows what you can still make a beautiful picture because again, a composition within a composition. Sometimes the food is the star and sometimes the setting is the star. Sometimes the light is the star, right? And in this particular picture, it's about the composition, the propping and the light. And the last thing you're thinking about is what's in the bowl
Ratings and Reviews
I loved this fast class, the whole course was very complete but in this fast class you can easily get the idea of the business!
Student Work