Tips and Tricks for a Budget Shoot
Andrew Scrivani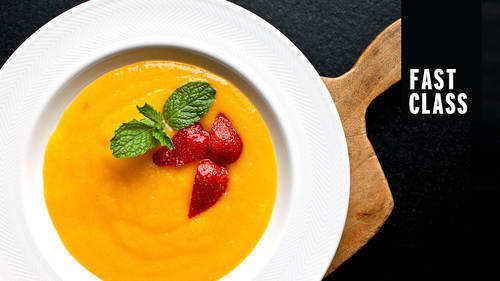 Tips and Tricks for a Budget Shoot
Andrew Scrivani
Lesson Info
13. Tips and Tricks for a Budget Shoot
Lesson Info
Tips and Tricks for a Budget Shoot
what we're going to tackle here. And this is, this is a little bit more of the kind of, we're gonna just have a little fun here. We've gone over a lot of different things. But a lot of people are consistently asking me what am I gonna do about low light in my kitchen, in my dining room. I want to be able to shoot at home. I want to have some tips that will help me bring more light to my table. And then after that we're gonna talk a little bit about the same problem when you're in a restaurant trying to take pictures with your smartphone. Well actually do that a couple of those and have a couple of slides that we can talk about. The difference between what just simple tips can do to make those better. So the first thing that I want to talk about is some of this kind of low budget gear, some of it you're already familiar with from yesterday. I talked about these kind of flags, this, this company is called road rags and they, they have this kit where you can put these together and I showe...
d you these yesterday and they're really helpful. Um and you can clamp them to a stand there. Not very expensive, you can take them with you, especially if you're gonna do some stuff when you're on vacation or whatever, you can carry these around, you can throw them in your luggage. They're really light, it's a cool, it's a cool um set up to because they just, they break down and you saw me struggle with the other day, but that's only because that was brand new. So you don't have to worry about that. But then again, we talked about gaffer's tape, gaffer's tape. Again, it's not really expensive. It's something should always keep around because you can use it for a lot of different things and you'll see when I get to setting this up, why that's important. All the little cards and all the little reflectors that we talked about and even the little disc, the little light disks. But you don't need the small light disks because you don't need to spend the money on them if you don't want it or you don't have it. And that's okay. But you can find little pieces of cardboard or little pieces of foam core and those can be really helpful. The clamps, we talked about the clamps right? These are good to have in different sizes. They help stand up the little boards. You clip your things onto stands and lights and different things. These are great. They're really helpful. And this is the other thing I wanted to talk about because this is sort of the key to the low budget lighting on the indoors. Okay, this is just a clamp light. So this has a little clamp on the bottom and you can clip it onto things Now you have a light stand or something like a light stand that can stand next to your table mm you have the opportunity to just do something like this. Yeah. And it's going to hold, it's basically like a work light. It's really inexpensive. But what I've put inside of the work light is a photo flood. Is this called? This is made by a company called Aiko. And basically this blue bulb, it looks really funny even when you turn it on, it throws a really kind of blue green light. But for whatever reason, these are when in camera they look very much like daylight. So this is a really nice inexpensive. Now, these only have about a six hour life to them. So when you're playing with them, leave them on when you're shooting, turn them off when you're not and they run a little hot. So you have to kind of be careful with them. But with these little um clamp on lights which you can get at any hardware store, I'm pretty sure um, you can see that the interior of them is reflective. So any light that's in here is kind of kind of throw a nice wide swath of light. One of the other things I like to do is if the light is a little too harsh for me. This kind of plastic sheeting and stuff. I buy it like a plastic shop, there's a lot of different versions of stuff like this, but think about this is it doesn't melt that easily. So when I wrap it around, I'll cut a piece of it like, and I'll wrap it around here and I'll either clamp it on or I'll tape it to this with gaffer's tape because gaffer's tape can take the heat and it will diffuse the light even further. So it gives me the opportunity to manage the light in a couple of different ways now, depending on how much equipment you have at home and if you want to do things like this, this and this essentially do the same thing. You know, you can pop this in front of here on another stand or clamp it on and this is again throwing that softer whiter light on the subject, It's diffusing it, it's kind of knocking down your your hard, harsh shadows and it's knocking down your harsh highlights. It's kind of balancing out your, you're like, so you have all of these kind of, you have this and then what we try to do is build around it, this is a smaller version of what we call the V flat yesterday when we built this and you can keep something like this in your home. It doesn't necessarily have to be this huge, but quite honestly, you can slide it under a bed, you can stick it behind the door possibly, you can throw it in the garage depends on what kind of space you have. I mean, if I were I was able to keep things like this in my space in new york for years, you could do it too because my space was the equivalent of a, of a little cubbyhole. So I'm not gonna leave this up for now because I want to ever going to be able to see what I'm doing, but you get the idea that I'm here, I'm still here and the same thing goes true for these as well when you're in your home studio. So we had to be flat there, we can always kind of build out a little bit here. These can be on, these can be on a stand, they can be held by somebody if you're working with somebody, young Children are really good for this because they will hold it and you still won't see them. Mhm mm So you set up your table, you have bounce cards, you have your light, it's easily def usable and now you have a home studio set up is something that you could work with. Now, even if you're working in your kitchen and you don't have room for stands and all these other things, that's what's great about these clamp lights as you can clamp them onto your kitchen cabinets and again, none of this is super expensive. The clamps, the bulbs, the gaffers, the cards, these clamp lights, maybe a stand, some more foam core to make the flats and to make bigger cards you're talking about under 100 bucks. So there are solutions out there. Do you want to shoot your clients cookbook this way? No, but the reality is that you might want to shoot your dinner this way and if you're a blogger, you might be able to really work with this and get some significant help. The other thing you could do now we talked about the V flat right, which is help in a daylight situation. But what you can do with these things as well as I have daylight here on my right coming in from the right, I can move this around to the other side of the table and create a fill light. It doesn't have to match the light. Exactly. All it doesn't have to do is provide a little bit of pushback. So let's say that there's not enough light to really push back strong, but the ambient light in the room is okay. This can provide a little bit of fill light as well. So you can use it as a, as a principal light, you know, as your prime light. But you probably also have the opportunity to use it as a fill light. And then depending on how bright it is, you can control it just by pulling it away from your table, defusing it maybe even several times to make sure it's what you want. But I don't think the power of these bulbs is such that they're going to throw so much light on your subject that you're going to have a problem diffusing the light. If anything, they may not be powerful enough and you might want to add multiples. So you have a couple of them and you can put them in different places. So that one's my, that one is helping me kind of on the back side. Now we're in the dark, we're in to say we're in the dark now we're at home and it's nighttime. These will probably help push out a good portion of the light that's in the room, the ambient light from your overheads or whatever. So if I have one here and I have one back there, um I may start to create that same flow that we have with a daylight idea where the lights coming in from the right across the table sweeping down and trailing off to shadow. Where if you don't have the fill, you may, it may just drop off too hard. But this one might help kind of let it, the left one might help let it drift off more naturally where you have that nice kind of easy directional light. So the concepts of understanding and manipulating light can be applied whether you are using extraordinarily expensive lighting equipment, like on a movie set daylight, which comes for free or even something like this, where you can set it up. It's still better than the light that you have in your home and it's something that you can manipulate a little bit more easily than whether you were just kind of shooting in an environment where you have no control over the light or bouncing the light isn't really doing enough for the food. And the fact that these are balanced a little differently and the light that's coming off them is a little closer to the kelvin Scale number that you're comfortable with. It may not be 52, but it may be 38 and that's certainly better than the lower end. So you still don't have to push as far in post production.
Ratings and Reviews
I loved this fast class, the whole course was very complete but in this fast class you can easily get the idea of the business!
Student Work