Finding Your Big Idea!
Michael Port, Amy Port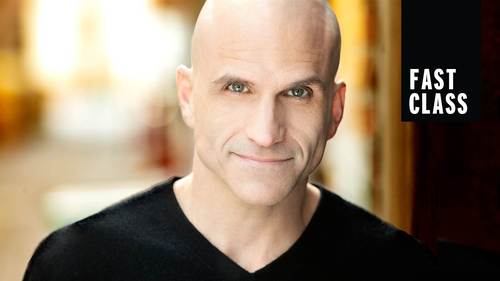 Finding Your Big Idea!
Michael Port, Amy Port
Lesson Info
7. Finding Your Big Idea!
Lesson Info
Finding Your Big Idea!
Hi, Hi, how are you guys? You're in different seats. No, you're not. You are. No, you are not. You are a big idea. We weren't drinking during the break. I don't even drink. This is just how I normally am. Your big idea and your big promise. If a speech doesn't have a big idea and it doesn't deliver on a big promise, it may not be as compelling as it could be because the audience is coming. Because they want a big promise and your big idea is what helps them see the world differently so that they can get that big promise. So, a great speech is able to outline the way the world looks. Look at any great speech. You'll see this, it outlines the way the world looks so that we both know that we're on the same page. And then you can say, ah, he gets me. But of course, that's not enough. There wouldn't be a reason for being in the room unless we also could see how the world could be. And that's the promise. That's what you're going for. And I said in another segment, and it bears repeating tha...
t a big promise and especially a big idea can be confronting to people. Often it's surprising to you how confronting it is to them because to you it's perfectly normal. It's the way you see the world already. And in fact, you may talk about it all the time and sometimes we forget how far away we are from the people that were talking to the big idea that you have, that you've embraced for a long, long time may not be something that they've even considered embracing yet. It's likely that they have. That's why they're in the room. But often you'll give a speech to people that have to be in the room. Often, if I go to a large company and give a speech in front of thousands of people who have to be at their annual event, they have to listen to what I'm saying and it's great that they're a captive audience, but you want them to want to be there. You want them to say yes, I'm going to consider this different idea. And that's what's often confronting for that, changing the way they see the world. So we want to make sure first and foremost that we are clear on the way they see the world and the way we want them to see the world. So in order to get them to see the world that way we are going to have to have a big idea. So the big idea produces that big result. The big idea produces that big result. Okay, no, there are different types of speeches. Different types of speeches. There are what we call message speeches or idea. Sometimes we say ideas, yes. Idea speeches. That's a better way. We actually just recently changed that we were calling the message speeches, but then we realized that the other type of speech that I'll mention admit it also is a message speech in its own way. So we have a big idea speech and we have a content speech which we also sometimes call a curriculum speech because both a curriculum speech and a big idea speech have both content and messages. Great content speech also is driven by a great message and great idea speech has lots of content that supports that big idea. So let's give you some examples. Why don't you give two well known examples? Then I'll give some examples that are specific to say some of the work that I do and some of my colleagues. Sure. So if you think of martin Luther King's, I have a dream speech that would be a message or an idea speech Now, certainly he has plenty of facts and historical uh information to back up what he is saying in that speech. But overall, if you look at the arc of that speech, it's about a big idea. It is an idea speech uhh it's not I'm going to teach you the four modules too. Freedom Yeah, it's not a here. Here are the seven keys, number one. You know, you're the seven keys to letting freedom ring, although he probably would have done that pretty well too. Okay. Uh Jill Bolte taylor speech. Jill Bolte taylor, You may have seen her. She did a great ted talk and it's this beautiful thing about ted talks right there, actually called ideas worth spreading. That's their tagline, which means they have big ideas in them, ideas worth spreading. Uh Jill Bolte taylor is also an idea speech and if you haven't seen it, you should see it. She's a neuroscientist who had a stroke and witnessed herself having the stroke and stepped into the right hemisphere of her brain in moments and had one complete experience of the world and then felt her left hemisphere kick back in. She went, oh my gosh, I'm having a stroke, I'm having a stroke, I've gotta call, I've got to get out. But then she would step back into this right hemisphere of the brain and go, but the world is beautiful and I feel connected. And so but this idea that she takes us a through line throughout her whole speech is what if we could integrate? What if we could experience both are linear selves. I have my name, you have yours, I have a job, you have yours and this experience of the world that we are hardwired for where we feel connected and completely at peace. And she says at the end of her speech so beautifully, if we could step more into our right hemispheres individually as individuals and have that chemical experience of peace, then maybe we could bring more peace into the world. And she says, and I think that is an idea worth spreading. So you'll decide what kind of presentation you're working on now. It doesn't mean that they are mutually exclusive. Your curriculum speech has a big idea that runs through it is a strong theme that runs through it. You may have a curriculum-based speech that you want to turn into more of an idea speech because you want to be able to do it in a 15 minute segment. We're getting asked a lot now to do these short speeches. I'm giving a speech in a few days And they want their having me do 2 90 minute sessions. Each one is the same. So people who Could come in one day and they could also come in the other day and then they're also having to give a 15 minute speech to everyone. So now they're starting to ask for both. And of course it takes more work to do a 15 minute speech than it does to do an hour and a half-long presentation. There's a wonderful Winston Churchill quote that I can only get away with saying because it's a Winston Churchill quote, he says, and I'll paraphrase. He says that a speech is much like a woman's dress long enough to cover the subject, but short enough to keep your interest. That was Winston Churchill. That was not me, which I think is um is great. So book yourself solid, raise your hand if you've seen Book yourself Solid here Creativelive or somewhere else. That's a curriculum based presentation. Certainly a creative live, it's three days, but I can also do it as a 45 minute keynote, an hour long keynote. And some of you have probably seen me do that because of course curriculum based presentations can be expanded or contracted according to how much time you have. So you can expand and contract presentations and that's a very important skill to be able to develop the think big revolution. Anybody seeing that presentation that I've given it a keynote that I started doing maybe four months ago, five months ago raise your hand if you have. Okay, so some people have seen that, that's an idea. Keynote. It's an experiential keynote based on some ideas. It's not a how to in the same way that a book yourself solid is. So when I look at book yourself solid, let's look at the promise and the big idea. So we can understand how you separate those out. You book yourself solid. The promise is what you'll get books on Super clear. Get clients clear as day. Doesn't need to be fancy. Just needs to be accurate. And something that the audience actually want. The big idea is that marketing doesn't actually get new clients. It just creates awareness. What you do once somebody becomes aware of you is what actually books you the business. That's the big idea. My dear dear friend john johnson who's done I think to creative lives here. He has a book called duck tape marketing and john and I often serve similar audiences. We've spoken at a lot of the same events and his promise and duct tape marketing is get clients or customers just like mine is get clients. His big idea is that marketing is a system. There's a systematic approach to it. Interestingly enough. Book yourself solid. The theme that runs through it is that it's a system so kind of the same thing. But we both have done very well. It doesn't have to be different. So johN has a particular personality. He's a particular way of expressing himself, a particular way of showing up. I have a particular personality in a particular way of expressing myself in a particular way of showing up. And we have lots of the same readers and we have different readers. I always believe there are certain people you're meant to serve and others that you're not and your job is to do everything in your power to reach the people you're meant to serve. And I called john to ask him what is the big promise? And what's the, what's the big idea? So that I'm clear and I can articulate it. And I thought, what a perfect example to our two articulator to demonstrate that you can have very similar idea. Big ideas, very similar promises to other people to your colleagues. And yet you can still be unique. It's because your expression of those ideas and the way you deliver on that promise is unique to you because you are fully self expressed. But if you try to be someone that you are not or what you think the audience wants to see. Yes, That's a Big one. That's a big one. Often this happens, you're giving a speech And in this room there's people, let's just say giving this speech and everybody loves it. Except for David. David is just sitting there like, and he's told me that he doesn't like it in the break. He's like, dude, I hate this. I'm like, I'm sorry Dave. You know, But all of a sudden what happens is because you care so much about David. All of a sudden you start changing, You start trying to please David, You start trying to up his David and you lose some of your big idea And what you stand for and the way that you deliver it, and what happens to the 21 other people lost him. So what I say is you go bigger and you go farther into your big idea. Whatever David doesn't like do it more. So, David has two choices. He either gets on board or he leaves, And I've found nine times out of 10, they get on board.
Class Materials
Developing Your Big Idea - A Self Guided Worksheet
Guide to Making World Saving Speeches - 25 more tips
Ratings and Reviews
Student Work