Camera Setup: Exposure Mode
Mike Hagen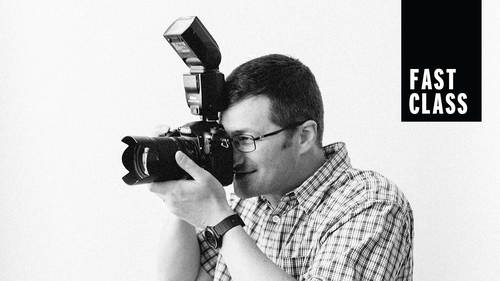 Camera Setup: Exposure Mode
Mike Hagen
Lesson Info
4. Camera Setup: Exposure Mode
Lesson Info
Camera Setup: Exposure Mode
so I talked about me tearing mode. Right? So that's the light meter. The light meter is the thing that measures the light on the scene. Next is the exposure mode. So most cameras have four exposure modes. So we have That's a program mode. That's the letter P. And I'll turn the camera here this way so they house cameras can see it. So these air my exposure modes here P s A and M. That's on the Nikon on the cannon. You've got a V right? And TV, what is a V stand for aperture priority or aperture value and TV on the cannon time, Time value. So shutter priority. Okay, cool. So P s A and M for me. When I do flash photography, I only choose either aperture priority mode or manual mode. The other modes, I don't find as much use for in flash photography. So let me explain why? Or let me explain why you would use either of these modes starting with manual mode. Ah, and I'll rotate this to manual mode so you can see this Simon manual mode now in manual exposure mode, nothing changes right. Your ...
aperture stays the same in your shutter speed stays the same regardless of what happens. So another term for that is consistency. A lot of times when you're in the studio like we are here today we're indoors. You just want things to be consistent and things are consistent. You know that the model doesn't move a whole lot. Um, your tripod in your camera typically stay in one location. Maybe you're changing lights from here to there. But for the most part, things aren't moving, so you kind of want to just lock everything down. You want everything to be consistent. So that's a good, great hint for you when you're in the studio and time is on your side. I highly recommend manual exposure mode. It allows you to take a picture, look at the problems with it and then think, Oh, I need a little bit longer shutter speed. You know, to get the house lights a little faster shutter speed to reduce the house lights. You know, manual just lets you kind of methodically move through your lighting arrangement. Aperture priority. That's where you you said the camera for a or a V, depending on your camera model that now fix fixes the aperture in your lens. Take this lens off here and just show it to the camera. I think you can see it this way. This is the aperture and the aperture opens or closes. Um, depending on what you choose in the camera. So, like, wide open. That's like F 1.8 and all the way closed. That's like F 22. Okay, so an aperture priority. You're gonna pick, Let's say F eight and the camera will always stay at F eight now the the shutter speed thing Who chooses the shutter? Speed, the camera, the camera Choose the shutter speed. Well, this is a little dicey because as we're gonna learn in a little bit, the shutter speed really matters. Right? Shutter speed really matters in flash photography. And most flashes that we own will not synchronize if the shutter speed is too fast. So we have to be thinking in making sure that the shutter speed doesn't go above some threshold and is different for every camera. And I've got a slide on that a little bit. But for the, you know, in general, it's like around a 2/100 of a second so you don't want your shutter speed ever go above a 2/100 of a second. Otherwise, you may have problems getting flash onto your subject. And sometimes you get this funky look to your photography. Like half the frame will be lit up with flash and half won't trust me, those photos don't sell very well, just not at all. So aperture priority mode sometimes is problematic because you don't always have control over that shutter speed, Okay? And so that's why, for a lot of flash photography, I as the years go on, I tend to default more and more to manual exposure mode. That's where you have full control over it, and there's nothing to be fearful of in manual exposure mode. I'm going to show you today how a set up these shots and go, Oh, that makes sense. And now I understand why he chooses 1/60 of a second, or why he chooses a 2/100 of a second. I can do that too, right
Ratings and Reviews
Great fast-class! Mike Hagen got straight to the point and made it super easy to understand!
Great course very informative and so easy to understand.
The class covers exactly what you would expect. Very good basic information about how to set-up and operate a flash on any camera. Mike was extremely personable and communicated very well.
Student Work