Camera Setup: Shutter Speed
Mike Hagen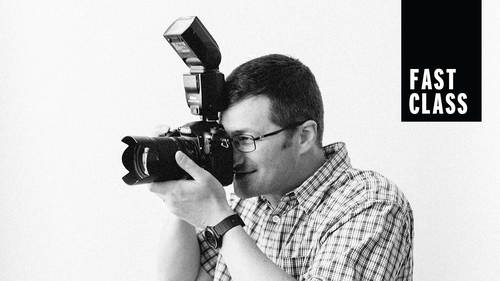 Camera Setup: Shutter Speed
Mike Hagen
Lesson Info
6. Camera Setup: Shutter Speed
Lesson Info
Camera Setup: Shutter Speed
every cameras different when it comes to it's called the synchronization mode or the shutter synchronization mode you need to look in your manual. This is one time that it's OK to actually go into your manual and figure out what your maximum shudder synchronization speed is. It's something you need to know. If you're going to be a flash photographer, you have to know this number. Every camera has a maximum synchronization speed, and specifically, what I'm talking about here is remember, I'm going to go back to my shutter thing here so your shutter opens, washed and then behind it, the shutter closes and then they both reset. There is a point in time where the shutter speed is so fast that the shutters, actually the rear, would actually follows the front one up. So it goes like around a foul like 1/1000 of a second. Here's what happens. The front curtain opens, and then right behind it, the rear curtain goes like that and then it closes. So what happens when the flash fires in this situ...
ation? Sweet halfway or 1/4 light or whatever, You don't actually fill the frame with the flash. There's some technologies that allow us to deal with that. It's called high speed sink. Maybe you've heard of that term before. I'm not gonna go toe high speed sink today because it's kind of the next level. But for most of the studio work that you do the sink, the fastest sync speed is a 2/100 of a second. So at a 2/100 of a second, that's where both shutters air. Still out of the way the flash gunfire, pau and then they closes. So most cameras are about a 2/ of a second, with some of the higher end cameras can go up to a 2/50 of a second. So in the studio, like we are here, you generally want to cut out the ambient light, and the fast shutter speed allows you to do that. So, typically, what I will do again, I'll remember that the camera that I'm shooting and this one has a shutter speed maximum shutter speed of a 200 to 50 of a second. I'll set my shutter speed to a 2/50. That's one variable I don't have to worry about anymore for the rest of the day, okay, Why did I choose a to 50th in the studio? Why did I choose the 2/50 versus? Maybe? Ah, 30th. What do you guys think? Reduce movement. Great reduce motion blur. Well, the other reason I do it is because I want to cut out the ambient light. Remember that shutter speed controls the ambient light. So if I don't want these houselights to impact my photo, I'm going to use a really fast shutter speed. And now gone. No, no ambient light. And when we start practicing in a little bit, I'll show you that. I'll show you how. If I take the picture in a 2/50 with no flash, it's black, completely black, and that's that's a good starting point. So know your cameras. Synchronization speed. I know that a fast shutter speed cuts the ambient light. Okay? And that a slow shutter speed allows the ambient light So you guys can all see me here. Your eyes have adjusted to this room, and it feels kind of bright in here. Really, it does. It feels kind of bright, but I tell you what a to 50 of the second, and then with your aperture, maybe a f 56 There's gonna be almost no ambient light here. You won't even see it in the photo. So again, that's away. That's the cool thing about flash photography. You get to control what the camera does see with ambient light photography. You have to work with this. You have no way around it. You have to work with houselights. Maybe you can use a reflector, but you're still kind of you're stuck with the 30th of a second or 1/60 of a second, and that's when we get to that motion blur problem. You ever tried to take a portrait of a puppy dog at 1/30 of a second? Or maybe your toddler, your 18 month old toddler. You just can't do it. I mean, even grown up adults. You tell him, toe hold still there still like doing stuff like this and getting motion blur. So Flash allows you to freeze that motion blur, and a faster shutter speed doesn't necessarily freeze the shutter. The motion blur. What's freezing the motion blur in flash photography? Flash. Yeah, your shutter speed. Actually, even though it's a 2/50 the flash is still firing for just a short period of time. Just a little pulse, a pulse of time. So, um, really, what freezes the action in flash photography is the flash and shutter speed. Doesn't matter as much for motion blur, so
Ratings and Reviews
Great fast-class! Mike Hagen got straight to the point and made it super easy to understand!
Great course very informative and so easy to understand.
The class covers exactly what you would expect. Very good basic information about how to set-up and operate a flash on any camera. Mike was extremely personable and communicated very well.
Student Work