FAST CLASS: Photoshop for Beginners: Essential Training
Mark Wallace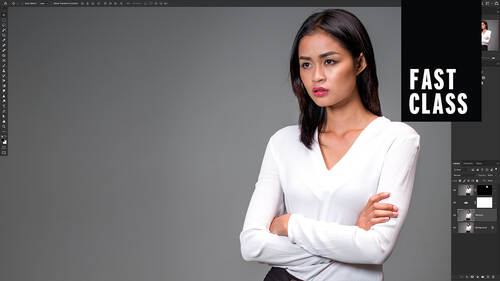 FAST CLASS: Photoshop for Beginners: Essential Training
Mark Wallace
Class Description
FAST CLASS:
Try a Fast Class – now available to all CreativeLive subscribers! Fast Classes are shortened "highlight" versions of our most popular classes that let you consume 10+ hours in about 60 minutes. We've edited straight to the most popular moments, actionable techniques, and profound insights into bite-sized chunks– so you can easily find and focus on what matters most to you. (And of course, you can always go back to the full class for a deep dive into your favorite parts.)
Full-length class: Photoshop for Beginners: Essential Training with Mark Wallace
SUBSCRIBE TO CREATIVELIVE and cue up this class and other FAST CLASS classes anytime.
AFTER THIS CLASS YOU'LL BE ABLE TO:
Navigate and customize the Photoshop interface.
Edit images using non-destructive techniques.
Use layers and layer masks to create composite images.
Retouch portraits using advanced retouching techniques.
Develop scenic photos using tonal and color correction techniques.
ABOUT MARK'S CLASS:
The perfect workshop series for Adobe Photoshop beginners. This class assumes that you are new to Photoshop and want to learn how to retouch and adjust your images.
This workshop is a comprehensive overview ofAdobe Photoshop. By the end of this workshop you'll have the skills you need to edit your images using Photoshop.
These sessions are jam packed with hands-on activities which allow you to learn by doing. Sample files are included with the workshop so you can follow along with hands-on exercises.
The sessions begin with a solid foundation and add new techniques and principles until you have mastered your post-production workflow.
By the end of this workshop you'll have a clear understanding of the Adobe Photoshop interface, and the most commonly used tools. You'll be able to edit scenic and portrait photos. You'll have a solid understanding of color correction and skin retouching.
This workshop has everything you need to master Adobe Photoshop.
WHO THIS CLASS IS FOR:
Photographers with little or no experience with Photoshop.
Photographers with limited or no experience with Lightroom or other post-production software.
Portrait photographers who want to know how to do basic skin retouching.
Scenic photographers who want to know how to do basic color and tonal corrections.
Photographers who want to know how to do basic compositing.
SOFTWARE USED:
Adobe Photoshop 2021
Adobe Bridge 2021
Adobe Creative Cloud (all apps)
Ratings and Reviews
Student Work