FAST CLASS: Typography Fundamentals
Ilene Strizver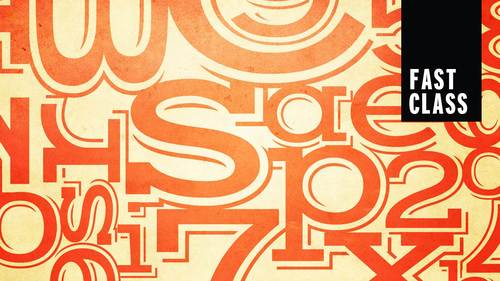 FAST CLASS: Typography Fundamentals
Ilene Strizver
Class Description
FAST CLASS:
Try a Fast Class – now available to all CreativeLive subscribers! Fast Classes are shortened "highlight" versions of our most popular classes that let you consume 10+ hours in about 60 minutes. We've edited straight to the most popular moments, actionable techniques, and profound insights into bite-sized chunks– so you can easily find and focus on what matters most to you. (And of course, you can always go back to the full class for a deep dive into your favorite parts.)
Full-length class: Typography Fundamentals with Ilene Strizver
SUBSCRIBE TO CREATIVELIVE and cue up this class and other FAST CLASS classes anytime.
AFTER THIS CLASS YOU'LL BE ABLE TO:
Select the best typefaces for your design
Work efficiently with OpenType
Think and approach projects like a type designer
Identify and remedy common type crimes
ABOUT ILENE'S CLASS:
Typography is an essential element of design: it should communicate your message effectively, and with purpose. Yet, even professional graphic designers can lack the "eye" and deeper understanding of type aesthetics.
In Typography Fundamentals, author, educator, and expert Ilene Strizver teaches you how to take full advantage of the power of type. You'll learn not only the fundamentals of typographic design, but also how to "see" type through new eyes - all to make more sophisticated type choices that will open doors and set your work apart.
With your enrollment in Ilene's class, you'll also receive access to a webinar hosted by renowned designer Gerard Huerta.
Check out Ilene's related course, Advanced Typography: Fine Tuning & Finessing.
WHO THIS CLASS IS FOR:
This class is designed for creative professionals of all levels working with type, whether you are brand new, or just want to build on your existing knowledge and fill in the gaps. In-house design teams, web developers, motion graphic designers, recent graduates, freelancers and illustrators working with type: don't miss your chance to learn from one of the most respected educators in the field.
Class Materials
Type Rules - Chapter 2 and Glossary
Syllabus - Typography - The Fundamentals
Ratings and Reviews
Student Work