Fine Art Photography: The Complete Guide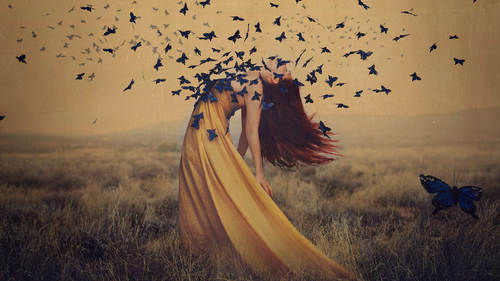 Fine Art Photography: The Complete Guide
Lesson Info
Analyze an Image
So if we analyze our process, I think that we're more likely to create original art. And I have this little sentence that I like to think about, which is just, if you break your life into pieces to put them back together as art. Aren't we so much more likely to create art that's personal and original if we do it that way? It's just something that always sticks with me, this idea of breaking yourself down, of cracking yourself into a hundred pieces, and then arranging them back together in such a way that's meaningful for you. It's just a beautiful thing. So then I have this question for you. I created this image a number of years ago, in 2011, and for whatever reason, this became my most popular picture. Honestly, I cannot tell you why. I've tried, I can't tell you. But it did. And I started to think about it, and I was like, what are people connecting to about this picture? And I had this thought, I said, it's literally just an umbrella, some birds, and some water. And that was my tho...
ught process. I'm like, what is it about these things? And I started to think. There must be thousands upon thousands of pictures with an umbrella, and water, and birds out there, right? There has to be. We can ask the new Lightroom, Adobe Sensei, show me the pictures of water, umbrella, and birds. So I want to know from you guys, what would you do? IF you were going out for a shoot right now, with water, an umbrella, and you were gonna use birds, what would it look like for you? We all have very different styles here in this room, which is how I know that everyone at home also has very different styles, so you might be like, oh yeah, my picture would look nothing like this. Or you might be thinking, actually, it might be pretty similar. But I guarantee you, it's gonna be different. And this is why it's fun to do a challenge like this, to sit in a room with 10 different people, put three objects in the middle of the room, and ask each person, what would you do this thing? Come up with an idea. And see if they're the same. I guarantee they're not gonna be the same. And this is why I'm not scared of not being original, because I know that my choices are my choices. Your choices are your choices. And unless every single thing that you create looks just like someone else's, you don't have a problem. You're just on a journey. So, one of you guys, tell me what would you do with water, an umbrella, and birds? I'm very curious. Go, April, go! I would do a self-portrait, with me holding an umbrella in the pouring rain, with birds in the background, but I'd be soaking wet. Beautiful. Do you have one as well? Okay good. I would do something Mary Poppins-ish, flying with an umbrella, not exactly Mary Poppins, but flying with the birds and the umbrella, probably a rainy gloomy day, and some sort of hope in there. Nice, either of you guys? I would be holding the umbrella in the rain, but I'd have the birds perched on top of it to show that they don't mind the rain, but I'm covering myself from it. Oh, beautiful. Cerise, I'm dying to hear. I'd probably fill the umbrella with lots of water, and the birds would be all around. Aw, like a little umbrella bird bath. I like it! Well, there you go, you translated to what you thought would be my imagination, but yeah, okay. (laughing) I love it, okay. Good, thank you guys. The point is that it would not end up looking the same, and if you guys at home have any ideas of what you would do, please do tell me.
Class Description
Creating a great photo for a client is one thing - but turning your passion and ideas into a series that is shared, shown, and sold is a whole different business. If you do it right, you'll be shooting what you love all the time. Learn how to choose which ideas to create, how to turn your concept into a production, and steps to getting your work seen and even sold in Fine Art Photography: A Complete Guide with Award-Winning Photographer, Brooke Shaden.

This is an all-inclusive workshop that provides the tools you need to run a successful and creative business as a fine art photographer. You'll learn creative exercises to find and develop your ideas, how to create an original narrative, how to produce your own photo series, post production techniques and skills for compositing and retouching, how to write about your work, ways to pitch to galleries and agents, and how to print your pieces so they look like art.

This workshop will take you on location with Brooke as she creates a photo series from scratch. She'll walk through every step for her photo shoots including set design and location scouting, she'll cover techniques in the field for capturing your artistic vision, post-production and compositing techniques, as well as printing and framing essentials.

She'll round out this experience by discussing all of the details that will help make your career a success like licensing, commissions, artists statements, social media plans, gallery prep, and pricing your work.

This comprehensive course is a powerful look into the world of fine art photography led by one of the world's most talented photographers, Brooke Shaden. Included with purchase is exclusive access to bonus material that gives exercises and downloads for all of the lessons.