Fine Art Photography: The Complete Guide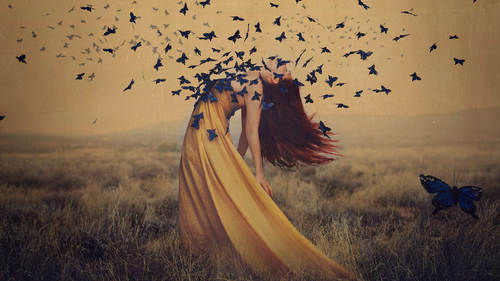 Fine Art Photography: The Complete Guide
Lesson Info
Branding for Video
A large part of how we present ourselves is branding. This is the way that we speak, the way that we dress, our cadence, the way that we showcase certain elements of our process over others, so branding questions. When it comes to the work, the video, the words you're putting out there, think about how do you want your audience to feel? I told you we're gonna ask that question again and again cause it's the most important one. What content is relevant to your brand? There are plenty of times when I want to just show a video of me playing with my cats. Nobody cares about me and my cats, right? Oh, thank you, somebody cares about me and my cats. Thank you, but in general, people would be really confused if my Instagram turned into a whole page of me and my cats. Right, and then maybe my public speaking turns into like, this is Nia, she's my gray cat, I love her so much. And then you're like, okay are you gonna make something with her or are you just telling us about her, I don't know. So...
make sure that it's relevant. What type of content will get you the most jobs that you want? So if you're going to take all that time to present yourself visually and verbally, make sure that you're speaking to a topic that will get you jobs that you want. What type of video, if you're doing video, will put you in an authentic light? It is so easy to make a video of yourself talking, where you look very uncomfortable and like you don't want to be there. And I know from doing it over and over that there are ways to speak and there are ways to present yourself that look over the top just not who you are and it's obvious immediately. Audiences are incredibly intelligent. They know right away if you're being yourself or not, so it's really important that you keep that authenticity in mind. And then what visuals go with your brand, what lighting goes with your brand? What are ways that you can visually enhance this product that you're putting out to all fall under this umbrella of what your business, your photography, your persona should look like? Okay, how do you want your audience to feel? Now, I put out a lot of content, okay? And this content is often video related. I release tons and tons of videos. It's one of my favorite things to do. I love video. How do you want your audience to feel, though? Now, this changes for me from video to video, but it does not change within my photography generally. My photography's very consistent. The type of video content that I make is very inconsistent. I make behind the scenes videos, I make how-to videos, I make inspirational videos, I make technical videos, all across the board, and I'm okay with that because this is showcasing my process, my thoughts, my opinions, just like a blog would. So, how do you want your audience to feel is going to change day to day, based on the type of video or talk that you're giving. Now in this case I'm setting off a smoke bomb in a hollow tree. It was funny. I couldn't stop laughing. I just couldn't stop breathing in smoke which was terrible for me, but it was funny at the time too. Like my dress falling off, it was all a mess. So, it was funny, and I want people to see that I have fun. That's the point. How do I want you to feel? I want you to feel happy when you're watching this. I want you to see it and be like, yeah that is funny. You do look stupid. That's like 50/50. I want you to think I look like an idiot. What content is relevant to your brand? Now, this is why I'm talking about creating different types of content. Now I'm creating a video here that is behind the scenes, showing my shooting process, what it's like when I'm out in the middle of the forest by myself on a photo shoot. What type of content will get you the most jobs that you want? A lot of content that I put out there has nothing to do with the types of jobs that I want. And that's a conscious choice that I'm making. I am recognizing that me twirling around in a parking lot is probably not going to get me any jobs. But I'm okay with it because I want to show people my spirit. And really, if you think cyclically enough, these types of images and this type of video, which this is a still from, might not directly get me any jobs, but I'm communicating my spirit. My joyous spirit and that is my persona, my brand that's going to build up over time and build a relationship with people who are following my work. That's really important. What type of video will showcase you authentically? This is so me, just wearing a nude onesie jumping in a milky pool of water. So ridiculous, but that's my day to day life. I do silly things like this and it's really fun and you can see, just kind of a little bit, just right there, that this is a Disney Princess pool. Yeah? Gotta love it. So, what type of video will showcase you authentically? You know, maybe for one of you guys this would be totally inappropriate. You'd be like, no, I would not spend my time jumping in a Disney Princess pool. Fine. That's not your type of video then, trust me. And then, what visuals and lighting go with your brand? This was filmed at sunrise. And I love shooting then. This was before the sun came up. Totally my colors and my lighting style. So this really fits visually with my brand. This is my hippie pose. Thank you, I know. Clearly defined talking points. But you see guys, it was a video and this was a still and I was holding up the number two but it looks like a peace sign. Do you get it? (laughing) Okay, great. Glad that we covered that. All right, now if you're going to define talking points these four ideas are really good to consider. What is the theme of what you're talking about? What is your opinion about what you're talking about? What ideas do you have about this topic? And, what experiences do you bring to the table? These are four things that you might use as talking points. So if we talk about theme, we've got the overarching idea of your content. This is the thing that will unify all of your talking points. This is what you can always go back to to judge your points against. So if our theme is... Let's see, what's a theme for a video that we might make? (laughing) now I'm nervous, it could be selling your art that's the theme. So if we're making a video about selling your art and you're writing down talking points, if you can take each talking point and put it against selling your art and it makes sense, keep it. If it doesn't, you might be going off the trail a little bit. So always think about that. Make sure that you care a lot about the topic that you're talking about. It's always obvious when somebody doesn't really care that much about what they're speaking about. And that's probably the number one thing that will make somebody lose interest in hearing you talk is when you clearly don't have an interest in hearing you talk. Right? Like I don't want to listen to myself talk but I know that when I'm speaking about something it's cause I'm really passionate about it. That makes all the difference. Have an opinion about the topic. And, make sure that it's relevant to your brand. So, I'm not gonna make a video about how to do an ollie on a skateboard because that has nothing to do with me and my brand. It had to do with me when I was in ninth grade but not any time after that so might as well not talk about it now.
Class Description
Creating a great photo for a client is one thing - but turning your passion and ideas into a series that is shared, shown, and sold is a whole different business. If you do it right, you'll be shooting what you love all the time. Learn how to choose which ideas to create, how to turn your concept into a production, and steps to getting your work seen and even sold in Fine Art Photography: A Complete Guide with Award-Winning Photographer, Brooke Shaden.

This is an all-inclusive workshop that provides the tools you need to run a successful and creative business as a fine art photographer. You'll learn creative exercises to find and develop your ideas, how to create an original narrative, how to produce your own photo series, post production techniques and skills for compositing and retouching, how to write about your work, ways to pitch to galleries and agents, and how to print your pieces so they look like art.

This workshop will take you on location with Brooke as she creates a photo series from scratch. She'll walk through every step for her photo shoots including set design and location scouting, she'll cover techniques in the field for capturing your artistic vision, post-production and compositing techniques, as well as printing and framing essentials.

She'll round out this experience by discussing all of the details that will help make your career a success like licensing, commissions, artists statements, social media plans, gallery prep, and pricing your work.

This comprehensive course is a powerful look into the world of fine art photography led by one of the world's most talented photographers, Brooke Shaden. Included with purchase is exclusive access to bonus material that gives exercises and downloads for all of the lessons.