Fine Art Photography: The Complete Guide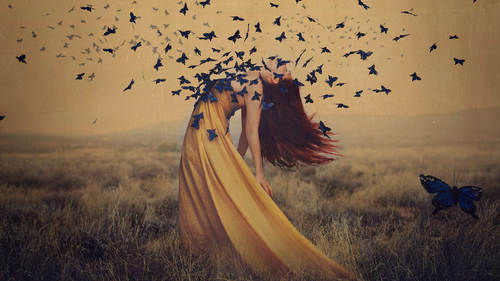 Fine Art Photography: The Complete Guide
Lesson Info
Giving Your Audience Feelings
Finally, as far as storytelling goes, the best thing we can do is to make someone feel something. Right, I mean, if somebody doesn't feel anything when they look at an image, they're not very likely to interact with it, they're not very likely to care about it, and at the end of the day, they're not very likely to buy it. And we want to make sure that all of those things don't happen. We've got to make sure that do connect with it, that they do feel something toward it, that they want to buy it. Otherwise, I'm out of business. I know. It's like the craziest thing to talk about storytelling and talk about business at the same time. But we're doing it, I don't care. Introducing feeling visually is our job, in my opinion. Doesn't matte if you're photographing people, doesn't matter if you're photographing a mountain, what matters is that you make your audience feel. So what are ways that you can do that, visually. If you guys had to say. Well, the color is a big part of the feeling. E...
xactly. Evoking feelings, emotions, blues to warmer colors. Exactly. Yeah, they make a big difference. And lighting, I would say, is a big one. Something that we can all control no matter what type of image we're making, unless we're photographing black boxes. Even that I guess is something, absence of light. I feel like motion, motion is important. Yeah, motion is something, I mean, it's in the word emotion, so I feel like that's a pretty good clue. But it makes you feel like the person, the character, or someone is doing something actively, and that immediate draws you in to the story, which I think is probably the most important thing, that you feel like you're a part of that scene. So there are lots of ways that we can introduce emotion into an image. In this particular one, how does it make you feel, if you just had to say, immediately, just first reaction, how do you feel looking at this image, what would you say. Hopeful. Hopeful. Anyone else, or do you all feel the same. Sad. Sad. I like this game. (crowd laughing) Okay, so tell me why, each of you. Well, because she's holding the paint and the sky is red, I assume that she painted the sky, and I find that to be a really hopeful sort of thing, that you can change your surroundings to be whatever you want it to be. Great. I have to defend my choice now. I feel sad because I think the paint is dripping, and it's mute colors, even though the red is very vibrant, the rest of the scene is muted, and she's very muted, and she's walking away from the camera and I don't see who she is. Yeah. And I don't really know what's going on. So this was really interesting as an image. Because, I made it with those exact two things in mind. Okay? So I made thinking, I'm going to make an image that seems hopeful but has little details that maybe just takes you back from that for a second. And I'm not saying that there's a right or wrong, it's just what I wanted to do when I was making it. So I made this image, I had the paint dripping, which I thought was sort of creepy, just my opinion. And then something very interesting happened, which is that fires started raging across the United States and it was horrible and tragic, and I looked at this image totally differently after that. And I said, well what about my experience with an image like this, or how do we bring our experience into storytelling, and how might this image change drastically based on our experience. So maybe somebody whose just come out of that horrible thing that they've just had happen, they might look at this and say, well it looks like there's a wildfire burning. Maybe somebody else would look at this and say it's hopeful because she's creating her future, she's painting the sky. Maybe somebody else would say, yeah but that red is looking a little bloody, so maybe something terrible is going on here. Who knows. Emotion is not necessarily one thing. We should not aim to necessarily just say, this image is about this emotion, you should feel this way. No. We're using color, we're using light, we're using composition to evoke different things in different people. And so on with this images as well. Now we've got an image that looks very different from this one. Right, we've got oranges and reds to deep blues and sadness. I'm just gonna say it for you guys, it's not a happy picture. I don't think anybody would look at this, yeah this looks happy. And it doesn't look, I mean she looks kinda like a flower with the fabric moving, but it's dark blue tones, which already have this sort of sullen feeling to it, mixed with the way that her hands are positioned, it just looks very sad. And so this is a mixture of color and pose and editing to make it darker and more contrasty and gritty. And then this image, which I don't think that we can at all argue about the emotion that you feel with this one. I mean, I've had people come up to me, and like, were really genuinely upset looking at this image, people emailing me saying, I can't look at this, I hate that you posted this online. Other people saying, I hate it, but I love it. You know, different emotions from different people. I, this is my favorite image, perhaps that I've ever made, because of how viscerally emotive it is. And you don't even see a face. That's really important to point out. You don't even see a face. You don't have to have any particular thing to convey an emotion. It can be all about those elements that we put in to our work.
Class Description
Creating a great photo for a client is one thing - but turning your passion and ideas into a series that is shared, shown, and sold is a whole different business. If you do it right, you'll be shooting what you love all the time. Learn how to choose which ideas to create, how to turn your concept into a production, and steps to getting your work seen and even sold in Fine Art Photography: A Complete Guide with Award-Winning Photographer, Brooke Shaden.

This is an all-inclusive workshop that provides the tools you need to run a successful and creative business as a fine art photographer. You'll learn creative exercises to find and develop your ideas, how to create an original narrative, how to produce your own photo series, post production techniques and skills for compositing and retouching, how to write about your work, ways to pitch to galleries and agents, and how to print your pieces so they look like art.

This workshop will take you on location with Brooke as she creates a photo series from scratch. She'll walk through every step for her photo shoots including set design and location scouting, she'll cover techniques in the field for capturing your artistic vision, post-production and compositing techniques, as well as printing and framing essentials.

She'll round out this experience by discussing all of the details that will help make your career a success like licensing, commissions, artists statements, social media plans, gallery prep, and pricing your work.

This comprehensive course is a powerful look into the world of fine art photography led by one of the world's most talented photographers, Brooke Shaden. Included with purchase is exclusive access to bonus material that gives exercises and downloads for all of the lessons.