Fine Art Photography: The Complete Guide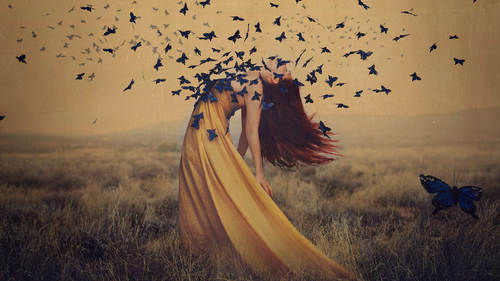 Fine Art Photography: The Complete Guide
Lesson Info
Props, Wardrobe & Time Period for Set Design
So if we move on to props very quickly, which of course goes into set design, image design, however you wanna design your image. We've got three different things to think about. One is how is your prop aiding your concept? What is the idea of the image? How is your prop going to really help tell that story? And we talked about this already with this image of the doors and how you have a prop which is a door and that door means something and therefore it aids your concept. But what about believability? I mean, how can you use a prop to make an image believable or not? I find very, very frequently that if I see an image that just doesn't quite look right, it's because the prop is out of place. Either it's the wrong time period of the prop or it's not being used in a believable way. It's not being interacted within a believable way or it just doesn't fit the scene very well. And that's what I'm trying to think about with all of these props. So everyone of these images uses a prop. In fact...
, in this image, it's not even a recognizable prop. It's a fish bowl. You may know that. You may not know that. It doesn't really matter. The point here is not the prop, but what the prop is doing in the scene, which hopefully is true for all of them. It doesn't matter that this is a paint can. It matters how it relates to the scene here. If I was just standing there and there wasn't paint in the sky, then what would the point be? If this was just a white sky in the background, it wouldn't really make sense. So there always has to be something that ties in every single prop. And then you might say, well then why did you use cardboard boxes? How does that make any sense? And you might settle there. You might say, it doesn't make any sense. That's just what I think. But in my opinion, I used cardboard boxes to show that you need to make your own ladder to your dreams as part of the concept. So there's always something that ties it in or at least I try to make sure that there's always something that ties it in. So here we have a few other images that utilize props. The umbrella as we talked about being a symbol for protection. We've got the watering can being a symbol for growth. We have a lantern and a feather pen as two different things I should say. I was going to just summarize it too quickly, but the lantern being a symbol for light in a dark space and the feather sort of an old timey time period type of tool here, where I'm not necessarily saying that the pen has anything directly to do with the concept, but that it's setting a mood, setting an atmosphere here. And then a key, which I love to use. Here we have different wardrobe examples, which also have to do with concept and time period, but also character. How are you developing your character within your scenes? What is it that you're doing to create a very specific character? In all of these cases, wardrobe is doing that, not entirely, but in a very big way. So here we have a dress that has these poofy sleeves and don't mind the hand and all of that. I realize there's a lot of weird stuff going on here, but we've got this girl in this poofy dress and that makes her look younger, right? Like if she was wearing a tight, slinky, sexy dress, then you might be like, oh what's that woman doing in there? But instead you're like, hey there's a girl in that picture. I get told all the time that people think that my self-portraits are of children, all the time, because people always think that I'm a child. I don't know why and I'm not, in case you didn't know. And it's often 'cause of my wardrobe and also because I'm oddly short, but also my wardrobe. So I wanna make sure that I'm using a wardrobe that one, gives me a certain age bracket, that also matches me to the image that I'm in and tells something about the character. So here we have this creepy picture that I was warned not to use, but I'm using it anyway and here we are. And I decided to use this very old nightgown in this image because what is creepier than somebody's head wrapped in ace bandages wearing an old nightgown? And I wanted to go for a creepy look here. So what I want you to know is that these girls are all dressed the same. Maybe they came from a hospital situation, maybe from a mental institution, who knows. They could be from anywhere and it's matching the theme of the image. The red, we've already talked about how that red gives already an image of who this person is, but then also the shape of it, the flow of it, how does this wardrobe feel and how does she work in that wardrobe can just be huge for the concept here. And then this one is one of my favorites where we've got a little bit of texture in the background with the wallpaper here and that matches the pattern on her dress and that's really important to me to draw in little ties like that with the background of the image, the foreground of the image. How does this relate in entirety to the image as a whole? These are my non-wardrobe wardrobe options where I've got just pieces of fabric in all of these. One of them is a bed sheet. Others are just literally random pieces of fabric that I found in my garage. And I love using that, probably more than anything because what is more nondescript than a blank piece of fabric? It doesn't indicate a time period. It doesn't indicate a certain character. It can be on anyone meaning anything in any time period and that's why I love to use them in my images, because think about it, this picture could be on any book cover. It doesn't matter if it's modern. It doesn't matter if it's about the 1200's. It doesn't matter, because it's just a piece of fabric. And that's what I think is so cool about wardrobe.
Class Description
Creating a great photo for a client is one thing - but turning your passion and ideas into a series that is shared, shown, and sold is a whole different business. If you do it right, you'll be shooting what you love all the time. Learn how to choose which ideas to create, how to turn your concept into a production, and steps to getting your work seen and even sold in Fine Art Photography: A Complete Guide with Award-Winning Photographer, Brooke Shaden.

This is an all-inclusive workshop that provides the tools you need to run a successful and creative business as a fine art photographer. You'll learn creative exercises to find and develop your ideas, how to create an original narrative, how to produce your own photo series, post production techniques and skills for compositing and retouching, how to write about your work, ways to pitch to galleries and agents, and how to print your pieces so they look like art.

This workshop will take you on location with Brooke as she creates a photo series from scratch. She'll walk through every step for her photo shoots including set design and location scouting, she'll cover techniques in the field for capturing your artistic vision, post-production and compositing techniques, as well as printing and framing essentials.

She'll round out this experience by discussing all of the details that will help make your career a success like licensing, commissions, artists statements, social media plans, gallery prep, and pricing your work.

This comprehensive course is a powerful look into the world of fine art photography led by one of the world's most talented photographers, Brooke Shaden. Included with purchase is exclusive access to bonus material that gives exercises and downloads for all of the lessons.