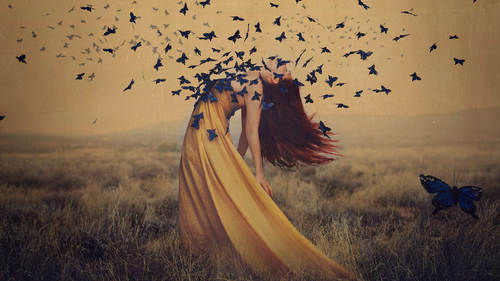 Fine Art Photography: The Complete Guide
Lesson Info
Set Design Arrangement
So we've got a few different wardrobe options here. And, my particular wardrobe is not very diverse. I have a very specific style, and in fact, I thought that what I was wearing would be really different, but it's not, it looks just like all these things. I tried to wear this to a wedding, but I was vetoed on that one. So, I've got a bunch of dresses here, and I also have a couple examples of props. And the point that I want to make here, is this... This really matters. This, versus this. Which, is still warm actually, this is tea. This is a teacup. Did you know? 'Kay. So we've got two very different props, and if I had said to you, okay guys, we're going to do a photo shoot, I need a teacup, somebody bring me a teacup. What is your idea of a teacup? Somebody might bring me this, someone might bring me this. You don't know, and you have to be so specific about what goes with what. So, same thing with keys. I have had this happen on a number of occasions, where I've said to someone, do ...
you have a key that I could photograph, and then I get this. And this is not a good looking key, is it? Maybe you think it is. I think this is a good looking key though. You know, something really old and timeless and beautiful. And, the fact is, that it doesn't matter which one you like more, but you have to choose really specifically. I wish that I could convey how many times I have looked at people's portfolios, and they'll tell me, okay I want, I want to make images that are, you know, that can go on book covers, that can go on young adult fiction book covers. And then I look at their work, and they've got people wearing jeans in the pictures, you know, jeans and a t-shirt. It's like, I get that that's the easy thing to do, but does that actually work for what you're trying to do here? And often it doesn't. So, we've got keys, we've got books, for example. A normal, everyday book, that you would find in Barnes and Noble, versus, this beautiful thing that we found. I just love this, I know. And the pages are worn, and it's just beautiful, and these kind of details make a big difference. Even, let's just say, I'm gonna do a photo right now, and I'm gonna take these book pages and rip them out, and throw them around the room, and that's gonna be part of the photo. I'm not really gonna do that, 'cause this is my book, and I don't wanna do that, but let's just say we were gonna do that. Look at what a difference it would be, to have these pages, these modern book pages that are crisp white, and nothing's ever happened to them, versus this book, which has the most perfect yellow pages in it. I just love them. So how do we choose props, and wardrobe, and location to all go together? We're in this room right now, which is very lovely, but, uninspiring, perhaps, to us sitting here, in terms of doing a photo shoot. So what if I did have to, what if I did have to do a photo shoot here? What are my options? Well, my options are probably to look down at the floor, in terms of the way that I like to shoot, right? And the background that I like to have. So, I would probably, so let's just say, I love books, I just need to say that, I'm not trying to be disrespectful to books, just in case. So if I'm going to create a scene here, you know my reaction is going to be okay, cover this newness as much as possible. 'Cause I'm not into that. So I'm going to lay these book pages all over the place, and you know, I'm gonna try to create something that covers the whole floor a little bit, makes it look dirty. Maybe I'll bring in some dirt for this image. Maybe I'll have somebody in one of these dresses, just curled up on the floor with the book pages. An easy way to create a scene that is, I was going to say timeless, but let's just say, not of our time, of a different time, because these are not from our time, and these pages are not from our time, and the floor could conceivably not be from our time. What a great way to do that, in this space. To limit the background that you see, to get rid of the noise, to start with the blankest slate possible, because that's what set design and image design is, is thinking of it from the ground up. From having absolutely nothing, absolutely nothing. What are you going to put in that room? What are you going to do? What does your room look like? My room looked like this new series that I created recently, with the yarn on the floor, and the wax on the floor, and things like that. Your room would be totally different, and the way that we would shoot this would be different, but what we need to think about, is what's the difference between these wardrobes? What does this color mean, versus this white color? What does this teacup mean, versus this teacup? Which I think is really just a glass, I don't think this is a teacup at all. I think I've been tricked. So what does it mean? How does it work together? And, are you doing everything possible to make sure that your image tells the story that you want it to tell? And if you are, then, fantastic. And if you are not, there are so many ways that we can do that, and we're going to be looking at that a little bit later on in the class, as well, in terms of how to actually build a photo shoot from the ground up, to be able to communicate what we want to communicate.
Class Description
Creating a great photo for a client is one thing - but turning your passion and ideas into a series that is shared, shown, and sold is a whole different business. If you do it right, you'll be shooting what you love all the time. Learn how to choose which ideas to create, how to turn your concept into a production, and steps to getting your work seen and even sold in Fine Art Photography: A Complete Guide with Award-Winning Photographer, Brooke Shaden.

This is an all-inclusive workshop that provides the tools you need to run a successful and creative business as a fine art photographer. You'll learn creative exercises to find and develop your ideas, how to create an original narrative, how to produce your own photo series, post production techniques and skills for compositing and retouching, how to write about your work, ways to pitch to galleries and agents, and how to print your pieces so they look like art.

This workshop will take you on location with Brooke as she creates a photo series from scratch. She'll walk through every step for her photo shoots including set design and location scouting, she'll cover techniques in the field for capturing your artistic vision, post-production and compositing techniques, as well as printing and framing essentials.

She'll round out this experience by discussing all of the details that will help make your career a success like licensing, commissions, artists statements, social media plans, gallery prep, and pricing your work.

This comprehensive course is a powerful look into the world of fine art photography led by one of the world's most talented photographers, Brooke Shaden. Included with purchase is exclusive access to bonus material that gives exercises and downloads for all of the lessons.