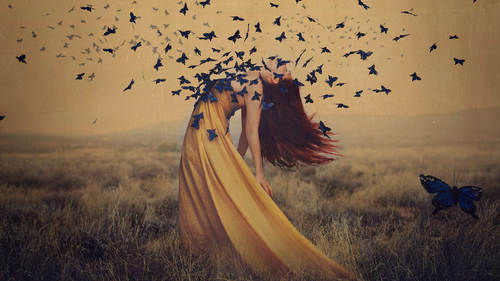 Fine Art Photography: The Complete Guide
Lesson Info
Three Writing Exercises
This is one that will scare you. I'm just going to put it out there. Don't be scared. You will be, but don't be. Stream of consciousness writing is the first thing that I want to talk about. This is where you put your pen down on paper, and you write continuously for a certain amount of time. I think that that is one of the most beautiful thing that anyone can do. You start writing, you put your timer on five minutes, and you don't stop, and you will realize immediately how difficult that is, immediately. You start writing things like hello, hello, hello, my name is Brooke, and you just write whatever comes until something better comes along, and it's amazing how many themes you can find within your writing when you really, really focus on your writing and just whatever needs to come out of your brain. I find that to be fascinating. I always start with nonsense, you know. I might start writing about my day, and then it's like clockwork. After about one minute, I just start writing stor...
ies. Just pure story comes out, and I love that. It didn't used to happen that fast for me, but now it does, and you might think a minute is a long time to just be writing, writing, writing nonstop, and it is. My hand cramps up, we're not used to writing that much, but really, really valuable as an exercise. Now if we think about story and writing in terms of how we use story visually, we've got these elements that we so often use, character, time, wardrobe, color, location. You can add in any of our image components here, and that's fine. So I've got these elements, I just chose five of them, and what I like to do is to pick a totally random thing to go with each word. So character, 10 year old girl. Time, early evening. Wardrobe, mermaid tail, why not? Color, blue. Location, desert. (laughs) I threw you off, didn't I? And so when you just do totally random words to go with these story components, it is so much fun to see what story will come out of that. So I challenge you to just, totally random, if anybody remembers what I just said, Girl, 10 year old girl, early evening, blue wardrobe, mermaid tail, desert. Write a paragraph of a story where you have to use every element. It is so much fun, and you'll be amazed at how many ideas visually come from that little exercise. And then finally, story structure. Now we're going to play a game to learn story structure, okay? So I want you guys to pass the mic, alright? But I promise you won't be too overwhelmed by what I'm going to say. So, first of all, these are the different elements of story. We've got an introduction, every story has an intro. Once upon a time, it was a dark and stormy night, all of these things, intros. Then we've got backstory, which is where does your character come from to get to the place in the story that they're about to lead their lives and show you through the story, okay? So this is everything you need to know about the character. And we've got inciting incident, which is like, the point of no return where you've got this character, they're making choices, and suddenly they can't go back. Okay, they make a choice and it leads the story in one direction. It's like a Y, you're going on a path and then all of the sudden it splits. And based on their choice, you go in a different direction. Okay, and then after the inciting incident we have the climax, which is where The Thing happens. The Thing that you've been leading to is taking place, and either everything is gonna come crumbling down, or everything's gonna be great, and then the resolution, okay. Now I challenge you to try to write with story structure, but it's very difficult for a lot of creative brains to work like this, to work in a really structured way. So just know that it could be really, really difficult. So our quick, quick exercise, okay? Let's start over here. Who are we? We're a little boy. A little boy, okay. Um. Any special attributes? Well, he... went with his grandfather, he's coming out from a balloon store with lots of helium balloons. Ooh, nice! Okay, perfect. A little boy coming out of a balloon store with lots of balloons. Would you pass that on to April? Okay, what is he doing? He is (clears throat) going to a birthday party. Oh, okay, good! Next? But he's mad, because they didn't have the color of balloon that he wanted, so he's crying. Perfect. How does it end? Yeah, yeah-- I get the hard part, right? Um... So he's mad, he's been crying, he doesn't have the color that he wants. He sulks in the corner at the birthday party. Okay, I like it, you guys are real sad. (laughing) Okay, but look how fast we have a story? So, story is really just made up of who is this person? What do they want? Why can't they have what they want? How does it end? Super simple, right? Takes like a minute to find a story. Now it takes way longer to find a good story. To find a story that you actually need to tell. But story itself is simple, and we get really overwhelmed by story, because we think that it's this huge thing, that like we just couldn't possibly do because it's such a time consuming thing to learn. It's not. But the way that we personally tell stories, the stories that we have to express are in the end much more complicated than our poor little boy sulking in the corner 'cause of his balloons. Okay, so that was storytelling exercises and idea exercises, and I really hope that you get a lot out of it. But I also hope that you come up with your own ways of finding ideas that work for you, because this is our fine art class, right. We're going like start to finish, everything in the world to do with fine art. And I want you to have your own personal journey in this experience. I want you to take your own associations, your own past, your own experiences, and channel that all into art that is meaningful for you. That has your type of story that you need to tell. Because in my opinion, it is vitally important that we tell those unique stories.
Class Description
Creating a great photo for a client is one thing - but turning your passion and ideas into a series that is shared, shown, and sold is a whole different business. If you do it right, you'll be shooting what you love all the time. Learn how to choose which ideas to create, how to turn your concept into a production, and steps to getting your work seen and even sold in Fine Art Photography: A Complete Guide with Award-Winning Photographer, Brooke Shaden.

This is an all-inclusive workshop that provides the tools you need to run a successful and creative business as a fine art photographer. You'll learn creative exercises to find and develop your ideas, how to create an original narrative, how to produce your own photo series, post production techniques and skills for compositing and retouching, how to write about your work, ways to pitch to galleries and agents, and how to print your pieces so they look like art.

This workshop will take you on location with Brooke as she creates a photo series from scratch. She'll walk through every step for her photo shoots including set design and location scouting, she'll cover techniques in the field for capturing your artistic vision, post-production and compositing techniques, as well as printing and framing essentials.

She'll round out this experience by discussing all of the details that will help make your career a success like licensing, commissions, artists statements, social media plans, gallery prep, and pricing your work.

This comprehensive course is a powerful look into the world of fine art photography led by one of the world's most talented photographers, Brooke Shaden. Included with purchase is exclusive access to bonus material that gives exercises and downloads for all of the lessons.