Which Social Media Platforms Will be Useful?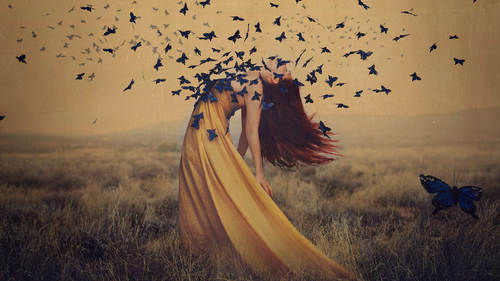 Fine Art Photography: The Complete Guide
Lesson Info
Which Social Media Platforms Will be Useful?
We're gonna talk about social media later in the class, so I'm not going to go into this too much right now, but social media platforms, I mean, obviously, you could talk for probably a whole year about this nonstop and everyone would still be debating what you have to say about it. So I'm simply going to make this point of the best social media platform is the one where you feel more comfortable, where you feel like it's an authentic showing of your work, and where you find a community. And, you know, we were just talking about this earlier today, you and I, Tori, and how it's like maybe Flicker was once the place to be. Maybe that was your place, and that was my place. That was where I found my tribe, so to speak, to begin with. I found a community of people who supported what I did, and I supported them. And now for me, maybe that's Instagram, maybe that's not Flicker. So I'm simply looking for the place that fits best. I'm not looking for the place that has the best SEO, whatever t...
hat means. And I'm not looking for the place that has the most amount of people right now. I'm simply looking for the place where I connect the best to people. Because I'm gonna say this over and over, it's not about how many people you can amass in one place. I am not interested in that. I mean, I'm interested right now, you know, in how can I make those genuine connections, because those people are going to be the ones who support my career. Not the two million people on some other social media platform who don't really care what I'm doing, but maybe the 10 people who really do. So I'm very interested in that. (coughs) Excuse me. So you are the consumer. Imagine that you are the one buying these things. You're the one engaging with people. And we are, right, we're all consumers. We're all artists, we're both. What do you want to see? I mean, let's say you get on Instagram right now, and you start scrolling, what's gonna make you stop? What is it? And I think that if we really slow down online, and we take a look at what works, what doesn't work for us, then we can start to really take notes and say, "Okay, I notice that I'm responding really well "to a certain visual," a certain type of color scheme, maybe, that you're seeing. Maybe it's a certain type of text that you're seeing a lot of, maybe certain quotes that you really like, something like that. Whatever makes you stop over and over again, that's what you want to be buying probably. You know, if you're gonna look for art for your house and you notice you're stopping on the same exact color pallette every single time when you get on Instagram, you might think, "Oh yeah, maybe I do want that in my house," instead of just scrolling online. So it's really good to think about that. Why wouldn't you buy your own products? I love this question so much. Like really, why would you not do it? And I could answer this question for myself, and I will. You know, I've got products, and products is a vague term. I don't mean necessarily like let me hand you a product that I'm going to be giving, it could be a service. Buy why wouldn't you buy into your own thing? (laughs) And yeah. And so, why not? So if I'm thinking about my services, if I'm thinking about my products, my prints, things like that, what would deter me from purchasing? One thing that I know is true of myself right now is that I feel like my website is a little bit lacking in my print department. If I went to my own website, and I was thinking I might buy a print from this artist who's known as Brooke Shaden. I'm gonna go to this girl's website. I'm gonna look at the print page, see what's up. It has some text, it has galleries where you can purchase the work, but I would actually really hope to see like a picture of the paper that's being used, or like a closeup of the print, or just something to show the quality of it, and I don't have that right now on my website, so that's something that would deter me from buying my own product. And same with services. For example, I don't even advertise my services, so that's one thing that would deter me from buying my own product, because I don't even do it. So little things like that, just asking yourself really honestly, why wouldn't you?
Class Description
Creating a great photo for a client is one thing - but turning your passion and ideas into a series that is shared, shown, and sold is a whole different business. If you do it right, you'll be shooting what you love all the time. Learn how to choose which ideas to create, how to turn your concept into a production, and steps to getting your work seen and even sold in Fine Art Photography: A Complete Guide with Award-Winning Photographer, Brooke Shaden.

This is an all-inclusive workshop that provides the tools you need to run a successful and creative business as a fine art photographer. You'll learn creative exercises to find and develop your ideas, how to create an original narrative, how to produce your own photo series, post production techniques and skills for compositing and retouching, how to write about your work, ways to pitch to galleries and agents, and how to print your pieces so they look like art.

This workshop will take you on location with Brooke as she creates a photo series from scratch. She'll walk through every step for her photo shoots including set design and location scouting, she'll cover techniques in the field for capturing your artistic vision, post-production and compositing techniques, as well as printing and framing essentials.

She'll round out this experience by discussing all of the details that will help make your career a success like licensing, commissions, artists statements, social media plans, gallery prep, and pricing your work.

This comprehensive course is a powerful look into the world of fine art photography led by one of the world's most talented photographers, Brooke Shaden. Included with purchase is exclusive access to bonus material that gives exercises and downloads for all of the lessons.