Fine Art Photography: The Complete Guide
Yours is a Story Worth Telling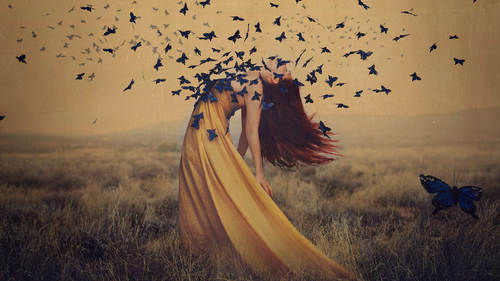 Fine Art Photography: The Complete Guide
Yours is a Story Worth Telling
Lesson Info
Yours is a Story Worth Telling
And so we're almost done with the entire class which is crazy cause, that was a lot of hours, right? But here we are at the end and this is my final message. I've already talked and talked and talked longer than I was supposed to. Basically at every turn, I've used way too many words. So I'm going to use just a few to end this, what I hope was a really beautiful experience of a class for you and for everybody. So what I simply wanna say is that yours is a story worth telling. And that there is nothing more true than that, than those words. That we all have something to say and it is beautiful and somebody needs to hear it. If you do nothing else after this class, go and make something. Make something beautiful and personal, and that's painful and that needs to come out of you. And see where that leads. See who you can connect with. See what opportunities that opens up for you because in my opinion, creating art selfishly is the most giving and wonderful act that anyone can participate ...
in. The more that you create from within, from what needs to come out of you, from that selfish place of I must do something, and I must express myself, you're going to encourage countless other people to do the same thing. And that's how we heal and that's how we encourage others. By doing and by sharing and by being willing to be vulnerable. So please, go make some art. Make it really painful, make it really difficult for yourselves and see what comes of that. Because I think it's gonna be amazing. So go make something. Go make your series, go have fun, and take all of this knowledge that you've been given that I hope that you have learned from and that it's helping you in your own craft, and show me what happens. I cannot wait to see. Thank you guys.
Class Description
Creating a great photo for a client is one thing - but turning your passion and ideas into a series that is shared, shown, and sold is a whole different business. If you do it right, you'll be shooting what you love all the time. Learn how to choose which ideas to create, how to turn your concept into a production, and steps to getting your work seen and even sold in Fine Art Photography: A Complete Guide with Award-Winning Photographer, Brooke Shaden.

This is an all-inclusive workshop that provides the tools you need to run a successful and creative business as a fine art photographer. You'll learn creative exercises to find and develop your ideas, how to create an original narrative, how to produce your own photo series, post production techniques and skills for compositing and retouching, how to write about your work, ways to pitch to galleries and agents, and how to print your pieces so they look like art.

This workshop will take you on location with Brooke as she creates a photo series from scratch. She'll walk through every step for her photo shoots including set design and location scouting, she'll cover techniques in the field for capturing your artistic vision, post-production and compositing techniques, as well as printing and framing essentials.

She'll round out this experience by discussing all of the details that will help make your career a success like licensing, commissions, artists statements, social media plans, gallery prep, and pricing your work.

This comprehensive course is a powerful look into the world of fine art photography led by one of the world's most talented photographers, Brooke Shaden. Included with purchase is exclusive access to bonus material that gives exercises and downloads for all of the lessons.