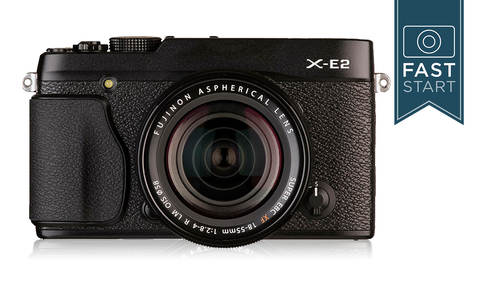 Lesson Info
9. Next Steps
Lesson Info
Next Steps
Thanks a lot for watching one of my fast start camera classes if you've completed this course and you're wondering what do I do next? Because I want more information here's, what I recommend if you haven't taken it already have a class called the photography starter kit. This is a relatively short three hour class where we go through shutter speeds, apertures focusing depth of field composition and lighting, and this is not in reference to a particular camera, but photography in general a little bit more about the art form of doing it out in the field. And so now that you know how to work your camera, you want to take it the next step to learning more about photography out in the world, and so that would be the next place you want to go. If you've done that one and you want to take it even further than you want to move on to my fundamentals of photography, this is a class that a update on a yearly basis, and it contains what I think is everything a photographer should know have about t...
hirty years of experience that I have dumped into this class, and if you really want to dive and deep, this is where we get into the nitty gritty details and talk a lot about everything from shutter speeds apertures to an entire day on composition, so that is that's one of my most popular classes that's that's, one of my favorite classes have put a lot of work that goes into that and that's kind of the ultimate class after that, then we kind of get to more specialized classes. Something that you may be particularly interested in would be something like travel photography. So I have a class that is partick particularly geared towards the travel photographer. We talked much less about shutter speeds and apertures, and we more talk about dealing with gear and logistics. And how do you talk to people with cultures that speak a different language than you? The next type of class that I have is a nature and landscape class. And so here there's a lot of specialized techniques that landscape photographers are using to achieve their maximum depth of field, and we're going to be covering all of those in this a two day class. So there's a lot of information in here from your camera class. The other direction that you can do is learn more about your lenses. And so very shortly I will be coming out with a class called mastering the lands and this is going to have a class specifically for canon lenses and a class specifically for night conferences. They both used their own very interesting and very sophisticated technology to make some just amazing lenses and there's so many choices figuring out what's. The next lends for you to purchase. And how do you use them to get the best benefit? And the maximum sharpness out of each of those images is going to be something that we're going to be covering in this class is gonna be a lot of fun, and should be a great way to follow up a class in your camera, knowing your camera, knowing your lenses and knowing photography is all part of the game for being a better photographer. Thanks a lot.
Ratings and Reviews
This course was outstanding! I recently acquired an X-E2. I am still an amateur, though I used a Nikon D-90, for the past few years. I was a bit confused on how to translate the dslr controls to my new Fuji. So, this class is exactly what I needed. The way the course is designed and the clear instructions were great. I love going back to see something over and over until I truly understand. This was my first CREATIVELIVE course and I know that I will take more. Thanks.
I found this course completely by accident. This class is not listed in Photography under "Fuji". Or under "Hardware", where many other camera courses are featured. This is a good course. I appreciated the thorough explanation of each dial, button, and menu item. I also liked that John described how he, as a professional, would set the camera for his own use. That helped me understand how the camera would likely be set up for use by a professional. I was disappointed, though, by John's dismissal of JPEGs output by the camera. As he notes, the only benefit he has of JPEGs is to check the results of the shot he just took. But the JPEGs that the X-series cameras produce are widely acknowledged to be excellent. John says he can always exceed this quality by working over RAWs in post production, and surely so. ...But he'll spend quite a lot of additional time doing that, and he likely owns the software needed to do so. It's just odd that he did not acknowledge that there are some benefits to the in-camera processing of JPEGs, and that it is due in part to Fuji's unusual sensor design. This was an issue only because there are a lot of settings that deal with JPEGs that received next to no attention in the course. I was also dismayed by his dismissive attitude regarding some of the camera's setting limitations. For instance, he was mystified and bummed out that the benefits of the Dynamic Range settings could only be realized by a requirement of minimum ISO settings of 400 and 800. But I easily found an explanation for that: DR reduces exposure to capture highlights that would otherwise be blown. Then it uses those extra stops of ISO headroom to enhance dark shadows and midtones. I don't believe there's another course like this one. It does present a lot of valuable information in a very easily digestible format. That xe2 is a lot more familiar to me now that I've taken the course!
Nice one. Just an easy and refreshing way to review all the buttons and function for an east start. Built nice with extra tips and views comparing to reading the user manual.
Student Work