Front of Camera
John Greengo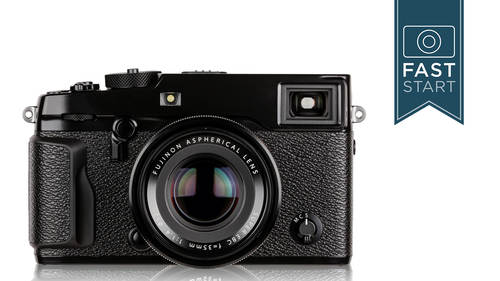 Front of Camera
John Greengo
Lesson Info
15. Front of Camera
Lesson Info
Front of Camera
working our way over under the front of the camera. We have our big old viewfinder window and our viewfinder selector, of course. And just as a reminder, you flick it out away from the lens to switch back and forth between the Elektronik view and the optical view, and you'll flick it in. If you want to add that dual display when you're in the optical viewfinder and if you hold it out for a couple of seconds, it'll switch between your normal optical viewfinder and you're a little bit more magnified or normal. Magnification it versus your wide angle magnification on it. And so there's a lot of different options. Get used to those little fine tune controls on that little do you find her selector on the front. We have are focusing mode, and this controls how our camera focuses. And so let's take a look at the different options. Single focus is kind of our net or standard type of focusing. This is where you press halfway down and the camera will focus. And then, when it figures out focus, i...
t stops focusing and so single shot. This is good for portrait photography or just general photography overall and that you would press down all the way to take the photo. Continuous mode is for subjects that are moving. And so if you're gonna be shooting action photography and the subjects are moving closer or further away from you, that is when you definitely want to have the camera in the continuous autofocus mode. And then finally, you have manual focus. And so, if you like to manually focus, that's gonna be where you wanna have your your camera. Now, one of the ways that I like to work with my camera is in back button focusing. And so this camera has a unique way of doing back but focusing. And so let's take a close look at the camera here, and I want to show you how you get to set up for back button focusing. And so what you do is that you had set the camera to manually focus, and so if you want to manually focus, you can just go grab the lens and manually focus. But you can see how that were set up in manually. Focus. So let's turn the camera around here. Let's ah, mixture. The cameras turned on and let's have something to focus on over here. And so now when I press down on the shutter release, let's throw this out of focus so that it's clearly out of focus. Uh, it's not going to focus, all right? Just final does not want to focus their because we haven't in manual focus, but the A f L button. Well, what does that do? Well, that does auto focus lock. Well, autofocus lock is not gonna do anything when we're in manual focus. So it is now an optional focus button. And so this is your back button focusing. You set the front dial to M Focus for manually focus. So if I want to manually focus, I can. And you can actually see the indicator down here at the bottom as I am manually focusing. But if I want autofocus, Aiken just come up here and press that button for focusing. And so it's a very simple system. Works very well if I shouldn't gripe, but I'll gripe. I would like to have a little bit more feel like a little nothing. A little nothing on there is so that I could feel that button a little bit more cause sometimes my finger gets lost because it is so smooth on the back of the camera. But I think I will get used to that position. And so that's how I like to work a lot of my photography because sometimes I want to focus in and then I want to recompose shoot pictures, take my finger off the shutter, release recompose. Maybe I want to manually focus a little bit, and so that gives me a lot of options. And I know a lot of you are gonna like back button focusing once you get used to it. So that's how you set that portion up. All right, so those are our focusing modes, our image sensor. We have a new 24 megapixel sensor, so Fuji has up the image quality on this to higher resolution. They do have a unique sensor. It is built by Sony. They admit this. They know this, but it is specially designed for Fuji, and it is different than all the other sensors on the market in a very significant way. Most cameras use sensors that use what's called a bear pattern system, which is on the right hand side, and it alternates red, green, red, green and then green, blue, green, blue. And the X trans CMOS three sensor in this camera has taken the red and the blue pixels, and they put him in more of a random pattern, and this allows them to take off the optical low pass filter that is on many not all, but many of the other cameras. This optical filter is designed for reducing moray or these lines that just don't line up correctly with the red and blue lines. In short, they're able to get a sharper image out of their camera than most other cameras. And so a lot of times when you see reviews on the image quality of Fuji versus other cameras, one of the terms you may hear is that Fuji's really punch above their weight class for 24 megapixel camera, you're getting the sharpness of what a lot of other 30 or 36 megapixel cameras were getting, and so it is a very, very good system that should serve a lot of different needs very well
Class Materials
Fuji X-Pro2 Recommended Settings
Ratings and Reviews
WOW how I wish I had this to begin with!!!! Between manual and smart tip overload via books and U Tube, as well as, class instructor snafus I pretty much felt like an idiot. After this class not so much. Great job .
I have the X Pro 2 for over a year and I thought that I might get more information on how to use it more efficiently. Boy this is a great course! I learned a lot and I loved the hidden feature :) Highly appreciated John and CL!
it's a great course would have loved to get the same quality course for my Fujifilm X-Pro3
Student Work