Fun and Festive Surprise Balls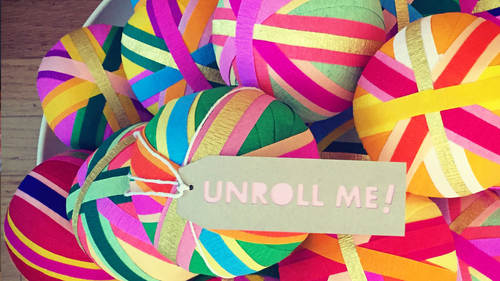 Fun and Festive Surprise Balls
Class Description
Add an element of fun to your next party favor with handcrafted surprise balls!
In Fun and Festive Surprise Balls with Robert Mahar, you'll learn how to make easy and unique containers for your small gifts. You'll learn how to:
Set a theme and select the right contents for your surprise ball
Wrap the contents to achieve a spherical surprise ball
Decorate the exterior in both simple and elaborate ways
Surprise balls infuse a bit of magic into mundane gifts and are a great way to increase the flair of basic party favors. Learn how to make them in Fun and Festive Surprise Balls with Robert Mahar.
Reviews
A natural teacher, great craft idea to add a bit of fun to gift giving!
Rochelle @ eSheep Designs
I may never make one these, but I sure did enjoy learning about them and watching Robert Mahar's engaging presentation. Everything was demonstrated and described clearly and I came away with all sorts of ideas as to how these concepts can be applied. If you're looking for a new party favour for your next gathering, these surprise balls could be it!