Go from Underestimated to Unstoppable
Jamie Kern Lima, Chase Jarvis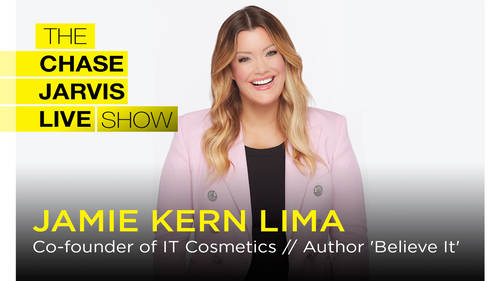 Go from Underestimated to Unstoppable
Jamie Kern Lima, Chase Jarvis
Lessons
Class Description
There's a common misconception that artists have a monopoly on creativity...But the very act of making waves - no matter the career - is a creative one. The Chase Jarvis Live Show is an exploration of creativity, self-discovery, entrepreneurship, hard-earned lessons, and so much more. Chase sits down with the world's top creators, entrepreneurs, and thought leaders and unpacks actionable, valuable insights to help you live your dreams in career, hobby, and life.
ABOUT THIS EPISODE:
If you've ever doubted yourself or felt truly underestimated, this episode is for you.
Jamie Kern Lima is a self-made entrepreneur, champion of women, philanthropist, keynote speaker and Co-founder of IT Cosmetics, a company she started in her living room and sold to L'Oreal for $1.2 Billion, becoming the first female CEO in L'Oreal's 100+ year history.
Her journey from growing her fledgling company from her living room to 1.2 Billion came with hard-won wisdom, having to overcome self-doubt, and sheer belief in her mission when she was told """No one is going to buy makeup from someone who has your body."
In this episode, we chat with Jamie about the lessons and breakthroughs that helped to tip the scales from countless Nos to Yes. Some of the topics we cover:
How to overcome self-doubt
Recovering and resilience from mistakes and setbacks
Cultivating trust in our intuition, even when no one else believes it
How to build confidence and just start
If you love this conversation, be sure to check out Jamie's book BELIEVE IT filled with more actionable stories of how to go from underestimated to unstoppable.
Ratings and Reviews
Student Work