Happiness Is An Inside Job
Dr. Rangan Chatterjee, Chase Jarvis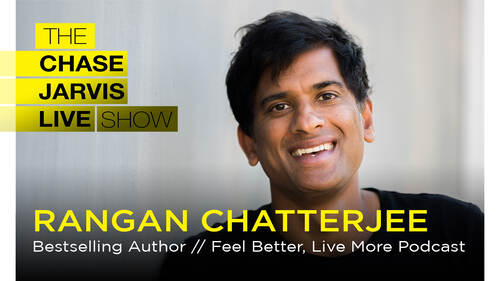 Happiness Is An Inside Job
Dr. Rangan Chatterjee, Chase Jarvis
Lessons
Class Description
There's a common misconception that artists have a monopoly on creativity...But the very act of making waves - no matter the career - is a creative one. The Chase Jarvis Live Show is an exploration of creativity, self-discovery, entrepreneurship, hard-earned lessons, and so much more. Chase sits down with the world's top creators, entrepreneurs, and thought leaders and unpacks actionable, valuable insights to help you live your dreams in career, hobby, and life.
ABOUT THIS EPISODE:
Happiness and health are two topics that have been widely researched throughout history but only in recent years have become scientifically linked. As the connections between mental health and physical health have become undeniable, doctors and researchers alike are beginning to examine the impact of our mental well-being on our physical bodies. The study of happiness extends to the decisions people make that lead them down the path they have chosen for their lives.
Enter Dr. Rangan Chatterjee. Dr. Chatterjee has been practicing medicine for over 20 years and is considered one of the most influential medical doctors in the UK. His goal is to help 100 million people live healthier lives.
Childhood Conditioning
For most of us, the path we choose to pursue as we grow up is largely influenced by the thoughts and beliefs of our caregivers and early influences in life. Children are molded by what they see in the actions of those around them, whether it be gentle nudging from the most well-meaning parents or adverse stimuli from traumatic events. Early life paves a highway before us as we begin to understand our environment and its social norms, expectations, and beliefs. And from those beginnings, most tend to choose a lane on that highway even when we pursue what we think is our own independent goals and ambitions.
For Dr. Rangan, being raised by parents who were immigrants from India to the UK came with it the pressures to not only pursue higher education in medicine but also aim for the top of his class. Dr. Rangan was raised by a father who was a doctor and surrounded by his father's friends who were also in medicine. As Dr. Rangan was also naturally inclined to care about others and help them (as he learned from watching his mother), he was drawn to pursue a medical degree. However, as he discovered years into his career, even though he appeared to be successful, he did not feel content with his path. Something wasn't quite aligned. His label of "Doctor" didn't bring the happiness he thought it would.
Labels and Identity
Right from the early years of school comes a pressure to work towards an identity in a career or label. Children are asked all the time, "What do you want to be when you grow up?", giving the illusion that they should have even an inkling of whom they want to be as adults. And when we do pursue and achieve the titles we work towards (doctor, lawyer, salesman, writer, mother) those labels often become so closely intertwined with our identities that if we lose that title or status we often end up in a complete identity crisis.
Dr. Rangan and I spoke at length about the limiting factors that labels bring with them and challenged the thought that by early adulthood we must know and lock in what we are going to be and that is the label we will be tied to for life. He is so much more than just a doctor, as he described himself as a husband, father, writer, podcast and television host and singer/songwriter. And he shared about how it took him many years into being a doctor to really find his place and what he is meant to do.
I have spoken about this before, how the need to choose a career and then put 30-40 years in to reach retirement and get the watch is an outdated model. While it has got us to where we are today, it is not going to get us to the next level of consciousness in society.
Trends are shifting to people seeking more autonomy and personal freedom, and the tendency to have numerous career arcs throughout is no longer uncommon. On a recent show, my dear friend Nabil Ayers also shared his unconventional journey through education that brought him ultimately to where he wanted to be. As we shed the need to have a label to identify us we become free to explore what we want in life and the lifestyle we want to live.
Lifestyle and Health
Through Dr. Rangan's career as a medical doctor, he began to discover that lifestyle was one of the biggest contributors to the illnesses and diseases his patients were facing. Not only that, but he also discovered that minor lifestyle adjustments could bring significant improvements or even eliminate these conditions, without the need for medication or surgery. Dr. Rangan sees the four pillars of health as food, movement, sleep and relaxation and says that just simple adjustments and changes in these areas little by little will bring major improvements to life and health. On his show "Doctor in the House", Dr. Rangan followed families with chronic illnesses for 4-6 weeks and as he prescribed lifestyle adjustments, the families' lives were radically changed in their quality of health.
As Dr. Rangan's book, "Happy Mind, Happy Life" is released this spring we got onto the topic of happiness and how it truly is a key to living a full life. Dr. Rangan says happiness is truly an inside job and he calls this concept "core happiness". He gave three very practical areas we can train in our lives that he calls the happiness stool: alignment, contentment, and control. Alignment is when the person you are on the inside matches the person you are out in the world, where your inner values and external actions match up. Contentment is focusing and giving time to the things that truly make you feel content and at peace. Control is not about controlling external events, but about doing things daily that give you a sense of control over your life. These things may be a morning or afternoon routine you have of exercise or mediation, it could be journaling or taking photos. Dr. Rangan shared that training these areas in your life is like a muscle that will become stronger the more you train.
Rewriting Stories to Change Your Perspective
An area that can be difficult to train is when we are triggered negatively by events out of our control and then react out of that triggered state. This is often one of the quickest ways we can lose our state of contentment and revert to our learned patterns that are often unhealthy. One of his favorite tips that Dr. Rangan shared around this was learning how to rewrite stories to make them what he calls "happiness stories".
As Dr. Rangan shared that he has lived much of his life with a victim mindset and felt controlled by the thoughts and actions of people around him, he also said that he has never felt so good as he has in the last five years. He attributes this largely to the training he has done in rewriting stories. The concept is that whenever we are negatively triggered by something, if we learn to rewrite the story into something that doesn't trigger us (for example, if we receive a nasty email from a boss and then rewrite the meaning to understand that the boss was likely facing difficulty to send that email), we can maintain our logical brain and make better choices in our responses. He shared a quote by Viktor Frankl that encompassed this well:
Ultimately, everything we spoke of today was about making small changes in our lives and training different skills to bring us to a place where we can feel most happy and content with life and truly be who we want to be.
Ratings and Reviews
Student Work