Creating Want or Scarcity
Pye Jirsa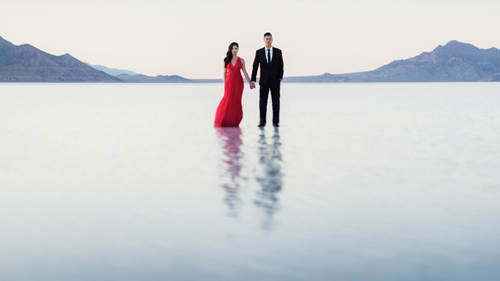 Creating Want or Scarcity
Pye Jirsa
Lesson Info
84. Creating Want or Scarcity
Looking at both right now and in the first five years of your business, Pye digs into techniques for creating a want for your work.
Summary
(Generated from Transcript)
In this lesson, Pye Jirsa discusses the importance of creating want or scarcity in a photography business. He explains the difference between push-based marketing and pull-based marketing, and emphasizes the value of scarcity in generating desire for a product or service. Pye shares strategies for creating scarcity, such as stating limited availability on your website and setting specific times for meetings or phone calls to convey the perception of a busy schedule. He also addresses how to handle interruptions and prioritize workflow when dealing with phone calls, and advises on how to respond to potential clients who are not responsive or dismissive.
Q&A:
What is the difference between push-based marketing and pull-based marketing?

Push-based marketing involves brands trying to convince clients to buy their product through direct advertisements, while pull-based marketing focuses on generating desire for a product by creating a desired lifestyle or perception.

How can scarcity be created in a photography business?

Scarcity can be created by stating limited availability on your website or in your marketing materials, and by emphasizing that you work with a limited number of clients to provide an exclusive experience.

How can scheduling calls and meetings help create the perception of scarcity?

By offering specific time slots for calls or meetings and stating that you respect the client's time, it conveys the impression that your schedule is busy and in demand.

How should phone calls be handled to create the perception of scarcity?

It is important to respond to leads quickly and aim to call them within an hour. During the call, if the potential client says they don't have time to talk, respond by offering a specific time for a follow-up call, making it seem like your time is valuable.

What should be done when potential clients are unresponsive or dismissive?

If a potential client is unresponsive or dismissive, it is important to maintain control of the situation. Politely let them know that you have limited availability and suggest a specific time for a future conversation, or ask them to contact you when they are ready for your services.
Lesson Info
Creating Want or Scarcity
This is the ultimate goal for you guys, I want us to be able to create want or scarcity in the product that we are making, okay, and we go back to this brand example of which brands here are we seeking, which ones are we moving to get, which ones do we want? Why do we seek those things? It comes back to kind of two different marketing standpoints and how brands create kind of a brand perception, and it comes back to another piece that we have direct control over, of scarcity. So first, push based marketing. This is really on the brand having the desire for the client to buy something. This is push based ads that are going to you and saying buy this, sale, you know, come in, get this. We have a great deal on this, da da da, they're trying to get you to want to buy the product, right? Whereas pull based marketing is generating the want on their side. These are subtle ads, subtle placements, things that make you desire a lifestyle, things that make you want to live a certain way. This is ...
where you shift the desire as actually on the client's side to seek the brand. Okay? So the question is, how do you create pull? Pull's not an easy thing to generate, because most of pull comes from quality of product and price exclusivity, you're creating a sort of luxury product to have. This is that piece of your business that I want you guys to create over the five years, three to five, six, seven, however long it takes you to develop that brand equity among the people that are seeking you out. It'll happen eventually. This piece, though, scarcity, limited availability is something you can do right now. Price and quality, with time. Scarcity we can control now. And what we can do is on your site you can state things, like limited bookings. I like to work with a limited number of clients each year to make sure that each clients get an exclusive experience. When you schedule calls, this is the most odd thing. We respect our clients' time, but not our own. How many of you send a client an email, call me anytime? How many of you are on the phone talking to somebody and they say I just don't have time right now, when can I, can I call you back? Yeah, call me anytime. How many of us say that line, call me anytime? A lot of us do, right? It's fine. I want you just to delete it, delete it from your vocabulary, and now what I want you to start saying in your emails is I know you're busy, tomorrow I have a window at 5:15 p.m. I know you get out of work at five, I have a window at 5:15 p.m., otherwise we can chat next week. Oh my goodness. You don't know how busy that person is, you don't know, like they have no clue what's going on. Your schedule might be completely open, but the fact that you said I have a window at 5:15, otherwise we can chat next week, they instantly go wow, Page, you're busy. I need to respect your time. And likewise on the phone when they say can I just call you back in a few minutes? No you can't. You don't say that, you say I'd love to talk to you. Julie, I'd love to talk to you, my next window is in a couple days, do you have time Friday at this time? I don't care if you're sitting at home twiddling your thumbs doing nothing, make it seem like you're busy, right? The whole point of everything that we did in the marketing side in the content marketing, in all that early on, was to fill the party. We need to make the party look full, and the party is never gonna look full when your time is so readily available for people. So with scheduling calls, with scheduling meetings, I want you to have that line, always, always in an email, I have time at this place, I'd love to do it here. I know you work here, I wanna respect your time, I have a window of 15 minutes here. And you know what you say when you just call somebody? 'Cause I want you to call your leads instantly, right. When you get a new lead in you should call them right away. And there's interesting statistics on the rate of close based on how long you wait. Like, if you call somebody within one hour, your rate of close is something like 70 to 80% higher than within 24 hours. So if you're instantly on the phone with that person, they're very likely to close, and you can close 'em on the phone. We do that all the time. But, when it comes to those discussions, when it comes to those phone calls, when you get onto that call, 'cause you just called 'em up instantly, right? They just sent the lead in, they just, oh yeah, I just filled that out one hour ago and you're calling me right now. When they say they don't have time to talk, okay, now you respond with, I just had a few minutes right now between meetings so I wanted to give you a call. If you wanna chat again, I have a window on Thursday. So that's the line that you're gonna give them because you're calling everybody instantly, but again, you want them to realize that your time is valuable, right? So, look, I just had a few minutes right now, I'm between meetings, I wanted to give you a call. Tomorrow would be a great time, maybe at seven? That works for me, does that work for you? But give them every time, every time you present a time, or every time you ask for a meeting or a follow up phone call, every time, you present a specific time. And the reason is, is because it's not real. When you tell me, hey, do you wanna meet tomorrow? That's not real to me until you set a time on it. Once you say, do you wanna meet tomorrow at seven, I actually think, oh, you know what, at seven I have this, but at eight I could do that. Otherwise it's just, yeah okay, we'll talk tomorrow. Sometime. And it's not gonna happen. Question? I was wondering, 'cause you earlier had showed your schedule, how do you not interrupt your workflow, say if you have a project, when you're getting interrupted with phone calls? This might be different 'cause you have, probably people handle that stuff for you, but I was just wondering how you keep your workflow, or do you schedule time in to return these calls, or? You know, early on in our process when a lead came in we were on the phone instantly. And I kind of expect that for you guys. As you're early on, let it interrupt you. Like, if a lead comes in, (sighs) I say this with a little bit of warning because I'm hoping that everybody here has already done that identification and marketing stuff that they need to make sure that the leads coming through are qualified. That's why we did everything, like the direction and all that kinda stuff, and the targeting, the personas, and the marketing, and everything so that who's calling is actually the people that we want. Because if, you're right, if you're getting a lot of cold leads coming through then stopping your day constantly to call these cold leads, you're not getting anywhere. But I'm hoping that what you're getting is warm to hot leads and you need to call those, like, right now. We've gotten to a place where, so right now we have 400 leads coming in a month. You don't need 400 to run a successful studio, you need five. Right? You book two or three of those leads in a month and you're good. So, at a rate of 400, we say that we want them to respond, the only time that they have a window of 24 hours is over the weekend. Otherwise they need to call back right away. Yes? What's up, Shell. So, I had an experience with a potential lead where it was a referral by word of mouth, and I tried several times, tried to reach back by phone and by email. The response I received from this client, potential client, said well, I'm too busy, but you can just keep calling me back until I answer. But she reached out to me, so I decided I didn't wanna play these games, so I'm letting her walk, but I mean, how do you, I don't wanna say no, but if I just, like if it's just crickets I'm not sure how to approach that, because it was a word of mouth referral. Yeah, I mean you probably can guess the kind of person that I am. I'm respectful of other people, but I also expect the same. I'm kind of a no BS kinda guy, and if I get you on the phone, Shell, and you say, oh, I'm kind of really busy but you can keep calling back, I'm gonna say, Shell, look, you were a referral from this person and I really respect them and I would love to work with you, but just to let you know, my next window to even have a phone call is in two weeks. Do you wanna talk right now? If not, why don't you let me know when you're interested in services, and if we have a window to serve you then I'll be able to help you out. Yeah. You throw it right back. That's kind of a very disrespectful thing for them to say, and you need to, so what's happened is she's taken the frame from you and she's taken your frame of control, and what you need to do is snatch it back. Take it back and reestablish that I have the frame in this position. And to do that, you can't be desperate, right? You have to come from a place of, like, I don't need your business, I don't need that, I want it.
Class Materials
How to Launch a Photography Business Workbook
Experience Pricing Example
Ratings and Reviews
This class and materials are to the point and eye-opening on the business side of photography. Pye Jirsa is an amazing and fun teacher as well! Most photographers need more business classes offered to bring us who love to create art back to reality for a more successful business that makes a living on it's own. This course will definately get you started in the right direction and so cheap too! Great investment! armstrong outdoor tv case outdoortvcase Pye Jirsa is one of the best instructors that I have the pleasure to learn from. He and his team have given me so much more than they'll ever realize. Knowledge, wisdom, training, friendship, mentoring, inspiration, joy... I cannot thank Pye enough for changing my life for the better. I owe them more than they'll ever realize. Thank you, Pye Jirsa!!!
This class has been an eye opener for me; a point of change in my vision as photographer. Pye is and AMAZING, INSPIRING, GENEROUS instructor, with an, authentic desire to help people and to share with them the best of his knowledge. I will not have enough words to say thanks to Pye Jirsa, as a teacher and as a human being, and thanks to Creative Live who allows us to benefit from the experience of such a knowledgeable, educated, well-versed photographer and instructor. 1000% recommended!
Been following this guy forever. Pye Jirsa may be well known in the wedding & portrait photography world and if there is something that this guy knows it is how to create a business, a sustainable one. The workbook he provided is comprehensive, and I honestly wish I had this when I first started out as a photographer! I love that he talks about his failures, keeping it real and honest for anyone starting out. He is definitely one of the best instructors around, super humble, down to earth and with a sense of humor to boot. The course is worth it! THE WORKBOOK is AMAZING! SUPER DETAILED!
Student Work