What's Your Product
Pye Jirsa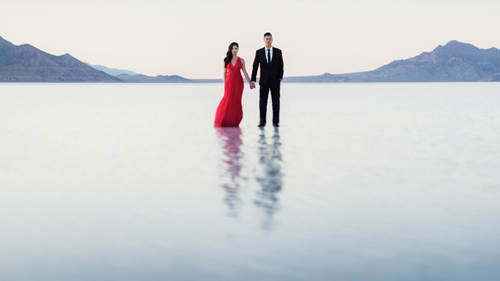 What's Your Product
Pye Jirsa
Lesson Info
20. What's Your Product
In this lesson, define what your product is as a photographer. As a photographer, your product is a combination of you, your photographs, your experience, your website, and more.
Summary
(Generated from Transcript)
The topic of this lesson is about product development in starting a photography business. The instructor emphasizes the importance of focusing on one product and systematizing it before moving on to other offerings, and highlights the significance of the photographer as part of the product and the overall experience provided to clients. The lesson also encourages students to define their own unique products and consider the entire experience they want to deliver to their customers.
Q&A:
What is the importance of focusing on one product in a photography business?

Focusing on one product allows for better systematization and effectiveness in managing the business, preventing burnout and draining of personal resources.

How can photographers systematize their processes?

The instructor suggests using Standard Operating Procedures (SOPs) to systematize and streamline the workflow and tasks in the business.

Why is it important for photographers to define their product and the experience they want to offer?

Defining the product and experience helps differentiate the photographer's brand and attract clients who resonate with their unique offerings.

How can photographers amplify their own strengths in their business?

By recognizing that they are their biggest strength and finding ways to showcase their unique qualities and expertise throughout the entire studio, photographers can enhance their product and business.

What is the significance of branding in a photography business?

Branding plays a role in shaping the overall message and identity of the business, and should align with the product and experience being offered to clients.
Lesson Info
What's Your Product
So, we're gonna get into product development right now, and again, let's go back to our road map for just a second. So, in the road map, we're in planning the product. This is still month one, right? We have identified our focus on what we want to do. We've put together our vision statements. We've put together all these different things to make it now much simpler when it comes to the product, because it's still not gonna be that easy to piecing together what products you should be offering. But we're gonna make it a step by step process. So, we're in this phase right here. Now, before we jump into this, we've had a lot of questions, and I've heard a lot of things in between class on simply finding a focus, okay. That seems to be a challenge for everybody, and I know, because it's been one of my biggest challenges as well. I want to give you a picture of what it looks like. I think you all see the impossibility of trying to do all these things across different lines, right? I want to ...
give you an idea of what it looks like when you try it because that's actually what we did, and about a year and a half to two years ago it leads to basically like a mental breakdown. You start spinning up so many plates, and you know what, once you get good a spinning at plates, you can keep them spinning. Last year for example, we did close to 300 thousand dollars plus of commercial shoots without ever marketing or doing anything commercial. And so we said, "Oh, maybe we should spin off and create a commercial line." Well, last year, I can't tell you how stressful it was to start a business line and to manage a team across these areas where nothing is in place. It eats into every bit of your personal life, and then we kick off a different arena of something. And another arena of something, because you know what? You can do all of them well, and I get it. I totally get it. But it leads to this place where your time is split between so many areas, that you're just gonna feel drained. Personally, spiritually, mentally. Everything. It's gonna drain every part of you. And that's why I want to get to this, because I know that so many of you have the skill to do it. I just want to warn against it. The best way to do it. Start up one thing, systematize it. I'm gonna show you how to systematize your process through things that we call SOPs. Standard Operating Procedures and those kind of things. Systemize it, hand it off, get it right. Then go to something else, okay? So, we have this place now where we are trying to define our product. Before you decide your product, I will have expected that you set your focus, you know the competitive environment, you know roughly where the different price ranges are because we're gonna do an actual graph, and I'm gonna show you how to do that. Okay, so what is your product? That's the first question I want to ask all of you. Define your product to me right now. I incorporate large format film photography in with digital. Good. I do two different sessions so they have a contrasting look and feel. So you have the modern look, and you have the nostalgic. Okay. So that's what I like to do. Okay, let's hear the next person. What's your product? Define it for me. Julie. I help women to feel confident and create beautiful keepsakes. Love it. Cool, that... It was confidence and then-- Keepsakes. Keepsakes, great. What else? I like to show people things that usually they don't see when they walk in the forest. That's what I look for. Awesome. So bringing, taking people to places they've never been or seen. Places and things. And things. Awesome. I think generally, I like a combination of what's been said earlier, but I like showing the moments, the surprising moments of joy or expression, or... That happen very quickly, and people may not see them, but everyone else around them sees it, so it kind of, shows them ... a powerful moment that they can kind of have forever. Awesome. Anybody. Let's hear it. I organize life memories and what that is, it's taking the technical aspect of it. You take that everyone has multiple pictures and what not, memories on their computers and ... but they don't know what to do with them. They're just scattered. So the key is to get a process, and I can manage that, organize it, manage it, so they can do their own. So it's something I'm thinking... I'm toying with. So that's... Everything is very different thus far. We have a very diverse group of business people in this audience which is fantastic. Are there any other things that ... You can define anything as your product. What else do we have? Anybody else? Cause I have a question that I'm gonna ask after this. So, mine would be capturing love and the connection between two people and family, and ... capturing memories. Awesome. Yep. And then... I forgot to say something because I got stage fright. (laughter) It's a real thing. Yeah, well ... So my mission or my goal is to bring the 19th century photographer into the 21st century. Cool. So, that's been my focus. Rad. Okay. All right guys, this is really great. Now, there's nothing wrong with anything that has been said thus far. I'm gonna ask you a couple questions though. How many of you have a studio named in your own name? Raise your hands if your studio follows your name. How many of you offer a product that is created by you? Raise your hands if you have created the product that you're selling yourself. My question then, is ... The photographer's product, we always identify with this. The actual thing that we're putting out. And we don't identify with this. You. The fact that people are buying you, or this entire experience all together. From your website, to your brand, to the market perception, to the experience ... Oh my goodness, this is loaded. Because the experience can be so many different things. How many of us ... Love a product just because it's simple to use? Lemme give you an example of this. I don't like shopping at Walmart. It's just not a big fan of mine. I just generally don't shop there. There's nothing wrong with it, it just doesn't fit my kind of taste and my preference, until they just rolled out this online grocery experience, where I can order everything I want directly from my home, and I drive there and they have it bagged and ready to go, and they put it in my car. That is literally the only reason that I am shopping there, because they provide this experience that I want, that until that point it was just another store. It was just another place. Does that make sense. The experience itself that you're offering, and that can be in the simplicity of your pricing, the way that you talk to your customers, how you sign them. Don't you think, if ... Have you guys ... How many here have ... Let's just speak on any photography, okay? Just, any photography. How many have hired a professional photographer before? Raise your hands if you've hired one. Kay. How many have hired, like a boutique photography studio to do something. Raise your hands. Okay. Tell me about how easy the process was with what you guys did. Was it simple? We have some shakes, Jason going, "No, not really." Did they confuse you with tons of different options, and packages, and tons of different things going on, and all this kind of stuff. And you get decision paralysis, that Blockbuster Video thing. Don't make me feel old right now, okay? (laughter) Blockbuster Video. You go into Blockbuster Video, looking to rent a movie, and how many of you walk out not know what to get. You're like, "Uh. I don't know what to get." There's just too much. That's the experience, but I want you guys to identify with this. Because the you in this product that you're creating is the only component that really cannot be replaced, correct? I could take your hybrid, and bring the whole 19th century thing that you just said right now. I could take that and do it right now. What's to stop me? Nothing. Nothing, right? But I couldn't compete with who you are. So if you present that and offer that in a way that's unique, that's a huge asset in your business. This is one of those things where I want you guys to future think just a little bit. When we hire people in our company, do you think we look for technical components, or do you think we look at the person. What do you think weighs more? Do you think it's 50/50? (audience chatter) It's more like 90/10, okay? I don't know if you've heard this, but when you're starting a business, getting all the people, all the right people on the bus is more important than where the bus is going. And that's the exact same way with the product that you're offering, okay? You are your biggest strength. So let's figure out how to amplify that throughout the entire studio. Let's figure out how to boost the product. First, for everybody ... This is where the sketchpads are coming out again, because I want you to mind map that product. Set your timers. Ten minutes. Pause the video. Mind map out the product now knowing what this entire product entails. I want you to write from that central topic of 'my product'. What are you offering personally in your service? I want you to write, "What is the product that you're delivering?" I want you to write, "When it comes to booking, what is the experience I want to give? How do I want to close and book my clients?" Credit card payments. What do I want to do. Do I want to make it simple? I'd recommend making it simple. What experience we're going to create. We're gonna go through that throughout this entire place, but this is overall figuring out what is it that you want to offer in this product in its entirety. What is your brand and your message? This is gonna come together a little more as we go through this, because we haven't talked about branding yet.
Class Materials
How to Launch a Photography Business Workbook
Experience Pricing Example
Ratings and Reviews
This class and materials are to the point and eye-opening on the business side of photography. Pye Jirsa is an amazing and fun teacher as well! Most photographers need more business classes offered to bring us who love to create art back to reality for a more successful business that makes a living on it's own. This course will definately get you started in the right direction and so cheap too! Great investment! armstrong outdoor tv case outdoortvcase Pye Jirsa is one of the best instructors that I have the pleasure to learn from. He and his team have given me so much more than they'll ever realize. Knowledge, wisdom, training, friendship, mentoring, inspiration, joy... I cannot thank Pye enough for changing my life for the better. I owe them more than they'll ever realize. Thank you, Pye Jirsa!!!
This class has been an eye opener for me; a point of change in my vision as photographer. Pye is and AMAZING, INSPIRING, GENEROUS instructor, with an, authentic desire to help people and to share with them the best of his knowledge. I will not have enough words to say thanks to Pye Jirsa, as a teacher and as a human being, and thanks to Creative Live who allows us to benefit from the experience of such a knowledgeable, educated, well-versed photographer and instructor. 1000% recommended!
Been following this guy forever. Pye Jirsa may be well known in the wedding & portrait photography world and if there is something that this guy knows it is how to create a business, a sustainable one. The workbook he provided is comprehensive, and I honestly wish I had this when I first started out as a photographer! I love that he talks about his failures, keeping it real and honest for anyone starting out. He is definitely one of the best instructors around, super humble, down to earth and with a sense of humor to boot. The course is worth it! THE WORKBOOK is AMAZING! SUPER DETAILED!
Student Work