Blog Post Writing: Create Engaging Blogs
Maddie Cohen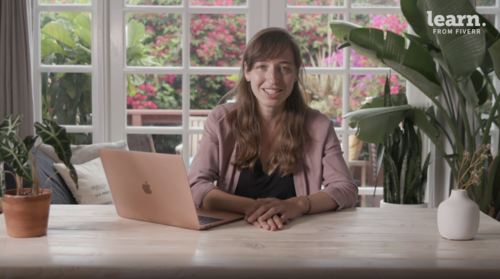 Blog Post Writing: Create Engaging Blogs
Maddie Cohen
Class Description
AFTER THIS CLASS YOU'LL BE ABLE TO:
Improve your website traffic by posting top-quality content on a regular basis.
Tell your story in an engaging way that captivates your audience.
Optimize your content for on-page SEO.
Copy-edit and proofread your blog posts like a pro.
Level-up your content marketing by repurposing your blog content across your platforms.
Communicate with your customers more efficiently with compelling blog posts.
Use the leading blogging and optimization tools to create blog posts that are sure to convert your visitors into buyers.
Identify your audience and write content that will appeal to them immediately.
Identity different types of blog posts and know when to utilize each one.
Create a functional content calendar to help with posting regularly.
Understand blogging best practices and incorporate them into your content.
ABOUT MADDIE'S CLASS:
Blogs are one of the best ways to drive traffic to your site and with over 4 million blog posts published on the internet every day, there's no time to waste. With this complete guide to blog post writing, you can look forward to making more sales with proven strategies that will lure readers to your website. Learn how to write, optimize, proofread, edit, and publish posts that will engage your audience and encourage your site visitors to become paying clients.
You'll even learn how to create a content calendar and track your analytics for professional insights into how well your posts are doing. Enroll now and gain access to everything you need to know to start writing exceptional blog posts for your brand!
WHAT YOU WILL LEARN:
The reasons why launching a company blog is so lucrative.
How to stand out from your competitors with original content that establishes a powerful voice for your brand.
How to optimize your content by using keywords, internal links, meta descriptions, image text, tags and categories, and SEO plugins.
How to write content that is optimized for your target audience.
How to avoid common pitfalls when writing your first blog posts.
How to write a range of blog posts including list posts, how-to guides, roundups, personal stories, case studies, interviews, and checklists.
How to craft a compelling, accurate headline, create a detailed outline for your post, write a gripping lede and hook and include a call to action.
How to ensure that your content is easily readable by your target audience by incorporating expert techniques into your writing.
WHO THIS CLASS IS FOR:
Brands and businesses looking to drive more traffic to their website and build an online following.
Businesses wanting to convert more site visitors into paying clients.
Business owners and brand managers wanting to add a blog to their content marketing.
Bloggers and writers looking to learn expert tips to level-up their writing.
Anyone who wants to learn how to write engaging blog posts.
Content Marketers wanting to enhance their blogging skills.
Anyone wanting to start a professional career in blog writing.
Digital nomads looking for work that they can do from anywhere in the world.
Beginner to Expert.
ABOUT YOUR INSTRUCTOR:
A UC Berkeley alumna and Top-rated Fiverr Pro content marketing writer. She has worked with hundreds of clients and boasts more than 1,800 reviews.
Ratings and Reviews
Student Work