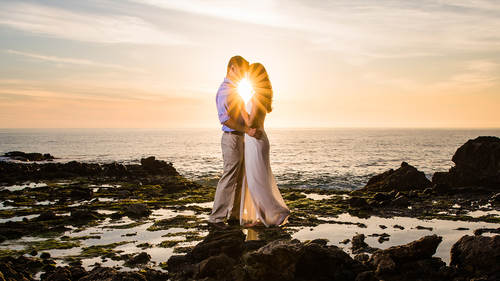 Incredible Engagement Photography
Lesson Info
Posing Questions
So let's do a couple of quick questions before we do head to our first break. When I've had couples kiss, they go-- Yeah. And they, it looks so awkward. So do you have any-- Yes. Can I bring my models out again? 'Cause I'm not going to do this with Trevor. (audience laughs) That would just be strange. Mainly because we're both married and our wives are probably watching this. You know. Kay. So, when you guys kiss, can you guys go in for a close pose? Close each other up, wrap each other up. There you go. Perfect. And go in for a kiss. And then pucker the lips. Kay. (man laughs) So if you get the pucker, what we usually say is interlock so instead of puckering, just interlock the lips a little bit. Perfect. And what that is is this. So you can actually just say, I use my fingers and I go, these are your lips, this is his lips and I want them to go like this. (audience laughs) So, so that's how we would get through that. But it does happen a lot. The funny thing is that sometimes...
, you actually want a little bit of the pucker because you can't see the kiss otherwise. Especially if you're shooting a little bit wider and you're getting a wide portrait, you actually need the pucker 'cause when they interlock, do the interlock thing again. You notice how their noses and everything mixes up in the center. You actually kill your silhouette. Like if you need a profile shot, you kill it. So what we do is we say, actually, go into, you guys are already in a close pose so hold hands in the center and then just take a step apart from each other on both sides. Lean across from the hips and go for a kiss in the center and just pucker the lips and kiss. Kay. So this gives us a much better silhouette shot, and you can even pucker like mm. Yeah. Kay. So shooting wide and getting this as a silhouette actually works really really nicely to have a small pucker 'cause the interlock kills your silhouette detail of the faces. But close up, yeah, do the interlock. Yes. Alright. Great. Well we have, you might want to stay there 'cause we have some more posing what if questions, I don't know, maybe not. What if. This one has a lot of votes. This is from Claire Photo who says, I would love to know how to work with a more heavy set couple. What angles would be more flattering for both the men and the women? Totally. Not that you are a heavy set. (she laughs) No no no, that's a question that we get a lot. I didn't realize how I'd flied through those slides. That truth tangent about adoring your clients and seeing the beauty, this is the number one thing that I would say to every single person is first, make sure that that is your mindset when you go into a shoot is that you can see their beauty, you see them for who they are but do not be ignorant to the fact that they might be heavier set. Do not ignore the fact that they might be heavier or don't ignore the fact that if someone has facial features on one side of their face that are not as flattering as the other side, don't ignore that. Don't pretend like it doesn't exist. Just see them for who they are. See them for their beauty and work with that in your pose. And the reason I say this is because if I do something like this, if Danielle were to be heavier set, and I said, Danielle, I want you to just put your body behind his shoulder a little bit, and then hug onto him right there. If I did that, she would know exactly why I did that. Okay? And I've seen this happen so much, where the photographer will actually put the person's body behind a door or something. Like oh, let's put 'em behind a door, let's put 'em behind the other person, let's do this kind of thing. And it's very obnoxious. It will destroy her self confidence and it sends your shoot down a really negative way. But if I said, oh this is, okay. So what I want you guys to do is, this is again why we go back to the foundation posing. Guys, Danielle, I want you guys to be in an open pose to the camera but I want you to hug onto his arm and just let your shoulder tip behind his a little bit. Perfect. And look down towards this side. Oh my gosh, you look amazing. Look down towards this side. And effectively, what we've done is we're gonna make sure hip is kicked, so we reveal her figure and her form and we've now used him to partially conceal and make her look more trim. And we've done it without bringing attention to it. When it comes down to things like, do you have a preferred side? You guys saw how I asked. Hey, do you guys have a preferred side? These are very matter-of-fact questions that if you treat it as simple and matter-of-fact and straight-forward, you get simple and straight-forward answers without having people's confidence hurt but if you say, do you have a better side? Or do you have a good side? Then that gets in their head as okay, now he knows that I have one side that's negative or one side that's worse than the other and so forth. If they don't know, I'll do the finger check. This is actually perfect 'cause I didn't get to show this. So the finger check is this. So, Danielle tells me, oh I don't really have a preference. You go okay, what I want you to do is look, point your chin at my finger and then keep your eyes on mine. I know this is kinda tricky. And then keep your chin on my finger and eyes towards me. Perfect. Chin on my finger and eyes towards me. Perfect. Kay. Now, what we're looking for is kind of the symmetry in the face and everything like that and Danielle has a perfectly symmetrical face which, she's a model, so yeah. But even if they didn't, I would say, oh, you have an amazingly symmetrical face. Give them that bit of confidence right afterwards, where after you do a check like that and then you say, but you know what, I noticed that your hair is actually parted to this side. Rule of thumb, and I think for your case, this is actually, the rule is not gonna apply but rule of thumb is we generally part to the side that we prefer. It's a subconscious body language thing again. Okay, so eight or nine out of 10 times, if you can't figure it out, that'll be the correct way to pose 'em. And then, even if it's not the right way to pose them, I wanna show you one thing. Now, Danielle you said you actually preferred this side, right? So, one thing to notice, if she likes that side, perfect, we're gonna shoot from that side. But do you guys notice that the part of her hair is actually towards this side? Kay. So Danielle, if you were to look at the audience and bring your chin over this way to my finger. There you go, perfect. So as you guys see, shooting into the open side of the part makes the face look larger actually than it is because you show more skin, more forehead area. Whereas if I say, Danielle, bring your chin over to this side and we shoot from the closed part, then we actually are using the hair to kinda conceal and trim the face. So the rule works most of the time because even if it's not their preferred side, or even if they don't know, you're still using the hair to slim the face down. So it works. Now if she knows and she likes, I would never shoot from the open side of the face, from the open part, unless I can clearly identify that that's the better side or unless they tell me that that's the better side. Otherwise we always default to the part.
Class Description

Couples want to capture their commitment to each other in high-quality, creatively shot photographs. They also expect their bliss to appear natural and evocative. Photographers who are trying to build their engagement photography portfolio need to be able to juggle both technical and creative expectations. Pye Jirsa's Incredible Engagement Photography will teach students how to strike this balance with basic equipment.
In this course, you'll discover how to:
Use simple on- and off-camera flash lighting

Communicate effectively to devise creative, meaningful poses

Develop post-processing and overall workflow 
Drawing on lessons taught in Pye's other courses (Photography 101, Lighting 101, and Lighting 201), you will learn how to adapt to a variety of different lighting situations – indoor and outdoor, natural and urban. You'll also gain a sense of the importance of storytelling and of developing a disarming interaction style for putting couples at ease during a shoot. 
Conducting an engagement photography shoot requires a delicate mix of technical and interpersonal skills – but not an abundance of expensive, demanding equipment.