Tips for Stamping Text on Fabric
Meagan Lewis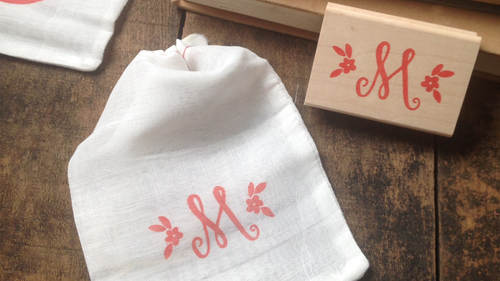 Tips for Stamping Text on Fabric
Meagan Lewis
Lesson Info
5. Tips for Stamping Text on Fabric
Lesson Info
Tips for Stamping Text on Fabric
Stamping on fabric it is not entirely different than stamping on paper doesn't have to be um there are lots of different inks out there um for printing on paper and fabric if what I like tio ask people is you know that if they're asking me, oh, can I stamp on fabric? I like that kind of asked them what is the purpose of what you're stamping? Do you need it to be permanent? Do you need it to be washable for this project? We're creating little favor bags, and so chances are if you're giving us little cute stamped bag as as a gift to somebody, they're not going to be washing it and we're using in washington we're using it just something that they'll probably keep around, they might re use it and then, you know, so if that's the case, you really just need just a regular ink pad, you can use a pigment inc it will take a little bit longer to drive. Um, what I like to use is, um is like dire chock inc so chalk inc is that really, really quick drying inc I've got a couple of different muslim b...
ags here, these air really fun, they come in all different sizes and, um this is a really nice one, this is like really thick material, this is kind of one that I bought in bulk and it's a little bit thinner eso if that's the case and you have one like that um what I would recommend is like getting a piece of card stock and just sliding it in there said the ink doesn't bleed through to the other side and I'm just gonna go ahead and think up on the stand and I'm trying to get a lot of ink on there way and that's pretty much it dry and ready to go I don't know what up there was a little piece of fabric on the stamps kept the ink from going right there here's my little chick there's got a little ink on my pinky I'm going to color it in so there's that the pigment inc that shocking because it drives so quickly and it's a little bit chalky it's lighter um the pigment either see if we can a little bit more of a saturated print with the pigment inc no that's a stiffer bag when you're printing on topics like this doesn't have some colors that are better than others, I don't think so I get that's probably just a personal preference um I don't see why you couldn't use any color you want and it doesn't match on the type of fabric either well the thinner the finer the weave of the fabric's this is muslims so it's it's pretty tightly woven, but it has a little bit of openness to it, especially this thin bag. Um, it's not a very fine design, so everything transferred really well, but if you were like, you wouldn't want to stamp on like burlap, for example, you know, just like such a like textured and loosely woven fabric that it just wouldn't really work very well. Don't you have a question? If you wanted something permanent and waterproof, we would go for the pigment, make permanent and waterproof. No, actually, um and oh, oh, he was folded, so maybe iron these before? Yeah, I know. Um, ok, basically, the ink pads are great for a project like this where it's just a favor and you don't need to wash it, and it doesn't need to be permanent if it does need to be permanent. So you're printing a scarf or a t shirt or tote bag, then you're going to want to use a different type of ink all together and that's what I'm going to cover in the next few classes. So we will foray into that and I'll teach you how to make you know, d I y ink pads and, you know, it's going to get really in key, so
Class Materials
Stamped Muslin Bags Supply List
Ratings and Reviews
Meagan gives you some basics on how to make a negative and a positive stamp. She makes it look so easy. I can't wait to try it. I watched the free version. Thanks. I didn't hear or see what to use to connect the stamp to the wood. Did anyone hear this?
Student Work