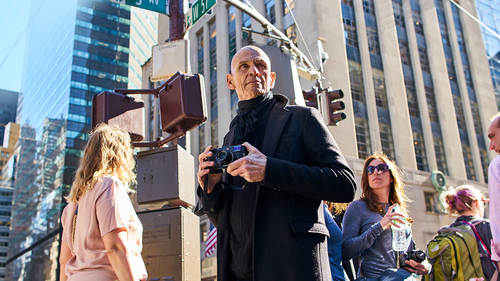 Class Description
Internationally renowned and award winning photographer Joel Meyerowitz is known for his iconic images that encompass decades of capturing all genres of photographs. Masters of Photography is bringing Joel's class to CreativeLive to share the learnings from his vast career.
You'll learn:
How to find a subject to photograph
How to improve your compositional skills
How to determine correct lighting
How to print your images and also create a photo book
Walk with Joel through picturesque Tuscany, bustling Siena and the vibrant streets of New York as he shows you how he creates his photographs. He will shares ideas, experiences, and his secrets on how to make great images. Joel will also suggest ideas for projects to try yourself. You can use any device from camera phone to DSLR, but in the end it's all about you and your photography.
Reviews
What do you do after you learn all the mechanics, the technical stuff, exposure triangle, lights, where do you start? Because I am starting, now! You will find encouragement and guidance, and real applicable wisdom. If you are new to photography as I am, this course will point you in the right direction. What a treasure! Thank you CreativeLive for this and thank you Joel Meyerowitz for taking such a gentle approach to such a complicated subject, that is photography.