Street Photography: The Art of Photographing Strangers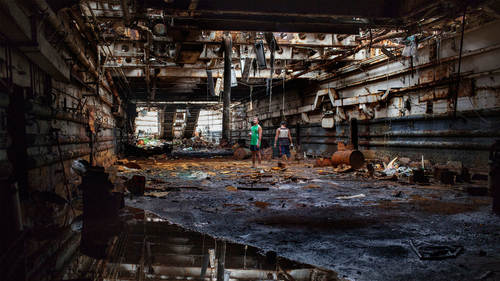 Street Photography: The Art of Photographing Strangers
Class Description
Street photography requires a unique blend of gumption and skill. Find out how it is done in Street Photography: The Art of Photographing Strangers with VII Photo's, Ashley Gilbertson. 
Ashley is the creative visionary behind "Whiskey Tango Foxtrot: A Photographer's Chronicle of the Iraq War" and "Bedrooms of the Fallen." In this class, he'll will teach you how to get incredible shots using a variety of conventional and unconventional methods. 
Gear, in theory, and practice 

How to talk to people and avoid arrest 

Formal, aggressive, and subtle ways to approach a subject 

Techniques for getting caption information 
You'll get to watch Ashley at work on the streets of Seattle and experience his process in action. You'll also learn about the moral and ethical frameworks that influence street photography and what motivates Ashley's work. 
Street photography gives us powerful insights into the depth and complexity of the human experience. Learn about the process of creating it from one of the discipline's most talented practitioners in Street Photography: The Art of Photographing Strangers with Ashley Gilbertson. 
Reviews
I have taken more than a few of the Creative Live courses. I have, in general, found all of them to be very good and I have learned something important from them all. Not always enough of exactly what I was looking for, but something useful and important. This course was absolutely amazing. The best I have taken. I would like to download it and see it again and again. Ashley's style was authentic, humble, yet confidence inspiring. The information he gave was focused and totally useful. He shared both philosophy and thinking as well as real tools to learn - whether they be soft stuff (like how to approach someone) or hard stuff (like gear and settings and such). I cannot recommend this class highly enough. If you want to learn to do "humanistic photography" (his term which resonated with me), this is best I have ever taken!
This was a terrific and wonderful class. Ash was superb. His stories were awe inspiring, his passion was evident and his ability to teach was flawless. I would take any other class by him and actually can't wait for more of the VII agency programs eminating from Ron's class during photo week 2015. A great great addition to Creative Live's orbit.
Wow, I loved this course - I watched the whole thing, and most of it twice, during the first run. Ash is is intriguing, a good teacher, honest. I found this class to be so inspirational. I especially loved his encouragement about talking to strangers, asking to take their picture- "what's the worst thing that could happen?" And the videos watching him in action were motivating- you saw him make connections but also saw him get rejected too, but he keeps such a positive outlook. Love this class, please more photojournalism!