The Composer's Philosophy
Will and Brooke Blair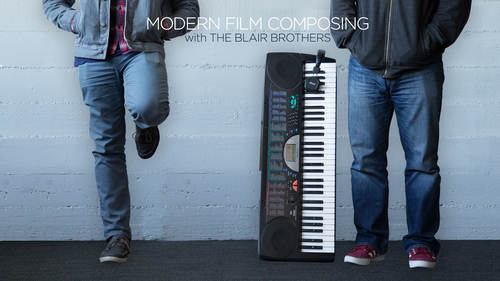 The Composer's Philosophy
Will and Brooke Blair
Lesson Info
17. The Composer's Philosophy
Lesson Info
The Composer's Philosophy
I think this was important to us and you know we had trouble sort of titling this slide right here but it's just a kind of enclosing like a some bigger picture ideas to think about I would even re title that craftsman philosophy like it could apply to anyone making something doing something creative that you believe in that's hard to find work that's hard to sustain itself um it can be difficult but what we do with solitary you know, it's it's I mentioned that earlier it's a big collaborative thing with a lot of faces and personalities involved but when it's time to work you know it could be just the two of you are just yourself you must know what it's like you know just alone you've got to be ready for that again we mentioned it is inconsistent work it does not just keep coming your way um think about a flexible supplement I worked in restaurants forever and brooke is worked you know, I was a waiter and brooke was a cook. You know, um it's important to think about sort of feel good ab...
out your where you are remember that it is work, you know, if you get busy like any other job, there are days that you just don't you don't want to go to work, but your developed a schedule with this director you're accountable um it does become work which which can be difficult it's a competitive field we've gone over that um yeah, but I think in closing like it could be really, really rewarding and a lot of fun and you know, I hope I hope we shed some light on some ways to get into it. You have anything you'd like to to share before we reveal I think you raise a really yeah, it looks like we've got just enough time, right? Cool. This is omar lopez his final film resurrect oh, but now we're thinking about that hey, you okay wear something your patient goes come on you know you can be ok. You ok? Are you sure you people just hanging there were engaged in helping their tonto resurrect at one, right? Thank you so much does really appreciate everybody out there watching hopefully that reveal I mean we worked on that all day to see it come to fruition like that I think it's a great way to wrap up this session thanks somebody out there who have been watching, enjoying and falling along in the chat room we could not do it without you guys and huge thanks to our students here have been following along and being an interactive part of this but of course the biggest thanks to the blair brothers thank you guys so much for being here give them one more round with
Class Materials
Will and Brooke Blair - Home Studio Gear Guide.pdf
-UNTITLED- Film - Audio Stems.zip
GREEN ROOM Score Proposal.pdf
Wll and Brooke Blair -RESURRECTO- Pro Tools session.zip
Ratings and Reviews
Thanks to everyone at CreativeLive for helping produce our workshop - and thanks for everyone at home for taking a look!
Student Work