Left Side & Right Side, Bottom and Front
John Greengo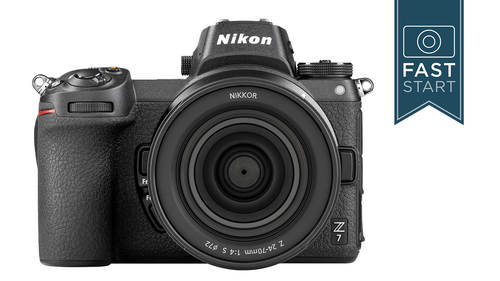 Left Side & Right Side, Bottom and Front
John Greengo
Lesson Info
7. Left Side & Right Side, Bottom and Front
Move to the sides, front and bottom of the camera. Locate the different ports, XQD memory card slot, and other features. Dig into the different accessories for the camera, from microphones to battery grips, and learn the limitations of the EN-EL15b battery life and the differences between XQD cards and CFexpress. Finally, take a look at the full-frame sensors and the difference between the higher-resolution Z7 and the faster Z6.
Lesson Info
Left Side & Right Side, Bottom and Front
All right, let's look over onto the left side of the camera. We've got a few little things going on over here. Most of the lenses are gonna have a manual focus, autofocus control, they are gonna bring out one manual focus lens that will not have it, but we'll see that coming down the road a little bit. The monitor mode we talked about earlier switches the way the information is displayed to you either through the viewfinder or through the monitor on the back of the camera, press that repeatedly to get the different options. All right, let's look at some of the connections. So behind the rubber covers, we have a number of ports that we can plug into, first off is our headphone and microphone jack uses the standard 3.5 millimeter size so all the standard accessories are gonna work out there. Nikon sells their own microphone systems that you can get into if you want. There are other microphones systems from other companies like Sennheiser, Road and so forth that you can plug in attached t...
o the hot shoe on the camera and that will improve the audio quality of your video quite a bit. Next up, we have the new USB type-C connector that a lot of cameras are coming with. And so this is got some nice features, one of the things is that you can charge in camera. So if you have a USB-C cord, you can plug it in and charge the battery in the camera. It's not as quick as the standard charger, but it will allow you to charge from your laptop computer or a lot of other sources. Now one of the few differences I haven't mentioned about the Z six and Z seven is that the Z seven comes with the adapter and the Z six does not come with this USB-C adapter, but any USB-C cord will work and a lot of people are getting those on other devices, so they're becoming more and more common all these days. Next up is our HDMI port on the camera. So perhaps you want to send out to a TV, so you can do a slideshow. If you want to record video or monitor the video you are recording you can put it into a small portable viewer or recorder, so kind of the one to get right now not that I'm promoting or sponsored by the Atomos Ninja Five, but that would be the one to get and that's because Nikon has yet to release it but they are gonna release a firmware upgrade which will allow you to record ProRes Raw codec, which is a raw video file with this particular external recorder. Now it may be able to do it with other external recorders as well in the future but this is the only one that's listed right now. And so if you want external monitor and recorder, I would look real closely at this one. Next up we have our accessory terminal. This is a remote the MC-DC two, is a remote release that you can get so if you do landscape photography or working from a tripod, architectural photography and you don't want to bump the camera, you don't wanna use the two second self timer, you want to have an actual camera release, this will allow you to trigger the shutter without bumping or moving the camera in any way. Moving over to the right hand side of the camera, we get a better view of the diopter. Once again, you pull out, adjust for the viewfinder and then push it back into look at where you are. And the only other thing is the memory card. So we have our single XQD slot, and so the XQD cards are a little bit different than a lot of people have had in the past, Nikon has been using them for a couple of their different cameras. It's a very robust fast card, and so they want to go with kind of a future technology and this seems to be a very good card. It does have only one card slot and boy when this camera came out there was a fury of information about people complaining about the camera only had one card slot and when I, what do I think about one card slot? A little part of me said good, now I don't have to buy two of those $100 memory cards. First off, I think if you're complaining about single card slots, and you only have one camera, you don't really have a rightful place because you're still under one item. And so if you have two cameras, then that's a good reason for having two camera slots, you can backup on everything. It's nice to have two slots for cards, that's great, you can backup in camera, can't do it on this camera, it is what it is and I think we're all learning to live with that at this point. All right, so on the cards, you're gonna have your read speed and your right speed. The important one is the read speed 'cause that's how fast information can be recorded to the card. Nikon says you should have cards 45 megabytes per second or faster, which is kind of strange 'cause that's like everything out on the market. So pretty much any card you have is gonna meet that standard. So this uses XQD cards, but in the future there will be most likely a firmware update, and you can use the new CFexpress card which is in the same physical package and it is different on the internals, and I'm not going to get into the technical specs of how it's different, it just is a little bit different, and there's gonna be three types of cards, type A, type B, and type C, for different types of items like larger video cameras or GoPro style cameras and so forth. And so the difference between these cards is the storage and the speed. Now the reason these numbers have pluses beside them is because they haven't fully tested to see how fast they might be able to go. So currently, the storage maximum capacity is two terabytes, but they might be able to go beyond that. The speed is faster on these new CFexpress cards as far as their theoretical capability. Currently, they are not on the market, but they are supposed to come out. Now, for those of you who are still kind of just watching this class interested in the camera, you don't actually own it, let me do a quick little comparison I want to show you the XQD cards. If I had to pick a card physically that I like, I love the XQD card because it's very very sturdy yet it's quite small and I'll compare it in size here to a CF card if you've not seen them, real world side by side, let's see if I can get these all lined up for you here. And then an SD card there. So it's about the size of a standard SD card, but anybody who's had an SD card knows that they're kind of a flimsy piece of plastic and the more traditional CF cards are very, very strong, and this is very strong in that same regard. And so I don't think I could physically break this with my hand, I would need a tool in which to break it, whereas the SD cards have a lot of wobble to them. So they're good cards, they're very, very good cards, they're technically up to date. The thing that I hate about them is that they are literally close to 10 times the price of the SD cards because the SD cards are just so common, and I think they're very simple to make, and so it's hard to find cards at this point right now and people may laugh in the future, less than $100, but that's just the case for these XQD cards. All right, let's look onto the bottom of the camera, you have your standard tripod socket for accessories like tripod, mounts, monopods, and so forth. There are a couple of alignment holes, and then there's something that's interesting happening. I'm going to, I'm going to guess, here's what happened when this camera was made. They're getting ready for the introduction, they got the product launch ready tomorrow, all the engineers and designers around and they're all patting themselves on the back and they're like, "So who brought the vertical grip?" And they all looked around, like, "I thought you guys were gonna do it, no you guys didn't do it?" And so they introduced this camera, and they had just the crudest, most ugly, 3D printed, vertical grip that they're gonna bring out at some point in the future, and months and months after the introduce, introduction to the camera, we still haven't seen this vertical grip. We don't know what it's going to look like or what it's going to do or how much it's gonna cost. But they have announced the name, it's the MB-N10, and knowing Nikon, it may or may not ever be introduced, and so I don't know what it's gonna do, it might hold two batteries, it might have a vertical shutter release, it might not on any of those things, but it might be available in the future. All right, next up, we have our battery compartment, it uses the EN-EL 15b battery and this will get you about three or 400 shots which sounds pretty bad in my opinion, but in my own personal experience as well as others that have used this camera, the real life expectancy of this battery is way beyond what it is stated, like three times better than what it is stated. There are certain standards which it has to be rated to that is common standards and for some reason that they eat up a lot of battery life, real world usage, you could probably shoot all day on it, you could probably shoot 1000 shots on it. It's still smart to have an extra battery if things are important and you're gonna shoot for very much. Now, Nikon has been evolving their batteries over the years, and so if you have older Nikon cameras, yes, you can use those batteries in this camera but with some limitations. So we go back one generation to the 15a battery, it'll work just fine, it just won't charge via that USB adapter on the side of the camera. If you have an older just plain old 15, it's not going to charge with USB and it has a bit shorter of a life and so don't expect as many shots from it. But yes, you can use these older batteries that are getting upwards of 10 years old now on this camera so it's nice that you've been able to just keep that same battery and keep getting usage out of it. So the charger will come with the camera it might have a cord, it might have a wall plug adapter, it depends on which region of the world, it depends on whether you pronounce this Zed seven, or a Z seven, as to maybe which one of these you get. And then when you are charging this, it'll give you a little blinking to let you know it's charging, and so you know, takes about two and a half hours to charge, and then it'll be nice and steady when you're done. If you are in a studio environment, if you're gonna be shooting video, or timelapse, where it needs power for a long period of time, you can get an adapter which plugs in to the place where the battery would be and get the adapter so that you can have a constant supply of power to the camera at all times, it might be useful in a scientific environment as well. Looking towards the front of the camera, this is as close as we get to the sensor. And so one of the things to note is that the Z seven does not have an optical low pass filter in front of the sensor. The Z six does, if you're not familiar with this filter, sometimes without the filter, you can get a moire problem where the pixels do not line up properly with a fine tune pattern, and it causes a moire problem. And so on normal cameras, they usually put a tiny little filter which blurs the image ever so slightly so that you don't get this moire problem. Once you have enough resolution, generally in the over 40 megapixel range, you generally don't need that. This is not gonna play a big habit with the sharpness of the image, it's mostly gonna come down to the number of pixels that you have. We have two different control buttons on the front of the camera that are pre programmed from the factory for a particular function. The top one is white balance. We already talked about white balance when we were going through the I menu button on the back of the camera so I'm not going to repeat myself again. This the second button is for focus area and focus mode depending on whether you're pressing that button and turning the front dial or back dial on the camera. Now that was also talked about in the I menu button as well, so I'm not gonna repeat myself again on that. And if you want to completely change these buttons, you can go in to the f2 custom control assignment and reprogram these. And what I have found is that my middle finger is a little bit longer and can hit the top button a little bit more easily, so I typically want to have that one programmed with something I use more regularly, and something I don't use quite as often I'll program into the lower button 'cause it's a little bit harder to get to, but program the buttons according to your own needs of course. We have two different microphones on either side of the little hump on the top for your microphone, so you get stereo sound. We do have a little light over there on the side, which is used for a number of reasons. It's an AF-assist, so if you are under low light, it'll shine a light, it's not real powerful, it's not real helpful, but it can help you out in low light closeup situations. If you want to reduce red-eye it's also a light which will make the pupil's eye, the pupil of your subjects eyes a little bit smaller, and it'll also let you know you when you use the self timer as to when the cameras gonna fire. If you do not like this to be turned on, you can turn it off by going in to the controls a and you can turn off that AF-assist light so that it doesn't come on. All right, we have the new Z lens mount, which is larger and shallower than the previous SLR mount which was the F mount. And so it's a full centimeter wider in size and the flange difference which is the difference between where the mount is and where the sensor is, is much less. And there's good and bad to this, the bad side is that the sensor is now very close to the front of the camera, and you want to be very careful about damaging it and getting dust on it in any way. You do not want to leave this camera without a lens on it for very long and you want to be careful about changing lenses in proper environments, and doing so in a relatively quick way. The other thing is the good part about this whole thing is that it allows the lens designers just so much more leeway, and how to design a lens. They are going to be able to produce higher quality optics, lenses of zoom ranges or focal lengths that we haven't been able to do before with our previous system, because this just makes lens designing so much easier. It's the restrictions on, well, it's got to be this deeper the images and you only have this tiny little hole to get through in order to create an image and so it's amazing what Nikon has been able to do with their F-mount, but it's even going to be expanded with this new wider Z mount. We have our lens release button over there on the side, we have our mount index marks when we are mounting our lenses, and then there's a little pin that locks in that lets you know that you've rotated the lens and got it in the correct position. Then we have our CPU contacts and these are the communications between the body and the lens transmitting focus, aperture information and probably a bunch of other stuff that they're not even telling us at this point.
Class Materials
Nikon Z7/Z6 Recommended Settings
Ratings and Reviews
I love all of John Greengo's classes. Now he is a Canon man but he gives the Nikons a fair review and his lessons on them are excellent. I have the Z6 and I picked up a several pointers I had not run across yet, so this course has paid for itself already. The only negative I have, and hopefully this is because the course was streaming, but the camera focus was off when the video was zoomed into the Z camera. John may need to give the creative live camera operators a lesson on focusing. Great informative course at an excellent price.
Thank you very much, John! I've been using Z 6 for 18 months, so far, and now I've got Z 6 II as well and your training about these cameras is just an excellent job. Of course I've been following you in other trainings as well, like "Photography Fundamentals" (or something like that) and I've got some of your books too, all excellent, but with this Z 6/7 training have been useful to learn some new things and to remember others already forgotten. Thanks a lot!.
Loved the class. Just bought the Z6ii (waiting for it to ship) , so this is a great introduction. Would greatly appreciate it if John could add one more chapter to this class - Tell us about the Z6ii and Z7ii updates. It seems Nikon has addressed a lot of the concerns (particularly 2 card slots), so it might be very helpful for folks trying to decide on which camera to buy. Thanks!!!
Student Work