Back Side Controls: Super Control Panel
John Greengo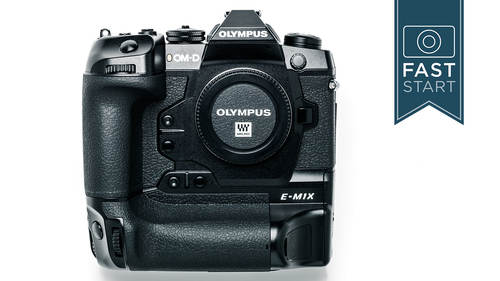 Back Side Controls: Super Control Panel
John Greengo
Lesson Info
6. Back Side Controls: Super Control Panel
Lesson Info
Back Side Controls: Super Control Panel
Before we dive into the full menu, I wanna talk about the shortcut menu which is known as the Super Control Panel. This is accessed by pressing the OK button, and the idea on the camera is that we have a lot of buttons on the outside for direct control of the most important features. The menu allows us control for a lot of deep down nitty gritty customization of the camera and the shortcut Super Control Panel is a bit of a bridge between these two. It allows you to have control for a lot of the features in a visual manner all in one place. So let's take a look at the Super Control Panel. When you are in the Super Control Panel you'll turn the front dial for changing the setting and turn the back dial for choosing the next option available in the Super Control Panel. Now some of these items we've already talked about so we're gonna move fairly quickly if we've already talked about these earlier on in the class. First option is for changing the ISO. You'll have the standard settings that...
you can go through here, just a quick easy way for changing the ISO. Next up is the flash modes. Number of different flash modes will be available when you have an attached flash on the camera. Flash exposure compensation allows you to power the flash up or more likely to power it down for a more natural look. Next up is the stills image stabilizer, and the camera has a built-in sensor that can stabilize motion that is gonna be common with being handheld. And so if you want to stabilize it while you are handheld, which I recommend for general photography, you can turn this on. There are different modes here. S-IS Auto will automatically detect panning. So if you plan to do any sports action and panning, this would be a pretty good mode to put it in. There is specific panning modes of S-IS two and S-IS three depending on how you are holding the camera. The best ISS mode is number one, S-IS one. And this is gonna give you full auto detection in horizontal vertical types of movement. You can get up to 7.5 stops of stabilization with the 12 to 100 which is the lens that I happen to have on the camera right now. So you can get really good low light exposures with that sync IS system that the lens has in it. Now it's gonna stabilize all lenses, but there's a few lenses like the 12 to 100 where it's gonna do an especially good job with that seven and a half stops of stabilization. Next up is the movie image stabilization. And when you're shooting movies you may wanna have different types of stabilization engaged in this case. And so you can S-IS one, all direction shake IS, or S-IS two for horizontal panning. And so choose appropriately according to the needs that you have when you are shooting movies. Next up is the save settings and this is gonna be some customized settings for saving information to the memory cards. There's a lot of different options because there's two different cards, and there's a lot of ways that you can shoot with JPGs, RAWs, movies, stills, and so forth. So let's take a look at the six basic ways that you can save information to the memory cards. First up with standard you save to one memory card and when it's full, that's it. Doesn't matter, the second slot doesn't do anything. It's just holding a memory card for you. It's not my favorite way of setting things up, but it is simple and basic. One of the ways that I like is auto switch. If you're shooting a lot of photos, and you're gonna fill up more than one memory card, this'll automatically switch from the first card slot to the second card slot, so it allows you a lot of room to shoot with images. Dual independent with a downward facing arrow allows you to save RAW images to one card and JPG images to another card. And it stops when one card is full. And so you may have different sized cards in there, and you may need different sizes, especially if you're shooting RAW to one and JPG to the other, but it completely stops when one is full. That way you know to switch out both cards. Dual independent with the arrow facing upwards is once again gonna save RAW to one card, and JPG to the other card, but it will continue saving as long as there is space available on one of these cards. So you need to be very careful about this because if you want RAW and JPG, you put in similar sized cards, the RAW card is gonna fill up first and it's just gonna save JPG images to that second card. So I would be a little bit wary of using that upward facing arrow because that may not be saving the way that you think it does. This is one of my favorite dual same with a downward facing arrow. It's gonna save the same image to both cards, and so this is a good backup for professionals. And if one of those cards happens to fill up, it stops, so that it lets you know that you need to switch cards to get fresh new cards to record both on there. Dual same with the upward facing arrow will continue to record the same image to both cards, and it will keep doing it until both the cards are full. And so even there's only one card available, it'll keep saving only one image to one card. And so dual same with the down arrow is a good professional one. Auto switch is good for everybody else. Next up is white balance. We just talked about this 'cause there's a white balance button on the back of the camera, but some people may wanna reprogram that button, and so this is where you would come in to control your white balance. Next up is a white balance fine adjustment. If you would like to tweak the white balance to make it a little bit more one color or another color, you can do this. It's not really necessary for RAW shooters 'cause you have more control over color after the fact, but for those shooting JPG, you can go in and tweak the color here. My guess is that most people are not gonna wanna mess with this particular setting. Next up is our AF area, our target modes. We talked about this early with the function button on the back of the camera, and this allows you to change from single to five targets, nine targets, and so forth and through the various options, including the custom targets. You can switch between manual, continuous, and single focus here. We talked about this button before. It's up on the top of the camera. The AF button, but it's located here as well. We'll also have a secondary control for the face priority option. So these are the same options we had before. If you are shooting a lot of people and portraits, this tends to be a good way to get correct focus on the face. The drive button once again duplicates the drive button on the top of the camera. You may or may not have all these options. Depends on whether you have turned these on or off in the menu setting. And so if there are modes in here that you do not use, let's say you never use the silent or the anti-shock modes, or perhaps you don't use all the self-timer modes, you can go in to the custom menu under D1 Display in the drive settings, and either check the box or uncheck the box for the items that you want or do not want showing up every time you press the drive button. We've talked about the metering before. There was a button on the top for doing it. Standard digital ESP metering is going to be good for general photography most of the time. Some of you more advanced users might wanna utilize that spot metering in occasion. Next up we have the image quality. Now here is where you get to choose what type of image is stored to each card. For instance, if you want JPGs on card one and RAWs on card two, you have have it that way, or you can reverse, and have RAW on card one and JPG on card two. And so when it comes to the different image quality options, let's take a closer look at what we have available. First up, I think a lot of people are gonna wanna be shooting RAW on this camera. This is how you get the most information, the greatest dynamic range, the largest file size for general shooting on this camera. We do have the high res mode which is a little bit different than this, but for standard shooting we have RAW which is a lostless raw format. 20 megapixels, it's gonna give you about a 20 megabyte file size, and this is gonna continue in an ORF file. This is an Olympus Raw Format. It's gonna be available to be opened in most third party photo applications, but Olympus does have their own software as well for working with their images. Next is you're gonna have four presets that you're gonna have the opportunity to go in and adjust depending on what you would like these four to be. The first part of it is the pixel count. You'll generally be able to choose between large, medium, and small. The second part of the title is the compression. How much is the information compressed? And so these will vary according to what you have set up in the camera. If you find that you have particular different sized needs for your JPGs, you can set those four favorite setups right in here. Finally you can choose to shoot a JPG and a RAW where you are getting two files with each photo that you are taking. This can be handy when you know you're gonna need RAW later on but you want JPG for short term projects that you might need right away, right out of the camera without any fuss. And so I prefer not to shoot RAW and JPG because it clutters up the hard drives, it clutters up the memory cards. If you have the time to work with things, just shoot RAW. That way you'll get the best image quality. If you need those quick JPGs, they are there if you need them. Next up is the picture modes, and this is gonna be for people who are shooting JPGs. When you shoot JPGs, the camera shoots essentially a RAW image but then goes through processing to save it as a JPG. And in doing so, it needs to adjust the saturation, the color, and the contrast of each of the images, and it happens to be that there's a lot of different ways that you can have an image look that you might want it to. And so there's a lot of picture modes in here. Now there's kinda standard modes that give you kinda traditional film-like settings, maybe vivid, natural, or monochrome. But there's a number of different art modes in here that you can get into as well, and these are kind of like Instagram filters all built in to the camera. There are too many to talk about in the scope of this particular class, but if you are interested in these, you can get in here and you can definitely play around quite a bit with different looks to your images and create in-camera effects that might not be so easy to do with your computer. Now one of the more interesting ones is the color creator. And what this is is a color filter that you can choose which color and which intensity of color that you make your images, and so if you want to have a lot of magenta or cyan in a particular image, you can use this color filter to rotate the wheel around and increase the amount of color in a particular image for a unique look. Next up, also for the JPG shooters, is more control over the saturation, contrast, and gradation of your images. Once again, with JPG images the camera decides what your image looks like, and now with these controls you have more input on the way your images look. If you find that JPG images are absolutely everything that you need out of this camera, but they've just not quite exactly where you want them to be, you can dive in here and adjust all these settings. Now if you're gonna shoot RAW, these settings really aren't gonna help you or have any impact on you at all, because with RAW you always get the original information off the sensor. If you do have the i-Enhance turned on, you can choose the effect. This is where the camera is doing an intelligent enhance on any particular photograph and you can choose how strong that effect is done. Once again, only gonna affect JPG shooting. And here folks is we have a moment to breathe. This is the empty box so I will take a drink of water 'cause it's time to rest. I don't know why this one is empty. Perhaps it's a point of expansion where they might put a feature in the future, but there's nothing in this box. Next up is the aspect ratio. The camera's sensor is a four by three aspect ratio, and if you wanna get as much information off the sensor as possible, you'll leave it in four by three. But if you know the picture is gonna be used in someway other than needing a four by three, you can change it into an aspect ratio that you get to see in the viewfinder which can be very helpful for composition. And so selecting this might be handy in order to see exactly what you're gonna get in your final image. The color space is the range of colors that you are recording at a particular time. Now once again this is for JPG shooters. With RAW you get a larger Adobe RGB color space, but if you're with JPG you can choose to shoot in the larger Adobe color space, and I recommend that if you plan to print or edit your images with post production software. Next up for the movie shooters, video shooting out there. This is where you get to dive in and control the exact specifications that you are shooting with when you are recording movies. And there's gonna be a number of different options between the resolution and the frame rate. You can also get into this in the menu section under specifications in the video menu. And I do wanna show you a few things around here, so I'm gonna go ahead and get my camera turned around. I'm gonna throw my camera in the video mode just to make sure that I'm in the right mindset here. And so I'm gonna hit the OK button to go into the Super Control Panel, navigate down here to the different controls, and we're gonna go ahead and dive in here and you'll see that down along the bottom, we can go across. Some basic different presets. And if we don't like one of these presets, for instance, I would prefer, I like 4K, that's all well and good. But I would like to shoot in high definition at 30 frames a second. It says settings info. So I'm gonna hit info and I'm gonna go over here, make sure that I'm in not 4K, but full HD, that's good, and fine, let's go with superfine. That's fine, but I don't want 60 frames a second. I want 30 frames a second, and then I'm gonna press the OK button. So now when I come back to the Super Control Panel I'm gonna have that as a preset down here. Now if you go over here towards the end, we're gonna have some unusual options. There's a custom setting in here. I'm gonna go into the info button here. We're gonna choose different options down here. I'm gonna choose HD. It's a lower resolution but it's gonna allow me more options. Fine compression, that's fine. 30 frames per second is fine. But now I can choose slow and fast motion, so I can speed things up, and what it's gonna do is it's gonna record at 2.997 frames per second. It's gonna play it back at 30 frames a second. Get back in here. And it's gonna be a ten times motion. But we can adjust this, and I'm gonna go through. You can do 3.5 times, two times, 1.2, and depending on the settings you choose, if I go up here to 60 frames per second. Actually then that's turned off. And you can control different faster and slower frame rates when you are shooting to end up either with speeded up or slowed down the motion in here. So if you wanna be able to do that in-camera, yep, you can do it in this camera. It gives you a lot of different controls. Next up is highlight and shadow control. Once again this is for the JPG shooter. This allows you to use curves for those of you familiar with Photoshop. Curves is a great way of controlling a smooth roll off between highlights and shadows. You can go in here and adjust that with your JPG images. RAW users won't need this, of course because they're capturing all the information. Finally we have a shortcut here to the button functions of the camera. And this is one of those things I sincerely apologize for. The camera has about a billion ways that you can set it up and we're just not able to go through this 'cause there's just not enough storage space in the cloud these days to record all the different options and ways that you can control this camera. Here's a quick visual guide to all the buttons that can be customized. Now there is some limitation to what features you can attribute to each of these different buttons, but there are a lot of different ways of taking the camera and customizing it to your own needs, and so this is something that you're gonna need to sit down on your living room couch with a nice cool drink beside you. And go through these settings one by one to see what works for you, because you're gonna find that there's a lot of different ways that you can have the camera set up and they might work better in one situation versus another, and that you wanna swap a few of these things out as you go from one type of shooting to the next. Now this Super Control Panel has two different styles. There's the standard live Super Control Panel and then there's the live control version of it. Now the advantage of the live control version is that you get to see the image that you are working with at that particular time. Sometimes when you're making adjustments to say the white balance or the color or the contrast of a particular image, it's kinda nice to be able to see the image that you're working with at the same time that you're doing it. And so by using the live control, which is inherently turned off. And so you if wanna turn it on, you dive into the custom menu, D1, the control settings, then go in there to the checkbox, turn it on, and then when you press the info button, you can switch back and forth between the two different types of control panels. And so good but different ways of operating those various features.
Ratings and Reviews
This fast start marathon by John Greengo was fantastic. It revealed a great many interesting features that reviewers of the E M1X ignored when the camera came on the market and of which I was unaware. Plus it offered useful advice on how to determine in what circumstances the camera's many options and capabilities are useful and how to decide whether they should be turned on or off. I would say though because of the in-depth nature of this feature tour that unless the viewer has a vested interest in this subject, this class could quickly become an info overload experience. It's l-o-n-g! But for anyone interested, it's a super intro to the manual. Greengo draws attention to many items that an individual alone with the manual might overlook. Beyond that, it piqued my interest in the E-M1X! Olympus should make John Greengo's class available to new owners of the camera, or at least direct them to this class.
Just got the om-d e-m1 mark iii so came to Creative Live for a tutorial and although this is for the X the menu system is almost the same. Have followed John Greengo's A7iii guide on here as well and both courses have been a great help. I will be purchasing the course for the om-d e-m1 mark iii as soon as it's released. Highly recommend John's tutorials.
Student Work