Camera Controls: Top Deck
John Greengo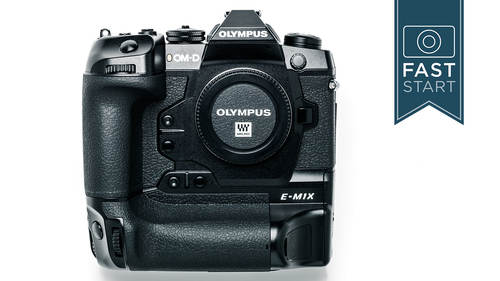 Camera Controls: Top Deck
John Greengo
Lesson Info
4. Camera Controls: Top Deck
Lesson Info
Camera Controls: Top Deck
Next up is the exposure compensation. We talked about this briefly when we were talking about the program mode. This allows you to adjust the exposure and underexpose or overexpose when you are in shutter priority, aperture priority, and the program mode, and so it's really good when your subject is a little bit lighter or darker than the average metered scene. Now this exposure compensation button is one of many buttons on the camera that we're gonna talk about that is customizable. One of the great things about Olympus cameras is that they are almost infinitely customizable. And so in this case, if you never used exposure compensation, but thought that that's a really valuable place to put a button. You could put somethin' else there, and so you can dive into the custom menu under Button/Dial/Lever, group B under button function, and you'll be able to find this particular button, and you can reassign it to one of, I don't know, they give you a dozen or so different options as to what...
that button then performs, and then you can just ignore the plus minus on the top. You have it dedicated to your own little secret custom function. Next up is the ISO button, and one of the things you'll notice about the exposure compensation, the ISO button, and right next to it, the record button, is that all of these buttons are at a different height and a different texture. Olympus wanted you to be able to differentiate without looking at the buttons themselves, just with your eye through the viewfinder what these buttons look like and feel like. So once you really get to feel at home with the camera, you're not going to need to be looking at the buttons. You're just gonna be able to feel them and know which finger your button is on. So the ISO button is a very valuable button because it's changing the sensitivity of the sensor. I always like to throw the camera's through a quick little test to see how good it is at different ISOs. This one starts off with a low of 64. We're gonna zoom into this really small area, and the native sensitivity on this sensor is 200. So if you wanna get the best image quality, it's best to try to stick to ISO 200. But if you need a lower ISO setting, it will go all the way down to 64, which is pretty fantastic. I don't know of any other camera ever in the history of digital cameras that allowed you to go more than one stop below it's native sensitivity. So that's a nice feature to have. But as you crank it up to 4, and 8, and 1,600 as you might need under a low light or situations where you need faster shutter speeds. If you don't have a good view of the screen, I'm just gonna look at the screen and tell you what I think. I think image quality is really clean up 'til 16 to 3,200. 3,200 looks really good. I think you could probably use that for most situations where you're even making pretty large enlargements. Getting up to 6,400, 12,000, 25,000, it gets a little bit rough. You go up there when you absolutely have to. If you capture a good picture of a UFO, no problem at ISO 25,000. It's still gonna give us great information. That's fine for those really unusual situations. But I think ISO 3,200, 1,600 is gonna be the top end for most people who want really high standards of something very, very clean, but I wouldn't be afraid to push it if you have to because some of the other settings are not too bad. So once again the ISO button is one of these customizable buttons that can be reprogrammed. Personally I think the ISO button is a pretty important button that most people are gonna probable leave as is, but if for whatever reason you don't use that, it can be something that you can dive into that custom menu, reprogram that button to do something that is more valuable for your type of work. Next up we talked about the video record button. This will automatically start recording in program when you are in a non-video mode. If you're in video, it's simply one press to start, and one press to stop. Now you'll notice there's a little blue check mark below it. That means that this performs a slightly different feature when you're in playback. It's an image selection. It's a way for you to identify images that you want to select out of a group of images as to maybe being better than others so that you could find those a little bit more easily later on, but like the other three buttons that we've talked about here, the other two, this is also customizable. If you're an old crotchety photographer who doesn't like video in your camera and you don't shoot video, you can say I don't wanna shoot video on my camera. I want this button to do somethin' else. Go ahead, reprogram this button to do one of many other different things that are available in that menu section under Button/Dial/Lever in the custom menu. Workin' our way over to the left side of the camera we have kind of a three button option up kind of in the front section of this is a drive and flash button. When you press this button and turn the front dial, you're gonna change the flash modes. Now the camera does not have a built in flash, so you're gonna need to add a flash, preferably an Olympus flash to get the full compatibility out of it. And if you do that with he flash mode on there, we're gonna have a number of different options, for instance redeye which is gonna fire a pre-flash. Flash on fires the flash even when there's enough light that it doesn't necessarily need it, but you want it for artistic reasons. Slow will give us a slow shutter speed so that we can do panning motions. We can get in a little bit more light in the background. Slow two uses a second curtain sync which can be a fun effect for subjects that are moving, and there's a full manual one. You can use this with off camera flashes to get more natural lighting with your subjects. The top shutter speed is 1/250th of a second when you are using the flash, but it's only 1/50th if you are using the electronic silent shutter. By pressing that same button and turning the back dial, you get into the drive modes, and this is where Olympus has gone a little, little crazy. They've put in a lotta different modes in here, and there's a lotta different options because we have single and continuous. In fact I have a little cheat sheet here for the different modes that we're doing. We have single shooting and sequential shooting. The diamond means it's in anti-shock. It's an electronic first shutter curtain, and I'll explain this more in the next slide. We have a silent, it's a heart. I'm not sure why it's a heart, but hey, how often do you see a heart in a camera, so it's kinda easy to remember 'cause it's unique. Pro capture, self timer, and high resolution are all kind of unique ways of capturing images within the camera. So let me go ahead and dive in and explain what some of these different modes are. First up, let's talk about the way a normal shutter operation works in this camera as in most cameras. There is two shutters. There's the first and a second, and with a mirrorless camera it's open so that light can get in and you can compose your subject. What happens is the first shutters and then opens, and with all cameras there's just a slight bit of shock that goes on because that opened so quickly, and then the second curtain comes in, closes the exposure, and then opens it again so that you can see what's going on. Now that very, very slight shock of the shutter generally is not gonna cause a problem, but in some unusual situations, perhaps with a very high magnification lens, maybe a macro lens focused close up, or a big telephoto lens, it could cause a sharpness issue in some cameras in situations, and so this camera has an anti-shock mode, and it uses an electronic first shutter curtain by just turning on the pixels one at a time, row by row. It does it much more quickly than this, but I've slowed it down so that you can easily see it. And then to end the exposure, it actually uses the shutter curtain, and this will get you very clean looking images, and it won't have any sorta vibration at the beginning of the exposure which may help out in a few unusual situations. Next up is the, the heart mode, the silent shutter here, and this is an electronic first and second shutter curtain. And in this case, it turns the pixels on, and then it turns them off. Now unfortunately with modern technology and modern sensors, there is no sensor out on the market including this one that can actually turn all the pixels on and off at exactly the same time. It's kind of this scanning effect, and so it takes about a 60th of a second for these pixels to turn on and off, which means it can do shutter speeds up to 32,000th of a second, but it's not necessarily good with subjects that are moving very, very quickly. What happens if you shoot a test chart, or just a grid pattern with a normal mechanical shutter is that it works as it's supposed to, and it's very quick in capturing that image, but when you use a silent shutter as you are panning back and forth, you're gonna get kinda this warping. Now what this looks like at faster shutter speeds is exactly the same because it can't turn the pixels on and off fast enough. Now the way it looks in the real world if you are panning down the street, is those buildings are gonna be a little bit bent, or those cyclist's wheels are not gonna be truly round anymore. So do be careful with the silent shutter and moving subjects. The anti-shock and normal shutter will work perfectly fine with fast moving subjects. Now it gets a little bit complicated when we get into all the different options here, but let's talk about the maximum frame rates. How fast can you shoot with this camera? Depends a little bit on how many other things you want to be working at the same time. Now in the sequential mode we have a low setting of 10 frames per second, and a high setting of 15 frames per second. When you go into the anti-shock mode we just have a low setting of 10 frames per second. And if we go in with the silent shutter, we can get it 18 and all the way up to 60 frames a second. There is a few caveats to be aware of, and throw 'em up here with some blue asterisks with the 10, 10, and 18 frames per second we get live view display between frames, which means that if we are panning with our subject, the camera is gonna kick back and show us a wide view of our subject which is gonna make panning with fast moving subjects easier, and so these modes are gonna be the easiest to use when moving, fast subjects is the object of what you're shooting. Secondly, the high setting of 15 and the high setting of 60, the autofocus and the autoexposure is locked, and so it's good for subjects that are either not changing much in distance or very far away. And so if you want to have kind of the best viewing experience and autofocus experience, you're probably gonna be looking at the low speed 10 frames per second. Now don't let the low fool you. Most cameras, professional cameras shoot at about 10 frames per second, so that should be more than fast enough for fast moving subjects that you want consistent autofocus, but there are some special subjects that as I say, you can get up to 60 frames a second, and can be very, very handy. So this silent shooting, there's as I say, some caveats to shooting with it. The advantages are that you do get very fast shutter speeds for controlling light. It is silent photography, so if you're in a situation like a courtroom, or a playhouse, or any place where you need to be very, very quiet, you can take pictures that are no louder than you actually pressing your finger on the shutter release button. It's amazing. It's also vibration free which can be good for certain types of photography. The downsides to this silent shooting is that you get distorted moving subjects if they're moving quickly, and the flash sync is limited. Probably shouldn't be using it in the studio or with flash in most situations. Pro capture is a very unique mode, and can be extremely helpful in some very tricky and challenging situations. And the idea here is that when you press halfway down, the camera starts recording images and stores 'em temporarily in the buffer of the camera. How big the buffer is is something that you get to decide. And so you can have up to 35 images I believe in here, and so what happens is you press halfway down, the camera is storing the most recent 35 images, and then when you press down on the shutter, it will continue to shoot photos as long as it can through it's burst shooting, and you will have a collection of images both before and after the shutter release was pressed all the way down. Now you can go in and control the exact specifics of this by diving into the custom menu under the drive settings under pro capture, and you can choose how many images go in the buffer because you may need only a few images and more images after, or you may need more before depending on the type of subject that you are shooting. There are some warnings with this. There's no continuous AF, the exposure is locked, and the electronic shutter. And so I can think of a couple good situations where I have either made use, or could make use of this. One is if you've ever been whale watching, and you've been wanting to get a photograph of a whale jumping out of the water. What tends to happen is you kinda think it might be coming up, but by the time you see it come up and you press the button, you're too late. Another situation that I was shooting was with archers who are firing an arrow, and what happens is they line up to shoot their arrow, and then they wait, and they calm themselves down, and then they release, and there's no indication when they're gonna release the arrow. And so what you would do, is you would line up just like them, and as they get into their stance, and when they're ready to shoot, you start pressing halfway down, and when they release, you release all the way, and then you can back in time and get the images as that arrow is just leaving their bow, and get images that are virtually impossible to get, or almost impossible to get in any other way, 'cause you cannot predict these things, and so this has been used in wildlife photography for unexpected events as well, and so it's a very unique feature that has a very good place if you know when and where to use it. Next up is the self timer options. We have a lotta different self timer options here depending on whether you want the standard shutter, the anti-shock shutter, or the silent shutter. You also have the different times of two and 12 seconds. You can also go in and create your own custom self timer here, and you're gonna have options of how long it is 'til the shoot, how many shots, interval between shots, whether it's gonna focus or not. So let me show ya a quick little setup on this. Let me go ahead and throw my camera back into a real simple mode. I'm gonna go over here and press the drive button, and we're gonna go ahead and get into the custom timer here. And so you'll see that when I press this, there is some information here called settings info, which means if I wanna do more settings, I gotta press the info button. Actually let's press this again. Info, here we go. And so I can choose the time, how long do I wanna wait for my shot. I'm gonna say two seconds, and how many shots do I wanna take. Let's do three shots, and the time between them will be three seconds, and I don't want it to refocus, so I'm gonna leave that off, and so I'm gonna go ahead and focus. Here's our two seconds. Here our first shot, waits a second. Or actually no. I had it wait three seconds. Another shot, wait three seconds, and we're gonna take our third and final shot, and so I find this really handy. I'm gonna turn this off quickly before I forget 'cause it'll catch me later on. This custom self timer is fantastic if you are ever the person that needs to do a group photo, and you wanna get a shot of everybody, but you know on the first shot somebody's not gonna be lookin' at the camera. They're gonna be blinking, or they're gonna be lookin' sideways. You wanna set up a 10 second exposure. You wanna have it take five shots two seconds apart, that way you get all the shots you need, and one of 'em will probably be the right one. Next up is the high res shooting mode. And so the camera has a 20 megapixel sensor, and if you wanna get more resolution out of it, here's a little bit of technological help to get you beyond it. So the camera uses a bare sensor which is a red green blue green pattern in the bare sensor, and it does a very good job, and to be honest with you, I really don't use the high res shooting that much because the image quality in the camera to begin with is generally more than enough for what I need, but if you do need more than this, what you can do is put it in the high res mode, and it shoots eight photos. And what it does essentially is it takes a photo, it moves the sensor a pixel, and again, and again to get additional color information, and then it moves it a half a pixel inbetween to pull out more detailed information about the scene that you're shooting at. So it takes all of these images, which is gonna be about 160 million pixels, and processes it which takes a little bit of time, so don't do this if you're in a hurry between shot to shot. There's gonna be a little bit of processing time. Now because it takes a moment for it to move around and do all these shots, you can't have things moving in the frame. And so if cars are driving down the street, or leaves are blowing in the wind, that can cause a problem because the camera is taking eight different photos of this, and then it's gonna record this into a number of different types of files. One option is a 25 megapixel JPEG, another is a 50 megapixel JPEG, or you can do an 80 megapixel RAW image. Now it's gonna use the electronic shutter in here so you're not gonna see the mechanical shutter going back and forth, and so be aware of that. Now, for going in and adjusting these, you can go into the shooting menu, and you can control what size file you want. Now you do also have the option of doing a handheld shot, or a tripod shot. Now the handheld shot will allow you to shoot handheld. It'll only be a 50 megapixel. Wait, did I just say that, only 50 megapixel. I did? So it's only 50 megapixels rather than 80 megapixels, but it still can work very well in situations where you are not able to use a tripod. So quickly looking at some of the different options that you will have for file types. Under normal shooting you're getting 20 megapixels, and you're gonna get JPEGs or RAWs. We'll talk more about this as we get into the file types, but when high res shooting, you'll get a 25 megapixel JPEG, or a 50 megapixel JPEG, or you can get a JPEG plus a RAW where the RAW is gonna be technically 81 megapixels. You'll also get an ORI file. Now ORF is the Olympus RAW File that's gonna open up in most file types. To open an ORI file you need to use the Olympus software, or if you like a little trick, you change the file name and you can open it. I'll explain this here in a second. You can also shoot a 50 megapixel JPEG and a 80 megapixel RAW. The ORI file is just a standard RAW. I believe it's the first of the images, and if you want just a standard Raw as opposed to the combined RAW of all eight images, you'll have that in there as well. You do need to just go in and physically change the ORI name to ORF, and you can open it and work with it in most normal photographic programs. So let's take a look at what this does, and so we're just gonna shoot a standard shot. We're gonna blow it up. Take a look at the image quality with a standard RAW image, the high res JPEG at 25, at 50, and the high res at 81. Now if you're looking at this and saying, well that high res RAW does not look as sharp as the JPEG, and that is because it's not finished like the JPEG. The JPEG has contrast and sharpness added to it. The RAW's gonna need to be manipulated a little bit, but there is more data to work with if you want it there, and so this is somethin' that you're gonna wanna experiment with, and see if it works for what you are doing. Next button is the bracket button. So press this button and turn the front dial for changing the mode, and the back dial for changing the settings, and so there's a number of different options. Let's work our way quickly through these. The autoexposure option allows you to shoot at different exposures very quickly in two, three, five, or seven frame brackets, and so this is real good when you do not know what the correct exposure is going to be and you wanna shoot a bracketed series out in the field. Less useful in my mind, but available is the white balance bracket, and so you can adjust and shoot a variety of white balances all very quickly at the same time. I say it's less useful because if you shoot RAW, you can control this very easily afterwards. This is more helpful if you're gonna shoot JPEG, and you're not sure about the exact color, you can go in and adjust it. You can also do a flash bracket where it will adjust the power of the flash. You will of course need to have an additional flash on the camera to do that. We also have the option of kinda boosting and lowering the brightness of an image through ISO after the fact. Once again, not really necessary if you're gonna be shooting RAW images because you can push and pull your images pretty easily. Not the most useful in my mind for most types of photographers because you can adjust this in post-production pretty easily. The files from the camera are pretty malleable you might say for making those adjustments. Olympus has always had a lot of different filter modes. They call it an art bracket here, where you can shoot one photo, and have a whole buncha different versions depending on what you wanna do with this photo. We'll talk more about these art effects that we have, but we can have a lotta different instant modes for your camera. Finally focus bracketing, and this is a very cool, very valuable mode here. So what happens here is when you do not have the setup, the gear to get everything in focus from the foreground to the background, it may be just technically impossible to do, the camera will take a series of photos so that you can combine them in post-production to create a finished photo. You can also create a finished photo in camera if you want. You can go into the details of this in focusing bracketing and set up the details. With he button on the top of the camera you can simply turn it on and off, and so we're gonna get into the details of this when we get into the menu section of the camera. Next up is the autofocus and metering section. So by pressing this button and turning the front dial, you can change the metering system of the camera. In general, the digital ESP mode is the good general mode, which breaks the scene into lots of different areas, and is good for general mixed and general photography. Traditional system is center weighted. If you wanna weight the metering system directly in the middle because that's where your subject is, you can do that here. We also have one for spot if you wanna be more exacting on where your subject is. Kind of unusual if you're not familiar with Olympus, is the highlight and shadow area, and this allows you to meter and automatically have a two stop exposure compensation either in the plus, or in the minus set. So if you know that that spot metering area is going to be pointed at something dark or light, 'cause that's what your subject is in general, you can have exposure compensation automatically built into the metering system that you have. By pressing the AF/Metering and turning the rear dial, controls the focusing mode. This is one of the most important controls on the camera. Single autofocus is where a lotta people are gonna have their camera most of the time, and so this is good for general photography with still subjects. The continuous mode is for people who are shooting action where subject is moving closer to and away from them. Manual focus might be good for certain types of landscape scenes that you wanna be very particular about how you focus and it might not be available to do in the autofocus manner. For those doing action photography, the continuous focusing plus tracking is an interesting option, because here you will get a tracking box that can follow your subject around the frame, and this camera is more advanced than any other Olympus camera and does the best at being able to track your subjects here, and so this is a great way for having more creative freedom on where that subject is in the frame. It's not a hundred percent perfect in tricky situations, and so you wanna give it a test out to see if it works with the type of action that you are shooting, but in general, it's a very sticky system that can find your subject and stay on it so that you can have it in the left or the right side of the frame, and you don't have to preset boxes in one area in order to have your subject in that particular part of the frame. And then PreMF is a pre manual focus, and this is where you can actually measure a distance to a subject, and then every time you turn the camera on and off and back on again, or you go in and out of the menu system, it automatically goes to that preset distance, and then you can also have that preset distance set to a shortcut button so that you can get to that distance very quickly. And so for general photography, you're gonna be in single autofocus. For moving subjects, you're probably gonna wanna be in the continuous autofocus or that tracking mode, and there's some additional things that you're gonna wanna know about the tracking mode that we're gonna get into in the full menu side, when we get into the menu of the camera. Next up we have the hot shoe on the camera. This is where you're gonna mount various flash units. Olympus makes a number of different flash units, small to large. The little FL-LM3 is one if you just wanna little additional light on your flash. The FL-700 is nice 'cause it does wireless radio triggering. The FL-900 is nice because it's very powerful and it has a very fast recycling time. They do make others we don't have time to get into. For instance like the twin flash for macro photography, and if you wanna do off camera work and you wanna trigger multiple flashes, they do have this FC-WR system for hooking up multiple flashes off camera so that you can really have natural lighting out in the field very, very simply, and very easily. And finally, on the top side of the camera, a couple little holes up here for your stereo microphone so that you get decent quality sound built in, and then there's the focal plane mark. If you ever need to measure the distance from your subject to exactly where the sensor is in the camera, this is the mark to let you know exactly where that is. So that covers the top side of the camera which is just literally the tip of the iceberg when it comes to this camera.
Ratings and Reviews
This fast start marathon by John Greengo was fantastic. It revealed a great many interesting features that reviewers of the E M1X ignored when the camera came on the market and of which I was unaware. Plus it offered useful advice on how to determine in what circumstances the camera's many options and capabilities are useful and how to decide whether they should be turned on or off. I would say though because of the in-depth nature of this feature tour that unless the viewer has a vested interest in this subject, this class could quickly become an info overload experience. It's l-o-n-g! But for anyone interested, it's a super intro to the manual. Greengo draws attention to many items that an individual alone with the manual might overlook. Beyond that, it piqued my interest in the E-M1X! Olympus should make John Greengo's class available to new owners of the camera, or at least direct them to this class.
Just got the om-d e-m1 mark iii so came to Creative Live for a tutorial and although this is for the X the menu system is almost the same. Have followed John Greengo's A7iii guide on here as well and both courses have been a great help. I will be purchasing the course for the om-d e-m1 mark iii as soon as it's released. Highly recommend John's tutorials.
Student Work