Camera Operations
John Greengo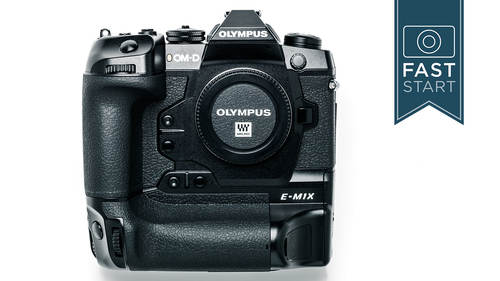 Camera Operations
John Greengo
Lesson Info
15. Camera Operations
Lesson Info
Camera Operations
All right, we have time for the final conclusion of this Olympus class and I want to talk a little bit about camera operation. We've talked about all the individual controls and now we're going to talk about what are the most important features for different types of shooting. So, for everything, you want to have your camera set up right when you go out in the field. So, let's make sure your batteries are charged. Let's make sure you got memory cards in your camera. Make sure your image quality is set the way that it's suppose to and if you've been playing around in the menu system, you might want to poke around and see if there's any strange settings that you set the last time you were out shooting photos. If you're going out on a big photo shoot, going to a wedding, going on a trip to Africa, it's going to be maybe hard to clean the sensor when you're out on location so make sure you have a clean sensor before you head out onto a big job. Now, the main controls on this camera are all...
controlled with direct, dial, and button inputs on the outside of the camera. So these are the types of buttons that you're going to be accessing on a regular basis so it's good to start committing these to memory so that you don't even have to look on the camera. You can just feel on the camera, you can feel that unique button feel and press it and adjust that particular feature. So, these are the features you're going to control so let's go ahead and take a look at these and their different options that are available. Now let's talk about how I might set this camera up for different types of photography. First up, let's start with Super Simple and I'm talking really, really simple like hand your camera to your cousin who doesn't know photography. Let's put the camera in the Program Mode so shutter speeds and apertures are automatically taken care of. Personally, not a huge fan of Auto ISO, but in this case, the camera will help figure things out and set an appropriate shutter speed and aperture and ISO for the situation. Leave Exposure Compensation on zero unless you know you need it. White Balance at Auto cause it does a good job. AF Operation for most standard shots, Single Auto Focus should work well. For Focus Area, All Targets, just be careful of camera focusing on near ground subjects because it always wants to focus on whatever is closest to you within the frame. And as far as all those different Drive modes, just the basic Single Mode is going to work fine for most photographs. All right, let's do a little Landscape Photography. So, in this case, I want things in the foreground, in the background in focus, I want sharp detail, I might be working off of a tripod and I don't have any real tricky focusing situation. So in this case, I'm going to probably start with Manual Exposure because I like taking consistent exposures from one shot to the next and I certainly would have time to set up an exposure in this case. I'll set ISO 200 because that's where I'm going to get the cleanest information off the sensor. Next up, I'm going to set a fair bit of depth of field, F8, F11, F16, depends a little bit on the situation. Next, shutter speed doesn't really matter because I'm not really photographing a moving subject. I might want to be on a tripod, I might want to make sure that image stabilization is turned on. It's going to be wherever it needs to be according to the light levels. Next up, we don't use Exposure Compensation cause we're in Manual, but with White Balance, Auto works pretty good. If you know it's sunny or shadows or cloudy, you can set it to that if necessary. Subjects are not moving around so Single Auto Focus will work just fine. As for this Focus Area, you want to be pretty particular about where you are setting your focus. You generally don't want it on the nearest subject nor the farthest object. Something kind of in between and so that Single Target might work out very well. The Single Mode with a cable release might be good but if you want to make sure that there's no vibrations, the Anti-Shock Mode might also be a good way with the self timer in there that way there is nothing touching the camera when the shutter is released. Next up, let's look at a couple of Portrait Photographs and what sort of settings would we want to use to get these types of results. So Manual Exposure is going to allow you to get consistent results from shot to shot. In this case you want to make sure that you have a shutter speed fast enough to stop your subject's motion. Generally speaking, you want to be at 125th or faster for that. Often times, you're going to want shallow depth of field and so that's where those 1.2, 1.4, F2 point lenses can really come in handy and so that'll help blur the background out. Finally, ideally, you would want ISO sometimes, depending on the light you have to bump it up from there, but ideally you would be at 200. Auto White Balance will be fine in most cases as long as your subject is standing stationary, Single Auto Focus will work fine and if you want to be very precise, you might use the Small Target focusing area or use the Eye priority so that the camera automatically detects where the eye is and focuses on it. As long as your subject isn't moving around too much, you can use the Single Drive Mode and just capture one good shot at a time. Next up, let's think about Action Photography, sports, things moving around, and this is where we're going to need faster shutter speeds and a focusing system that can track these moving subjects. In this case, I still like working with Manual because I can get consistent shots with that motor drive turned on high, it's not changing from shot to shot. Shutter speed is critical here, probably gonna want to be at 500th of a second or faster, depending on the type of action that you have. This is where a lens that gets down to 2.8, like that 40 to 150, 2.8 becomes a very valuable lens. Probably going to be shooting with most lenses wide open. Ideally you'd want to be at 200 ISO, but the reality is with those faster shutter speeds, you're going to need a higher ISO. Auto White Balance will work fine in most situations. And for the AF Operation, you can choose Continuous Auto Focus or the Continuous Auto Focus with Tracking. In most cases, I would probably go with tracking, especially if you have a fairly clean environment, in which to work. In a more cluttered environment, maybe like a busy basketball court or soccer field, you might need to use the Continuous Auto Focus with a smaller grouping of focusing targets. With focusing targets, I would probably choose five or nine, depending on how erratic a movement that you're using. If it's very erratic, like a bird in flight and there's nothing interfering with you, you might want to be at the 25 point. And for the Drive Mode, I like using the low speed or the high speed. I do get a little bit better auto focus with those moving subjects because of the tracking in the low settings and so I'll probably start off with low settings, which remember, is still 10 frames per second, which is still pretty high speed in my opinion. Our final recommendations will come with, what I call Basic Photography, which just kind of fits a wide variety of things that you might want to shoot. And in this case I like to employ a little bit of automation to help make the process go a little quicker. In this case to be ready for a little bit quicker shots, aperture priority is a good simple mode where you get to set an aperture. I usually leave it left somewhere around 5.6. If I need more depth of field or less, I can dial it in. Shutter speeds will be chosen automatically. I usually like to have my ISO set at its lowest setting unless I know I'm getting into darker and darker environments. I'll make sure the Exposure Compensation is at zero, unless it needs to be changed. White Balance at Auto is fine. Single Auto Focus, as most subjects that I'm photographing are not moving, but that may vary depending on what you're doing. As far as focusing area, I like to be pretty particular and precise about where the focus is going and so I think the small area for the careful photographer is going to get you exactly what you want in focus and for the general subject a Single Drive Mode will be fine to capture one good shot at a time. So, congratulations, you have made it to the end and all the way through the complete OMD E-M1X class. So, thanks a lot for staying a part of this entire class. If you are interested in any of my other dealings, you can find me on my website: www.johngreengo.com, I'm also on Facebook and Instagram, you can hook up with me there. If you are interested in other photography classes at Creative Live, there are tons here. A good portion of which are mine and so there are a lot of classes that I have. I have an entire class on Olympus Lenses that is a perfect companion to this class and so that is a good match with this class. But I also have classes on travel and nature and so forth and so if you enjoy these instructions, I've got lots more out there for you.
Ratings and Reviews
This fast start marathon by John Greengo was fantastic. It revealed a great many interesting features that reviewers of the E M1X ignored when the camera came on the market and of which I was unaware. Plus it offered useful advice on how to determine in what circumstances the camera's many options and capabilities are useful and how to decide whether they should be turned on or off. I would say though because of the in-depth nature of this feature tour that unless the viewer has a vested interest in this subject, this class could quickly become an info overload experience. It's l-o-n-g! But for anyone interested, it's a super intro to the manual. Greengo draws attention to many items that an individual alone with the manual might overlook. Beyond that, it piqued my interest in the E-M1X! Olympus should make John Greengo's class available to new owners of the camera, or at least direct them to this class.
Just got the om-d e-m1 mark iii so came to Creative Live for a tutorial and although this is for the X the menu system is almost the same. Have followed John Greengo's A7iii guide on here as well and both courses have been a great help. I will be purchasing the course for the om-d e-m1 mark iii as soon as it's released. Highly recommend John's tutorials.
Student Work