Menu Functions Setup and My Menu Setup
John Greengo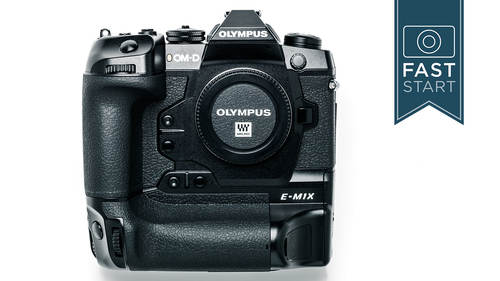 Menu Functions Setup and My Menu Setup
John Greengo
Lesson Info
14. Menu Functions Setup and My Menu Setup
Lesson Info
Menu Functions Setup and My Menu Setup
Our final reel menu in the camera is the setup menu, and this is the type of thing that you're gonna need to get into once in a while. There's some important features in here. First up is the card setup. We have two different options 'cause we have two different cards in here. And this is where you can either erase or format your cards. And typically with digital cameras, if you're new to digital photography, cameras are a little particular about the cards that are in them, and so they don't always take well to brand new cards and cards from other cameras. So what you want to do is you want to format your card. It resets it and lets the camera communicate as cleanly as possible with that particular card. And so it's best not to mix cards up between cameras without formatting. But when you format, it deletes the photos, the file directories, the ghost folders, and everything else on there. So you do want to be careful about formatting only when you have backed up all your data off of it...
. Time settings will allow you to get the time and date stamp set correctly in here, so you can set the time and date appropriately. There is a time zone that you can adjust as necessary. Auto time adjust will look at the GPS information that it's getting and automatically set it. If you are changing time zones, it will do this for you automatically if the GPS information is turned on. Language settings is pretty easy to figure out, whatever language you're easiest working with. The monitor will adjust the brightness of the monitor. Generally speaking, I don't adjust this, but sometimes when I'm out in bright sunlight, I need a little bit more brightness, and so I need to be able to see the viewfinder easier, and I do that by raising the brightness level. When you take a photograph and you're reviewing it, do you want it to show up on the back of the camera? Back in the days of SLR cameras, you really wanted to see the image, because you took a photo using your own eyes, but you needed to see the digital version of it. Now with the modern mirror-less camera, you can see what the final image is gonna look like in the viewfinder. So as a more advanced user, they're gonna want to shoot that photo and get on to the next photo, and they don't need to review photos as they're shooting them. They already know they're coming out the way that they want. And so to start with, as you're learning photography, yeah, you might want to leave it on a two-second exposure to check out your photo, see how it came out with. But as you get more comfortable with the process and the camera, you're probably not gonna need to be leaving that turned on, and you can leave it turned off, save a little bit of battery power, and be ready to shoot that next shot. The camera has a number of wifi and Bluetooth settings. Most of this is kind of just maintenance in here, not something you need to come to on a regular availability or regular basis. You can turn the availability off if you know that you're not gonna use the wireless Bluetooth system. It does eat up a lot of battery power. And so I recommend leaving this turned off unless you are gonna be using that system. You can have a password in here that you would be connecting up with a computer or a smartphone, perhaps. You can choose how the camera powers down and transfers information when it is using wifi system in here. You can reset all the settings, and so if you've set up with a particular type of phone or computer and you just want to have it forget all those settings, you can come in here and have it completely reset back to factory default settings. If you want to see the address, the wifi address of this particular unit that you are using, that's what's gonna show up right here in the MAC address. Finally, the firmware. This is the software that runs the camera. And this is being updated somewhat regularly from Olympus as they feel the need. If they find a bug, if they have a new feature they want to add to it. And the way that you work downloads with Olympus is that you will connect your camera to the computer using that USB C connection. You do need to download the Olympus Digital Camera Updater. Plug the camera in, follow the instructions, and the camera will download the instructions or download the new firmware across the internet and install it on the camera. A few tips that I've found that will help you out in doing this is you want to make sure you have the latest version of the camera updater. And they have made new versions over the years. Remove the memory cards from the camera, and in the USB connection, use the storage option, 'cause there's different options when using a USB device. And I've found it better not to use a USB hub device. You want to plug directly into the computer itself. Sometimes that hub device somehow throws a kink in the problem, and it doesn't connect up quite as easily. And so currently, as of the filming of this class, we're on firmware version 1.1 on this camera. I have no doubt that Olympus is gonna have some update at some point in the future. There's nothing I know about at this time, but keep an eye on Olympus's website. Download the Olympus Digital Camera Updater and plug your camera in maybe every six months to see if there's new firmware available for your camera. All right, the last item we're gonna talk about is the first item we talked about in the menu system, which is My Menu. As you recall from what I said before, anytime you're going through the menu system, you can press the video record button to log and kind of keep a particular item as part of My Menu. And so you'll be given the option of putting it on one of five pages. And as you go through the menu system, you will see a little star system in the upper right-hand corner letting you know if you have already registered or not registered a particular item into My Menu. And I believe that if you operate this camera correctly, you will spend a good deal of time with the menu to start with, you'll find out what all your favorites are, assign them to the appropriate pages, and you will then pretty much never need to go back into the regular part of the menu again, and you'll have just simply five pages of information that will be quick and easy to get to. And so anyone who says that Olympus has confusing and complicated and long menus, well they might be right in the fact that they're long, but they're not complicated as long as you understand how to use them. They can be very, very quick and easy to use. And so having watched this all the way through to this point, hopefully you've come up with a whole bunch of items that you're gonna want to go back to on regular basis. And so go get your My Menu pages to make your camera quick and easy to work with.
Ratings and Reviews
This fast start marathon by John Greengo was fantastic. It revealed a great many interesting features that reviewers of the E M1X ignored when the camera came on the market and of which I was unaware. Plus it offered useful advice on how to determine in what circumstances the camera's many options and capabilities are useful and how to decide whether they should be turned on or off. I would say though because of the in-depth nature of this feature tour that unless the viewer has a vested interest in this subject, this class could quickly become an info overload experience. It's l-o-n-g! But for anyone interested, it's a super intro to the manual. Greengo draws attention to many items that an individual alone with the manual might overlook. Beyond that, it piqued my interest in the E-M1X! Olympus should make John Greengo's class available to new owners of the camera, or at least direct them to this class.
Just got the om-d e-m1 mark iii so came to Creative Live for a tutorial and although this is for the X the menu system is almost the same. Have followed John Greengo's A7iii guide on here as well and both courses have been a great help. I will be purchasing the course for the om-d e-m1 mark iii as soon as it's released. Highly recommend John's tutorials.
Student Work