Menu Functions: Videos Menu
John Greengo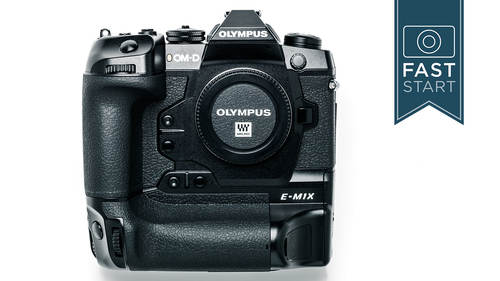 Menu Functions: Videos Menu
John Greengo
Lesson Info
10. Menu Functions: Videos Menu
Lesson Info
Menu Functions: Videos Menu
Alright, time for the next tab, and that is for all you video shooters. So if you do wanna shoot video with this camera, which it does an excellent job at, there's a lot of customizing modes in here that'll allow you to get things set up just right for what you're doing. The first thing is, is that when you are in the movie mode, how do you want to be shooting? What sort of exposure mode do you want? And that's what our first mode settings deal with. Program, aperture priority, shutter, program mode. And so if you just want to capture a few quick clips of this and that and it's not too important, throw it into the program mode, let the camera figure it all out. It's gonna do a great job. If you are a little bit more knowledgeable and particular about where you want your settings, you're gonna probably wanna choose it to be in the manual mode so that you can have specific shutter speeds and apertures for any given situation. Flicker scan can be turned on and this is gonna reduce flicker...
with LED lights. Can be a problem with certain type of lighting scenarios that you might have. Next up is the specification settings. This is a lot of the quality settings for your video that you are recording. And so here is where you are gonna have the main control over the file type that you're shooting, the resolution and the frame rate. So under each of these different settings there's gonna be an arrow to the right, that's gonna allow you to go in and do some customizing of the exact rate and style that you are recording that particular clip in. And so there's lot of different options for this. We're not gonna get into a full deep video class right now. 4K video is gonna be the highest quality video that you can get out of this at thirty frames per second, so if you want highest resolution, that's gonna be good. If you want a little bit more standard video, full HD at thirty frames a second is gonna be a good option for a lot of people, as well. Be aware that in the sub menu not all options are available in all settings. Next up is the ISO-Auto Set, and whether you can turn this on and off and how it works in the manual mode and so sometimes it's very handy to have the ISO as another control for the exposure when you are set in manual. This allows you to set an upper limit and a default number where it tries to be and then an upper limit where it is the maximum that it will go to. 6400 and 200 would be pretty logical numbers to put in here, but if you had tighter standards, you might bring that down to 3200 or 1600. You can choose whether the auto ISO is even available in manual exposure. I think it's a good option to have available, 'cause you might need it from time to time. Next up is a noise filter, and so sometimes you can get a little bit of noise. You can turn that on with the video setting here. If you don't like it, you wanna do that in post-production in some other software, you can turn it off. White balance mode, this is particular for video shooting. You've seen white balance in a couple other places in the menu system and in the camera. This is setting up a particular white balance for videos so that when you turn it to video, it's in the right white balance mode for that particular scenario. You can adjust all of the white balance settings. If you want to tweak all of them a little bit more amber, green, blue or magenta. Generally speaking, you probably won't need to do this. I hope you don't need to do this, but if you did wanna tweak all of the white balance settings to one color, you could do that. If you wanted to reset all of them, you could do that, as well, very simply. Keep warm color. The thing with white balance is that it tries to get the whites white, but sometimes it's nice to have that natural warm lighting to be a part of the scene that you are recording. And so if you do wanna keep some of that warm light in the scene, you can choose to turn it on or you can choose to do a very technical correction for everything. Picture Mode on this. So there are different picture modes that have different looks, and when you get into the video mode, you're gonna have options for a couple of other modes that you didn't see in the standard picture modes for the camera setting. And so that is gonna be the Flat and the OM-Log and that stands for the Olympus, and log is a log rhythmic, it's a type of very flat, non-contrasty type image that is designed to be graded later on. 400 indicates that the natural ISO, the native ISO at that is 400. And so what the camera is doing is it's shooting in a particular way that it's protecting the highlights. It's not letting the darks go too dark, and it's gonna allow you to grade that footage in your own particular way to get your own look at it a little bit more easily. And so if you're serious in to photography or videography you're gonna probably be wanting to shoot with this type of log setting on the camera and color grading it after the fact. If you're trying to shoot simple videos, you're probably not gonna wanna deal with this and choose a more standard picture mode that's appropriate for shooting videos with. Next up is the auto focus and image stabilization settings when we are specifically in the video mode. This allows you to have custom settings for pictures and for movies in this case. And so diving in here, first up is the AF Mode. How does the camera focus? For simple use, you might like continuous focus, so it's working like a camcorder, always searching for what's in sharp focus. The more advanced users are probably gonna wanna have manual focus so that they can specifically move focus exactly as they want it to, as they go throughout their clips. The continuous auto focus speed can be adjusted. It's normally right here in the middle. A lot of times it's not nice, it doesn't look good to have your focus change too quickly in some videos, and so if you wanna slow it up a little bit, you can. If you wanna speed it up, you can also do that, as well. The sensitivity is how quickly the camera will change from one focus point to the other. Once again, sudden changes in video often don't look good. And so, you may want to slow this up, to make it a little bit more even in the final video. But this is something that you can test out yourself and see what looks good for what you're trying to do. The stabilizer in the camera has different modes when you are shooting in the video. And so in movie image stabilization one, sensor shift & digital. Now this employs a 1.2 crop on the sensor, and it is using the physical sensor, as well as, the digital sensor you might say, to stabilize an image. And so if you are really trying to stabilize an image, this is gonna be the most effective way to do it. The downside is that you lose a little bit of your wide-angle capability. With M-IS2, it is a sensor shift only. Then there's no crop. And so if you are trying to get the full width, that's gonna work out a little bit better for those who do that. Now there is a little toolbox down there that you can go in if you are using, let's say, an aftermarket lens, a non-Olympus lens on your camera, you can set the stabilization up so that it is optimized for that particular focal length. And the type of stabilization that you need for a 12mm lens or a 200mm lens is very different. So if you are using some aftermarket type lens, you can enter that information into the focal length and get the best possible stabilization for that lens. Next up is the IS Level. One of the problems with having image stabilization is if you are hand-holding it, and you are panning from side to side and looking at different subjects, the camera is trying to fight your movements. Remember, it's trying to hold the camera steady and in this case, you can set it up for panning, tilting and tracking shots and so it lessens the amount of stabilization that it's giving you, and it doesn't quite fight you as much when you're trying to make these intended moves. And so if you are doing a lot of hand-held action from one subject to the next, you might wanna play with these settings to see what works best for the types of movements that you'll be shooting with. Next up is Button/Dial/Lever customizations particular to being used in the video mode. So we're gonna see more of this for the still photographer but for the video, you can go in to all of these different modes, and you can customize all these different buttons in a variety of different ways. I'm not gonna go into it, we'd spend hours doing it. We're not going to do that. But it's a great way to get in there and get your camera tweaked the way you wanted to. You have further customization with the dials on the camera, when you're in program, aperture, shutter priority, manual, you can choose which dials do what option. And so on the program mode, for instance, the back button controls exposure compensation, and the front dial does, as well, but when you switch to mode two, it controls the volume. If you would like to reverse that around, you can do that in there. So if you are using those dials while you're in these various different exposure modes, you can really customize them to get exactly the features you want right at your fingertips. The function lever on the back of the camera can also be customized. Mode one allows you to exchange quickly between exposure and volume. Mode two allows you to quickly exchange between focusing points. With focusing points, you can choose which focusing point and which focusing mode that you are using in there, as well as, which target mode and so you can change just about everything in focusing that you might want by the flip of a single lever. The shutter button normally is used for taking still photos when it's in the movie mode, but if you want it to record video, you can do that. It might be at a more easy position for you to press depending on the type of rig that you have your camera loaded into. Olympus makes a few of these electronic zoom lenses, and you can go in here and you can control the speed of the zoom lens, which can be very helpful in having a nice smooth zoom in or zoom out on your subject. Next up is the display settings, specifically once again, while you are in video. One of the options is check boxes for the live control and the live super control panel. You may prefer working with one of these or you might like having both of them as an option. In which case, you can always just simply press the info button to cycle back and forth between the two. Info settings will allow us to go in and choose what type of features we will see in any particular info mode. Once again, this is controlled by pressing the info button. I would say that a good place to start is check everything off in the beginning, and then as you find that you don't use certain features to dive back in here and uncheck those boxes so you don't have to bother wasting your time going by them. Time code settings are definitely for your video geek out there, somebody who's gonna be doing some editing on their work and wants to have additional information potentially added into the video that they're shooting. So the time code mode, one option is drop frame and this adjust the time code labeling of the frame. It's set to match other devices and generally best leave that turned on for most people and most uses. The time code can be set to record run or free run. Free run is where it's just running a clock all the time. Record run is only recording, or only running the clock when you are actually recording. If you wanted to go in and tweak with that clock, you could reset that clock or you could manually input. That might be helpful if you're using a multi-camera setup and you're wanting all the clocks to start at a particular time. You can use the current time or not that's in the camera. You can display the battery as a percentage or minutes of use left, whatever your choice. If you are using one of the picture modes, the flat picture mode, or the OM-Log400 mode, you can choose the view assisted, which takes that very flat look that you are recording and turns it back into a contrasty look in just the view finder, so that's a little bit easier and more pleasant for viewing, focusing, and composing your subject. And so that can be handy if you are using that flat profile or the OM-Log400 file. Next up is dealing with movie sound. First up is the recording volume. In here, we have the option with the built-in microphone. You can adjust this as needed. Normally, I would just leave it right in the middle. If you have an external mic connected, you can adjust the volume of that. The recording... Next step is the volume limiter and this is gonna reduce the level of the loud sounds. This might be good to turn on, say, if you were gonna record a fireworks show that had really loud burst that was beyond the range of sound that the camera would normally be able to pick up on. If you're under very windy noise conditions, you could turn on the wind noise reduction. My honest advice is that you should probably be using an external microphone with a muff on it to help reduce getting that wind noise, but if you are stuck with the in-camera microphones, this can help out in a windy situation. Next up is the recording rate, and depending on the type of quality audio you wanna get, you may wanna have this in the higher quality audio if that is an important part of the video that you are recording. Plug-in power deals with external microphones that need power from the camera itself. You can choose to turn this on or off as needed. The PCM recorder is an external recorder that you can get. Olympus sells their own recorder and you can use this to record even higher quality sound along with the video that's being recorded in the camera itself. You can choose whether the camera's recording volume is operative or inoperative in this operation. It can record a slate tone which might make editing a little bit easier. It can have synchronized record, so it can automatically start recording at the same time you press record on the camera, which would be convenient in many situations. There maybe some who know that that is inconvenient, but a good option to have. Headphone volume, so if you are monitoring sound with external plugged-in headphones, you can adjust the volume as needed from here. Those are your movie sound settings. Finally is the HDMI output. The camera has an HDMI output where you can use for viewing, monitoring, also recording with the right types of devices. This is gonna control the various features of that particular phase. The first part is choosing whether you are just using it as a monitor, or using it as a recorder, and select as needed here. Recording bit, in this case, will allow you to start the recording. It sends a record signal to the external lens, so that you don't have to press record on multiple devices at the same time. You can also export the time code from the camera to the device for easy editing later on.
Ratings and Reviews
This fast start marathon by John Greengo was fantastic. It revealed a great many interesting features that reviewers of the E M1X ignored when the camera came on the market and of which I was unaware. Plus it offered useful advice on how to determine in what circumstances the camera's many options and capabilities are useful and how to decide whether they should be turned on or off. I would say though because of the in-depth nature of this feature tour that unless the viewer has a vested interest in this subject, this class could quickly become an info overload experience. It's l-o-n-g! But for anyone interested, it's a super intro to the manual. Greengo draws attention to many items that an individual alone with the manual might overlook. Beyond that, it piqued my interest in the E-M1X! Olympus should make John Greengo's class available to new owners of the camera, or at least direct them to this class.
Just got the om-d e-m1 mark iii so came to Creative Live for a tutorial and although this is for the X the menu system is almost the same. Have followed John Greengo's A7iii guide on here as well and both courses have been a great help. I will be purchasing the course for the om-d e-m1 mark iii as soon as it's released. Highly recommend John's tutorials.
Student Work