Top Deck Mode Dial
John Greengo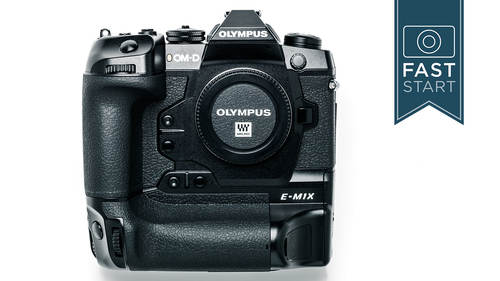 Top Deck Mode Dial
John Greengo
Lesson Info
3. Top Deck Mode Dial
Lesson Info
Top Deck Mode Dial
All right next up on top the big, dial up there is the Mode Dial. And this is for controlling shutter speeds, and apertures an the way that they are set on the camera. There is a lock dial in the middle, or lock pin in the middle, which is really nice cause you can press it down so that it stays locked in a particular position. Or you can unlock it so that you can freely turn it as you want. It's got really nice click stops that are very definitive and doesn't seem like they even need a lock on it because they have a nice secure twist and lock into it. But if you do totally want to lock it in, you can absolutely lock it in by pushing in that pin. So lets talk about the different modes on the mode dial. So we're going to start off actually in the movie mode, and work our way up to more manual photography settings. So in the movie mode the camera does shoot video, has a lot of different controls for video. And as you can see on screen, there's a box in the lower left hand side, this is a...
shortcut menu for those of you watching this class that would like to say jump ahead, and make these settings right away. If you don't want to jump ahead, not to worry we're gonna cover all of this in due time, as we go through the menu system. But if you go into the video menu under, Specifications Settings you can go in and you can set up, exact resolution and frame rate, that you are shooting in the movie modes. And so to shoot movies you can put it in the movie mode, and then press the movie record once to start, and then once to stop and you'll be recording movies then. If it is not in the movie mode, and you press the movie record button, it will use a program automated shutter speed and aperture, in order to set the features of your movie recording. And so if you are serious about recording movies, you want to turn this to the movie mode setting. Talk a bit about what options available that you will have, here in the video section. We have a number of different frame sizes, we can shoot 4K as well as the cinema 4K, which is a slightly wider 17 by nine aspect ratio. We have the standard full HD as well as HD, if you want a little bit smaller size, frame rates or not frame rates but, resolution size so that you're not using up as much data. All depends on your needs for your final video. We do have some different compression rates and bit rates. There's an All Intra which is very good for people, who are gonna be doing editing. If you know you're gonna wanna edit your films, and your videos down to the frame line, and be very exact about them you might wanna use this. It's a little bit larger in size, but it does keep a little bit more information, that you might need in the editing process. Next to that there's compression, that you can vary from Super Fine, Fine, and Normal. Once again depending on the needs, of the video that you're shooting. There's a number of different frame rates, that you can choose. Anywhere from 24 to 60, these will slightly depend on which frame sizes, and resolutions you have chosen. Not all options are available in all cases, and so it'll vary from case to case. There is a max file size of four gigabytes or 29 minutes, once you go beyond it it creates a new file, so be aware of that for editing. There is also the option for slow and quick movies. Where you can essentially do time lapse, or speed it up frame rates in the camera, by going and I will show you how to do that, as we get further into the details of the camera. We do also have a touch screen to focus, and so if you do want to rack focus with the touch screen, you can have it set up so that you simply touch the screen, and there's no clicking noises on the camera. And it will automatically focus to that new area, that you have touched on the screen. And once again if you are not gonna be using the movie mode, and you just want to press the movie record button, it's gonna be in a program mode. And that's just by default for simplicity reasons and so, probably want to turn it to the video mode, if you are fairly serious about shooting video. All right first up in the simplicity easy modes, as far as the mode dial is the Program mode, this is where the camera will set shutter speeds, and apertures for you. So if you wanna hand the camera off, to a friend who doesn't know about how to use your camera, or about photography you can put in the P mode, and trust that they're gonna get good general basic, exposures for anything that they might point the camera at. You will see your shutter speed and your aperture, either in the back of the camera or in the viewfinder. And you'll see it as along with some other information, but you wanna kinda keep an eye on those shutter speeds, and apertures to make sure they're appropriate, for the types of situations that you're shooting. When you are in the Program mode you can turn the back dial, of the camera to perform something called Program Shift. And this is where you are adjusting shutter speeds, and apertures simultaneously, while keeping a proper exposure. Because there is a lot of different shutter speeds, and aperture accommodations that are available, this allows you to give a faster shutter speed, or more depth of filed for a particular situation, than the camera was automatically giving you. And so this is a good easy way to have direct control, over what your camera is doing, and get different types of photos, and so it's a good quick simple system. By turning the front dial you will turn something called, Exposure Compensation and this allows you to take pictures, that are a little bit lighter or darker, than the camera is naturally metering for. So let's take a look, at what that's doing when you use Exposure Compensation. So you can use the front dial in the program mode, you can also use the Exposure Compensation button, which I'm gonna talk about more in just a minute. But by just turning that front dial, you can see your exposure indicator, going to the left for minus, and to the right for plus. And you can have images that are brighter, or darker than the metered scene. And sometimes this is necessary, in tricky lighting situations, or in situations where you're not sure exactly, what type of photo you want to get from it. Maybe you want a lighter version, maybe you want a darker version. And this will work with Program, Shutter Priority, and Aperture Priority as well, and so we'll continue to talk about that, further in this section. All right so lets go ahead, and put the camera in the program mode, let me show you just a little bit, about what I just talked about. So lets go ahead and get this set up so we have something, to point at. (camera focuses) So the camera is in the Program mode right now, and just for kicks I'm gonna jump ahead, and I'm gonna change the ISO, so that I can give you some better examples. If you're not sure what I'm doing, don't worry about it we'll get to it. So right now the camera is giving us a shutter speed, of a 25th of a second at F four, if I said you know what I want more depth of field, I can turn this back dial, and I can get the aperture down here at F 11, and I'm down at one third of a second. If I go really far I get into the full seconds. And so if I want the fastest shutter speed possible, I'm gonna be at 25 at F four in this particular case. If I thought you know, this image doesn't look right in brightness, and this cabinet that I'm pointed at, is actually a pretty dark cabinet, and this picture should probably be darker than average. So if I wanted to take a proper exposure here, I would probably bring this over to the minus side. Now minus two is a little bit too far, but minus one I'm gonna say minus one, is what this looks like most naturally to my eye. And so this is the correct exposure (camera focuses) in my mind and, I'm gonna go ahead and shoot a photo there. And that's gonna enable me to get the right exposure, without having too much fuss about this. Put it in the Program Mode and just turn the front dial. I'm then going to reset it to zero because, you generally want to keep, that exposure compensation set at zero, as you go back and fourth from one subject to the next. And so that's Program Shifting with the back dial, and Exposure Compensation with the front dial. Next up is Aperture Priority, which is one of my favorite modes, you get to control the aperture and, the camera will figure out the shutter speed for you. This is a good mode that gives you, some automation and some manual control. This is good for a lot of general types of photography. If you want more depth of field you dial in an aperture, like F 11, 16, or 22, and that'll enable you, to keep subjects in the foreground in focus, as well as the background. If you want to have a shallower depth of field, you can use a 1.4 lens and dial that open to 1.4, for instance and that way your main subject, is in focus and the background, is more out of focus with the right types of lenses. One of the things you'll notice, is that things you have control over are in green. And so the aperture will be green, the Exposure Compensation will be green, you'll turn that back dial to change the apertures, and the front dial to change the Exposure Compensation. Next up is the sibling mode, the Shutter Priority Mode. So you'll use the back dial to control shutter speeds, that you have control over, and the camera will figure out the aperture for you. And this might seem like a good mode, cause a lot of people have a good concept of time, and they'll know what sort of time they would like to have, for a particular photograph maybe to stop the motion, or to blur the motion. But there is a little bit of a caveat to this mode, in that there is a limited range of apertures, that are available with most lenses. And so something to keep aware of, is any sort of blinking warning. So if a 2.8 is blinking or something like that, that means that you do not have a bright enough aperture, for a particular situation, and I'll show you that here in just a moment. So Shutter Priority does work well when you know, you're gonna need a fast shutter speed. And so when you wanna stop the blades of those helicopters, you can dial in a fast shutter speed, like 4000th of a second, and that'll do a good job. If you're under low light conditions, and you know that you wanna have a long exposure, so you can show this very very dark scene, in this case I dialed in an eight second exposure, so I could actually see the stars. And so there are some good reasons, for using the Shutter Priority mode but, you do need to be careful about that blinking, and let me show that to ya right now. So I'm gonna go ahead and dial my camera, over into the Shutter Priority mode. And we can immediately see that I have a blinking F four. Because at 250th of a second, F four which this aperture is its maximum aperture, its just not bright enough for this particular scene, so I'm gonna change my shutter speed, down to something that stops that area from blinking. Okay so now that I'm down here, at roughly a 25th of a second, its lets go down one more, a 20th of second it's stopped blinking, and I can shoot a proper exposure here. In front we still have our exposure compensation, and as I discovered before, about a minus one looks good to my eyes. And now I can still adjust my apertures from here, and I can figure out that I can shoot, about a 50th of a second, (camera focuses) to get a proper exposure. Now let me go back and show you Aperture Priority, because this is the one that I like. And so now in green is the f-stop, and I can change my f-stop back and fourth, and I can go all the way down to F 22, if I want lots of depth of field, it's a half second. Nothings blinking so that's good, I can shoot a photo. (camera clicking) Go all the way up to F 4, nothing's blinking because, there's lot more shutter speeds (camera focuses) than there are apertures. Take a photo and I can get even exposures, (camera clicking) with all the different aperture options and so that's one of the reasons, I prefer Aperture Priority as a general mode. I will use Shutter Priority from time to time, but I just want to be very cautious, about making sure that I'm within range, of what the camera can handle at any particular time. Next up my favorite mode, Full Manual. This is where you get to control, shutter speeds and apertures. You'll need to be looking to the light meter, to make sure that you're getting proper exposures, for what you are shooting. Now in general that light meter, should be towards the middle for general scenes. But sometimes you need to under expose and, sometimes you need to over expose depending on, the types of subject material and its brightness. And I like manual for a couple of reasons. The main reason is that I'm getting consistent results as long as I'm under the same lighting. And so in this particular case I went to the, big boat and air show, and I was able to shoot under bright sunlight all day long, and I basically had the same shutter speed, apertures settings for a lot of what I was doing, all day long and, I was getting really nice consistent results. It's also really good with tricky lighting, in areas that might be really bright, or really dark. In this case very bright, I'm making sure that I'm getting the right exposure because, I've manually set it in and my camera, is set to a particular setting and it doesn't re-adjust, when there's a bright or dark background around it. And so Manual Exposure is really good when you, kinda have consistent lighting, and you're gonna be shooting similar types subjects over, and over and over again, and you want consistent results from it. So lets go ahead and set our camera up manually, this is very easy to do. And so if we look through the camera right now, you'll see that we are under exposed by 2.7 stops. And we are in control of our shutter speed and, aperture and we can adjust one or the other one of those. And so I'm gonna turn the front dial, which adjusts my aperture, and I'm going the wrong direction, because we've gone minus three. And I'm gonna see if I can get myself within a stop, of a correct exposure so I'm at F five. I can adjust the back dial for shutter speeds, and in theory the light meter says, that the perfect exposure is a 15th of a second, but because I'm dealing with a very dark bookcase here, I need to under expose a little bit to get this correct, so I'm gonna go down to about a 30th of a second. And 30th, 40th of a second somewhere in there, is gonna give me a closer to true and, proper exposure in this particular case. If it was a white background, we'd be working with different numbers here, and that way you could adjust, for whatever situation you might be in. And so my first instinct, is to get the light meter set to zero, and then kinda re-examine things, to see if I want it a little lighter or a little darker. And I think that works for a lot, of different types of photography. One thing to watch out for is a lot of times, when you get your camera right out of the box, the camera's ISO which we haven't talked about, is set to automatic, and that may throw off what you are trying to do here. So there's an ISO button on the top of the camera, I've manually moved it off so I can show you how this works. If you have this set at auto, you might wanna move this to a specific numbered setting, so that you can make these settings yourself. (camera focuses) And so we'll get to that ISO button here in just a moment. The shutter speeds that are available on this camera, are generally gonna run from an 8000th of a second down, to 60 seconds and I say generally because, they actually extend beyond this. And you can go faster than an 8000th of a second, all the way up to a 32000th of a second, with the electronic shutter speeds, that we will talk about further into this class. Rather than using a mechanical shutter, to start and stop the exposure, the camera uses a silent shutter, its just the sensor turning on and off. And there's a couple different options, an anti-shock mode, and a silent shutter which has a electronic, first shutter curtain and then a full, electronic curtain for the silent one. And so this is something that can be turned on, in the drive modes, and we will talk about this further, as we walk through the reset of the camera. Next up is the Bulb Mode, this is an extension of the manual mode. This allows you to do long time exposures, and there are three different versions of this, the Bulb version, the Live Time, and the Live Composition version. And you can adjust which one of these three you are using, by turning the back dial on the camera. First up Bulb, this is a press and hold technique. So you press down on the shutter release, and you just keep pressing down, as long as you want that shutter open. Now that will often cause the camera to vibrate, and move around a little bit, so I do recommend using a cable release, in this particular case. Which will work perfectly, cause then you're not touching the camera. And when you're done you can lift your finger off, and you can have a 10 second, a 10 minute exposure whatever you want. Slightly easier to work with is Live Time. And this is one press to start, then you can sit and relax and, watch the back of the camera as your photo develops. And when you want to stop the exposure, you can press it in again and stop the exposure. And so this is a little bit more convenient cause, you don't have to have your finger down on the button. And so in fact, I'm gonna do a quick little demo of this here. It may be too bright in the studio, for this to be super effective, but I'm gonna see if I can do it anyway. So I turned the camera into the Bulb Mode, and you may have noticed that the screen, has gone a little bit darker because, it's expecting us to be working under low light conditions. I'm gonna set this to a low setting, a low 64 and then I'm gonna change by aperture, to a really small aperture (camera clicking) and make sure that my camera is in Live Time. So I'm gonna press once down on the shutter release, and you're gonna see the picture getting brighter, and brighter from one second to the next. And then when I think it's enough I'm gonna press in again, so lets go ahead and start this exposure. It's dark it's getting brighter, it's getting brighter it's like we're in the dark room, and we're watching a photo get developed right now. And we're gonna let it go a little bit brighter, and now I'm gonna stop it here. And I haven't really set it up to work perfectly, in this environment it's going through, a little bit of processing here. We're gonna let this run down, and we're gonna take a look at our photo, and see how it came out. Press playback and it's still a little bit on the dark side, I think I need to develop a little bit further, so I'm not gonna do it right now, but it's a really good technique if you're out in the field, and you want to shoot nighttime exposures. So let me give you an example of nighttime exposures. This can be fun, I did about a 60 second exposure here, because I wanted more taillights in the photograph, and there wasn't enough, during the standard, 30 second exposure. And so if you wanna leave it open, for five minutes you can do that. Now the other very interesting and very Olympus unique mode, on this camera, is the Live Composite. What happens when you leave a shutter open for 60 seconds, as you can see on the left here, is that the bright lights just burn out, to this hot mess of a blob. And what we want is we want a little bit of those lights, but we need some of those other darker lights to come in. And so the Live Composite is a series, of eight second exposures in this case, and the camera is using the processing power to realize, oh we already have bright light here, lets not accumulate anymore bright light. In the darker areas it accepts more light, and so it's blending these multiple exposures together, into a smart exposure a smart nighttime exposure. And so you may want to do some experimenting with this, because it's gonna up some new avenues, when it comes to nighttime photography. Now while you are in these modes, you can press the menu button for a shortcut, so that you can get in and control some of these features. Because in the Live Time and the Live Composite, there's updates how long of shot is it, how of often does it update on the back of the screen, and I can't give you any settings right now because, it's gonna vary from situation to situation. But you might wanna experiment, with some of those different options. Finally we get to C one, two, three, and four, and these are custom modes. The way this works is that you can quickly change, settings on the camera by changing it from C one to C two, C three, C four, these can be pre-set, with favorite settings that you might have. For instance lets say you're out photographing landscapes, and that might be C one you get lots of depth of field, simple basic focus so you're focused in a really small area. But when you're out there shooting your landscapes, you like to do bird photography. Well that's completely different. You're gonna need a different type of focusing system, you're gonna want the motor drive on high speed perhaps, you want to be able to track these birds, moving through the air, and so you move it to C two, which is pre programmed. In this case for high speed motor drive, continuous auto focus, large focus bracket, so you can keep that subject in focus, as it's moving around the frame. And so the way that you set these up, is you set the camera up, as you would like it to operate in one of these modes. And then you dive into the menu system, shooting menu number one the custom modes, and you assign it to one of the modes, C one, two, three, and four. So you can pick four different styles of photography, that you are into, customize the camera and program them in as, C one, two, three, and four. And then you just simply turn that dial back and fourth, between those four different modes, and you don't have go through the 10 button exchange, that most people do when they're switching from one type, of photography to another type of photography. So it's a great way of speeding through, and changing your own personal modes, and different types of photography.
Ratings and Reviews
This fast start marathon by John Greengo was fantastic. It revealed a great many interesting features that reviewers of the E M1X ignored when the camera came on the market and of which I was unaware. Plus it offered useful advice on how to determine in what circumstances the camera's many options and capabilities are useful and how to decide whether they should be turned on or off. I would say though because of the in-depth nature of this feature tour that unless the viewer has a vested interest in this subject, this class could quickly become an info overload experience. It's l-o-n-g! But for anyone interested, it's a super intro to the manual. Greengo draws attention to many items that an individual alone with the manual might overlook. Beyond that, it piqued my interest in the E-M1X! Olympus should make John Greengo's class available to new owners of the camera, or at least direct them to this class.
Just got the om-d e-m1 mark iii so came to Creative Live for a tutorial and although this is for the X the menu system is almost the same. Have followed John Greengo's A7iii guide on here as well and both courses have been a great help. I will be purchasing the course for the om-d e-m1 mark iii as soon as it's released. Highly recommend John's tutorials.
Student Work