Keys to Posing
Scott Robert Lim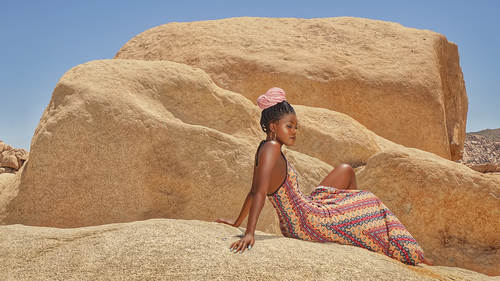 Keys to Posing
Scott Robert Lim
Lesson Info
10. Keys to Posing
Lesson Info
Keys to Posing
So let's get on to some keys of posing a female. And so let me just give you some brief guidelines through this. And so the first one, what you're doing is when you're trying to pose, is you are maximizing a person's beauty, right? Beauty sells. Now, a lot of people ask me, "How did you earn "$10,000 plus for weddings?" Well, it was simple. The more glamorous I made the bride look, the more money I got paid. And once I started doing that, it's like more and more money came. So I know for a fact that that technique works. You make people beautiful, the more money you're gonna make. It's plain and simple, and that's what posing does, is it maximizes a person's beauty. Every great pose starts with a realistic and organic emotion. So, you always hear about, ooh, what's the story of the photo? Well, when it comes to a portrait, a lot of times the emotion, that is the kernel of a story. Because without emotion there is no story. But if you wanna have the very essence of a story, it's actuall...
y the emotion there. And so you have to... They have to look natural, it has to look organic in front of the camera and so you need to break those walls down. If there's some trepidation there by the subject, or they feel uncomfortable or whatever, you have to make sure that they look comfortable. And that's really important. Okay, posing is both technical and emotional. I didn't realize this until five years into my career. 'Cause guess what? I was a math major. Ooh, surprise, right? And so what is math? Formulas, right? I would always... So I'm approaching it, okay, turn the hip here, pop the hip, look over there, where's the light, this way. I was so robotic in my thinking. I thought it was just a technical thing. But once I started to realize that the pose first starts with an emotion, and then the way you pose it's actually... That's the technical that wraps around the emotion. So, for example, if I said, "Oh, pretend you're a princess." I know that's weird but, just for posing sake, right. Oh, okay. I'm a princess. It's the feeling. And then the pose wrapping around the feeling, that's really gonna give you some juice there. And so remember, it's just not technical, but it's the emotion first and then how do I maximize that emotion and make this person look beautiful. Okay, must get subjects to buy into your story or your emotion or whatever. They have to buy into what you're trying to do in your vision. And if they're not buying into you, you're gonna get this confused look on their face. They're not gonna be into it and they're not gonna give you essence of that shot. You might have everything technically right, the lighting, the composition, and everything, but they have to buy into you. Both have to buy into what you're doing and a lot of that is confidence with you. If you're not sure about what you're doing, then it's gonna rub off on your subject, and you're not gonna get it. So you have to really... They have to buy into you and that means going out and fake it until you make it. Even if you don't feel confident, pretend you are. And that's gonna go a long ways to getting you the imagery that you want to do. Failure to pose correctly produces inconsistency. And we know that. Sometimes when we're with a model and... Like Elena, she's awesome right? Shoot, I'm on fire, man! Oh shoot, I can't go wrong! And then you get another subject and let's say they're not great at posing and you're struggling and you just feel like the whole session you're not getting into that groove. You been there? And then you're results are gonna be up and down. And you can't build a business without having consistency. That is huge. You've got to be consistent. And so you gotta learn how to pose. Okay, create a positive environment. That is so important. And I think that's actually, besides everything, I think that's one of my assets. I might not be the tallest person and get great angles by shooting down 'cause I'm tall, or whatever, but I do have a positive energy about me. And so we have to look at ourselves that way. Yeah, we do have some negatives, but we have positives too. And go with what positives you have and mine is definitely an energetic personality and I use that to my advantage. And so that is so huge. And I'm gonna tell you right now, that is really... If the one thing that I've had success in my career is just literally the energy level that I bring to a situation. That's gonna take you somewhere. And so when you come with that positive energy with your subjects, your subjects are gonna come alive for you. They're gonna smile. They're gonna work for you harder and that's so necessary.
Class Materials
Alien Skin Software Discount Code
Ratings and Reviews
This course is amazing! Scott is extremely straightforward. He goes directly to practical problems, tips and etc. He explains every thing very clearly, and he is also very funny and charismatic, making you laugh as you learn. He shows that you don't need a lot of expensive gear to make very nice pictures. So I have saved some money as well, cause I was about to buy some gear that I wouldn't need right now. It is for sure one of the best photography courses I have ever attended to! I highly recommend! Thanks a lot Scott! You are the best!
I have purchased a number of classes, this being one of them. The quality of the information was good and the level at which Scott spoke was appropriate for me. Having a course sylibus would add greatly to the value, which usually is not part of the programs I've purchased including this one, unless I've missed it. I believe the speaker should be required to provide one. After watching the videos, much of material can be recaptured by seeing it in writing. I would like to hear back from Creativelive their thoughts. In sum, good topic, good speaker, good technical audio and video quality by Creativelive
Another fantastic class with Scott Robert Lim! The combination of his knowledge, willingness to share, passion & entertaining personality makes him a top choice for photography education. Learning not only the "what", but the "why" & "how" can transform one's entire approach towards MAKING pictures. A constant inspiration to get better & better through practice.
Student Work